Zion Williamson Return Date: How to Watch Pelicans Star NBA Debut on TV and Online on Wednesday
It has taken far longer than anyone expected, but Zion Williamson is ready to finally make his NBA debut.
The first overall pick of the 2019 draft will play his maiden professional basketball game on Wednesday, when the New Orleans Pelicans host the San Antonio Spurs at the Smoothie King Center in New Orleans, Louisiana.
A generational talent, Williamson caused shockwaves across college basketball during his only season at Duke, averaging 22.6 points, 8.9 rebounds and 2.1 assists per game in just 30 minutes on the court.
While the Blue Devils lost to Michigan State in the Elite 8 of the NCAA Tournament, Williamson was almost unanimously considered a first-overall-pick in waiting.
The Pelicans did select him with the first overall pick in June, but the bubble of expectation surrounding Williamson was punctured less than three months later when he suffered a serious knee injury.
According to The Athletic's Shams Charania, the team was unable to determine exactly when Williamson hurt his knee, but believes it happened during a preseason game against the Spurs on October 13.
Four days later, the rookie underwent a precautionary MRI scan on his knee that revealed he had torn his right lateral meniscus.
The Pelicans initially stated they hoped to have Williamson back by December 17, but his recovery extended all the way into January.
Last week, however, Pelicans executive vice president of basketball operations David Griffin revealed Williamson had completed his rehab and was ready to make his debut.
"This process has been one that's been really, really good," he told reporters last week.
"We've learned a lot more than we've probably taught him [Williamson], frankly. He's getting to the point where we actually think he's as ready as he believes he is. Everything's moving in the right direction."
While it would be premature to expect a rookie who has been injured for the last four months to be an instant game-changer, during preseason Williamson showed glimpses of his enormous potential.
In four games he averaged 23.3 points, 6.5 rebounds and 2.3 assists.
The Pelicans clinched their second win in three games on Monday night, defeating the Grizzlies 126-116 in Memphis to improve to 17-27.
New Orleans remains 12th in the Western Conference but is only 3.5 games behind the Grizzlies, who currently hold the final playoff berth.
Here's all you need to know ahead of one of the most anticipated dates of the current NBA season.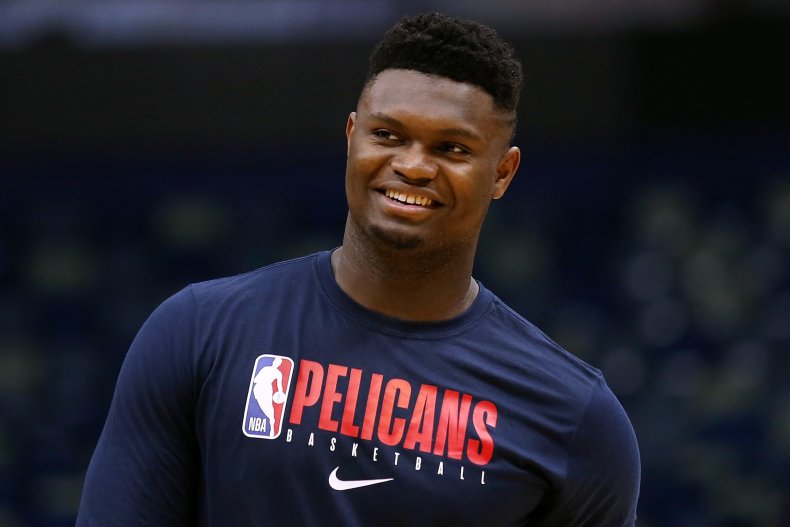 When is Zion Williamson's NBA debut?
Zion Williamson will make his long-awaited NBA debut on Wednesday, January 22 when the New Orleans Pelicans host the San Antonio Spurs at the Smoothie King Center in New Orleans, Louisiana.
Tip-off is scheduled for 9:30 p.m. ET.
Where to watch Zion Williamson's NBA debut
Unsurprisingly, the Pelicans' home game against the Spurs will be broadcast on national TV after bumping the matchup between the Denver Nuggets and the Houston Rockets off the TV schedule.
Zion Williamson's NBA debut will be broadcast by ESPN, with a live stream available via Watch ESPN.
The first overall pick of the 2019 draft will play in front of ESPN cameras again on January 26, when the Pelicans host the Boston Celtics at 6 p.m. ET.
Williamson and New Orleans' next appearance on national TV will come on February 2 at 2 p.m. ET on ABC when they take on the Houston Rockets on the road.
Two days later, their home matchup against the Milwaukee Bucks will be broadcast by TNT at 7:30 p.m. ET.