Zion Williamson Lawsuit and Duke University Inquiry Explained
The legal quarrel between Zion Williamson and Gina Ford has taken a new turn after the New Orleans Pelicans star filed for a protective order against the former marketing agent's inquiry into his eligibility at Duke.
On Wednesday, Williamson's legal team filed the motion in the circuit court of the 11th judicial circuit in Miami-Dade County, Florida, calling Ford's inquiry into the player's eligibility at Duke "invasive" and "irrelevant."
The legal battle between Williamson and his former marketing agent is a multi-faceted and convoluted issue, which began in the spring of last year when Williamson declared for the NBA Draft on April 15. Shortly afterward, the former Duke star signed a five-year deal with Ford's Prime Sports Marketing to represent him and handle his endorsement deals.
Here's a breakdown of the key steps in the ongoing dispute.
Why did Zion Williamson sue Gina Ford?
Shortly after he signed with Prime Sports Marketing, Williamson broke the contract and reached an agreement with Creative Artists Agency (CAA) on May 30. Two weeks later, he sued Prime Sports in the U.S. District Court for the Middle District of North Carolina to enforce termination of the agreement he had signed with Prime Sports Marketing after Ford had contacted Creative Artists Agency demanding a mediation.
As reported by ESPN at the time, Williamson's legal team argued the contract was null as Prime Sports did not adhere to the guidelines set out by the North Carolina Uniform Athlete Agent Act, which is designed to protect athletes from unscrupulous agents.
The report added the deal between Williamson and Ford did not adhere to a number of requirements outlined by the act. Specifically, the agreement was not certified by the NBA Players Association and did not offer clear notice that Williamson would lose his amateur eligibility by signing the contract.
In August 2019, NOLA.com reported that court filings showed Williamson's attorneys described Ford as "predatory" in her pursuit of the player.
Why did Gina Ford sue Zion Williamson?
A week after Williamson sued Ford in June 2019, Ford countersued. In the lawsuit, which was filed the day before Williamson was selected with the first overall pick of the 2019 NBA Draft by the New Orleans Pelicans, Ford argues that Williamson was in breach of contract when he signed with Creative Artists Agency and claimed damages in excess of $100 million.
Ford also argued that Williamson had no intention of returning to Duke as he had declared for the NBA draft, which made the deal between and Prime Sports not voidable by the Uniform Athlete Agent Act.
Ford also contended she had wired $100,000 to Williamson's stepfather shortly after Williamson had signed with Prime Sports Marketing and had "demanded an immediate contract advance."
College athletes are still considered amateurs, and they are not allowed to receive benefits such as cash, shoes or endorsements.
"Ford hopes Williamson will pay a hefty price for what she depicts as Williamson and CAA conspiring to steal her work and brazenly breach a contract that Williamson had willingly signed," Sports Illustrated legal analyst Michael McCann said at the time.
What did Ford allege?
As reported earlier this month, in the lawsuit Ford asked Williamson to admit he, his mother and stepfather received "money, benefits, favors or other things of value" to attend Duke, specifically singling out Nike and Adidas as companies that may have made payments to the Williamsons.
Williamson's legal team, however, highlighted that in September last year Duke had investigated the claims and found no wrongdoing involving Williamson, who was the standout college player of the year during his freshman season with the Blue Devils.
"As soon as Duke was made aware of any allegation that might have affected Zion Williamson's eligibility, we conducted a thorough and objective investigation which was directed by individuals outside the athletics department," Duke spokesperson Michael Schoenfeld told The Athletic at the time.
"We found no evidence to support any allegation. Zion thrived as both a student and an athlete at Duke, and always conducted himself with integrity and purpose."
In September last year, Williamson's legal team replied to Ford's lawsuit by filing two separate suits of their own, dismissing Prime Sports' claims against Williamson and contending Ford had no rights to demand Williamson's original lawsuit could be dismissed.
What happens next?
As The Athletic's legal analyst Daniel Wallach pointed out in a Forbes column on Thursday, Williamson's eligibility as a student-athlete may not even be legally relevant to the dispute between him and Ford and that circumstances that predated their brief professional relationship may not bear any effect on the validity of a contract that was signed after the player had already completed his freshman season at Duke.
Last week, Williamson's attorneys filed a motion in the circuit court of the 11th judicial circuit in Miami-Dade County demanding the requested discovery against him should be put on hold until the resolution of his appeal—filed in the same court—to deny his motion to dismiss Ford's lawsuit.
The protective order filed on Wednesday, meanwhile, seeks to bar Ford and her attorneys from ever discovering whether Williamson did indeed receive improper payments to attend Duke.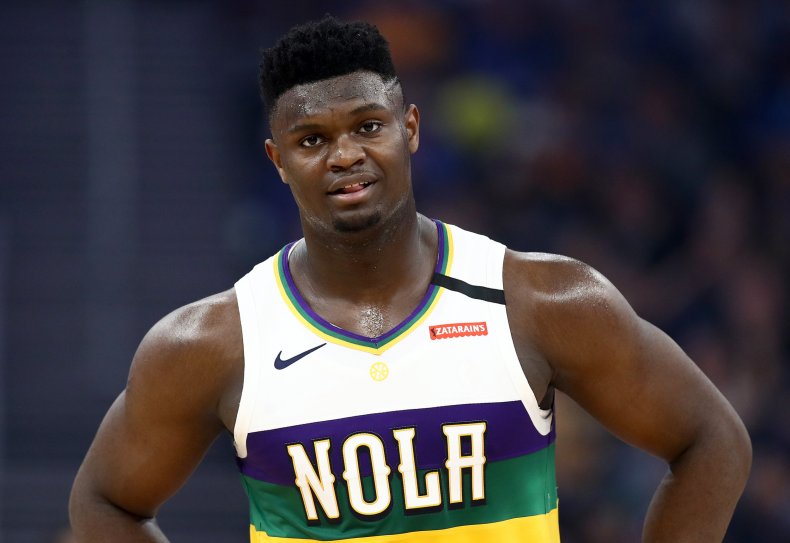 Zion Williamson Lawsuit and Duke University Inquiry Explained | Sports