How Much Will Zion Williamson's Shoe Deal Be Worth?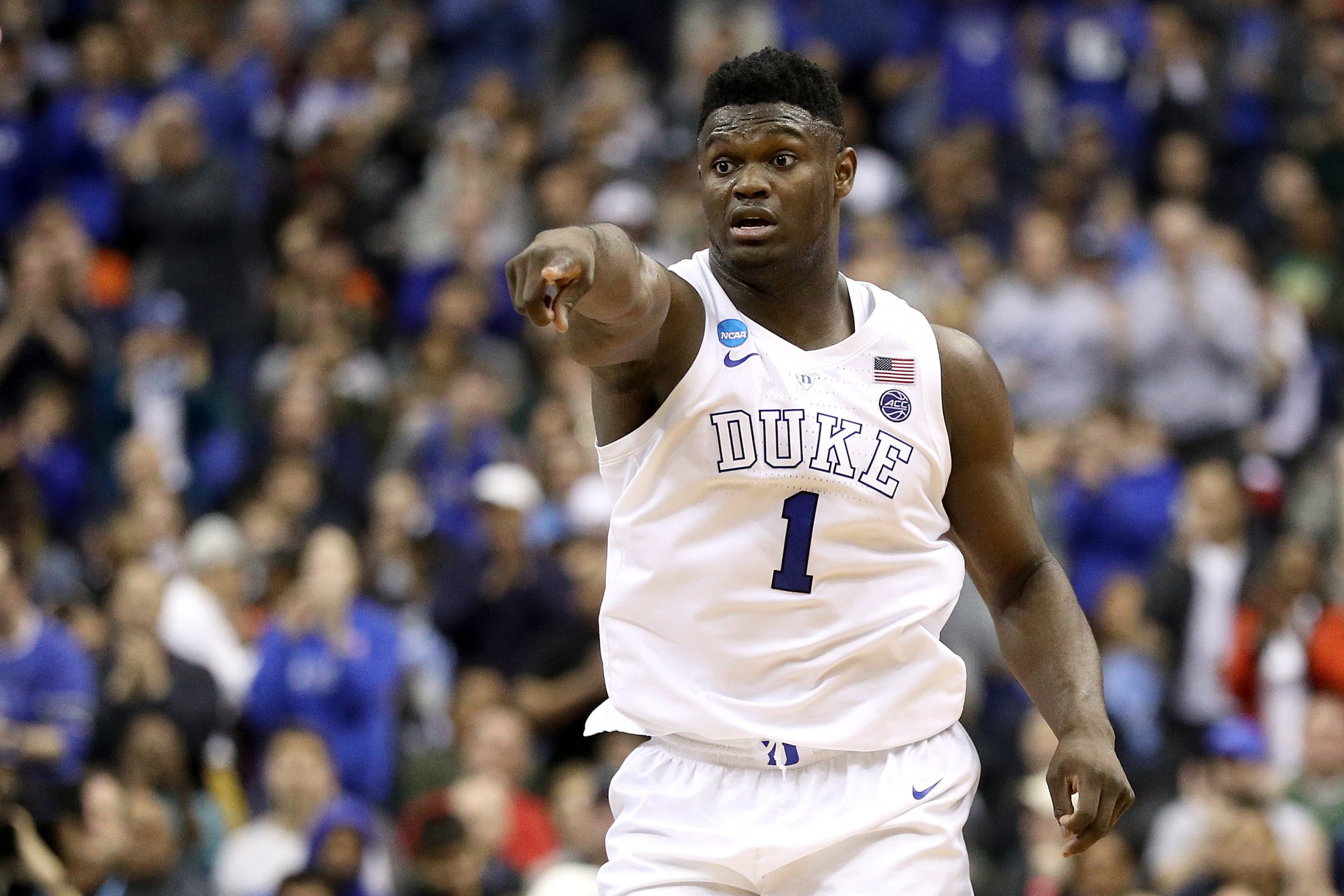 Bar a major surprise, Zion Williamson will enter the NBA draft this summer when he is expected to be the number one overall pick. Bar an ever bigger surprise, by the time the NBA draft lottery takes place on May 14, Williamson will have signed a highly lucrative sneaker deal.
"In my lifetime, I think it's going to be the biggest bidding war ever done," Sonny Vaccaro, the former Nike and Adidas executive who signed Michael Jordan to his first deal, told ESPN.
LeBron James and Kevin Durant have set the standard in terms of rookies signing endorsements with sneaker brands. In 2003, LeBron signed a fully-guaranteed seven-year deal with Nike worth $87 million and has since gone on to become one of the brand's icons, inking a lifetime deal with the company. Six years later, Durant joined the swoosh brand after signing a seven-year deal worth $60 million, which was then renewed in 2014.
Both players had received significant offers before signing with Nike. LeBron famously met with Reebok, which offered him a $100 million deal. In 2009, Adidas tabled a seven-year deal worth $70 million to Durant. The former Texas student refused to sign it once he realized that would have meant forfeiting the chance of wearing sneakers from his favorite brand for the foreseeable future.
Williamson can be expected to be in a similar situation, with industry heavyweights jostling for position. Nike and Adidas are obviously in the race to sign the 18-year-old, as are Under Armour, New Balance, Puma and Anta.
The teenager has been the star of college basketball throughout the season and that is unlikely to change even after Duke lost to Michigan State in the Elite Eight stage of the NCAA Tournament.
Speaking to ESPN, Vaccaro suggested Williamson's potential and status indicated that any potential offers could see a signature sneaker included in the deal.
Only nine rookies have ever had a signature sneaker as part of their contract, with Nike, Reebok and Fila each doing so twice. Nike produced a signature sneaker during Jordan and LeBron's rookie seasons, while Reebok adopted the same policy for Shaquille O'Neal and Allen Iverson. Fila, meanwhile, included signature sneakers in its deal for Grant Hill and Jerry Stackhouse.
Etonic was a trailblazer in the industry, unveiling a signature shoe when it signed Hakeem Olajuwon, and AND1 and Big Baller Brand emulated it when they signed up Stephon Marbury and Lonzo Ball.
Currently, the number of active NBA players who wore their signature shoe this season stands at 17. The figure will increase to 19 this summer, when Nike will release a signature Giannis Antetokounmpo shoe and Adidas will do the same for Donovan Mitchell.
Nike is Duke's official apparel supplier, which meant Williamson wore the swoosh brand's sneakers during his season with the Blue Devils. However, the company suffered a major backlash in February when Williamson's sneaker blew up under his foot just 36 seconds into the game against North Carolina.
The teenager suffered a knee injury as a result and footage of the incident immediately went viral on social media. Investors were clearly unimpressed by the incident and on the following day Nike shares opened down by 1 percent on the New York Stock Exchange.
In financial terms, the decline translated to $1.12 billion being wiped off the swoosh brand's market value. Bloomberg reported that Nike sent some of its executives to Duke's campus to analyze what had happened to the shoe, before they then flew to China to implement the required structural changes.
Following his return from injury, Williamson ditched the PG 2.5 shoes he had been wearing in favor of the Kyrie 4 model.