Is Zion Williamson Playing in the 2019 NBA Summer League? Pelicans Star Set for Duke Reunion with RJ Barrett
Two weeks on from the most anticipated NBA Draft in nearly two decades, the most anticipated NBA Summer League in years gets underway on Friday in Las Vegas.
The common denominator to such excitement is Zion Williamson. Selected as the number one overall pick by New Orleans two weeks ago, the former Duke star will make his first appearance in Pelican colors on Friday night.
Not since LeBron James made his Summer League debut for the Cleveland Cavaliers in 2003 has the NBA's annual summer extravaganza carried the same sense of anticipation with it.
Williamson will make his Summer League debut at 9:30 p.m. on Friday, when the Pelicans take on the New York Knicks.
The game will pit the number one overall pick against former Duke teammate RJ Barrett, who was selected by the Knicks with the third overall pick in last month's NBA Draft.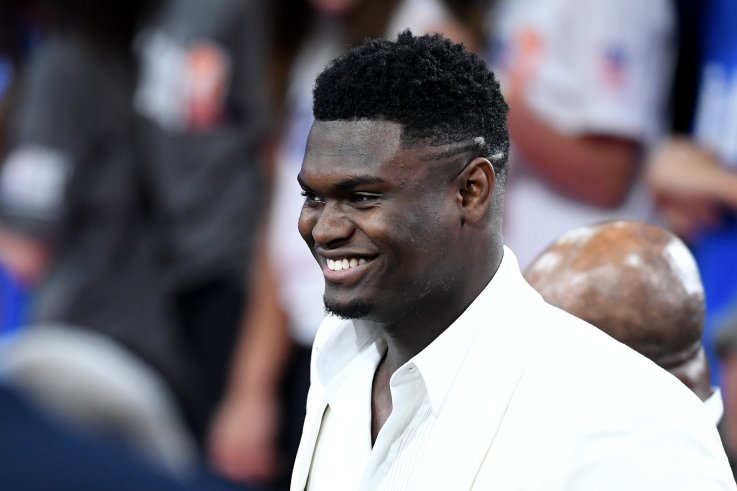 Williamson is yet to taste the environment of an NBA game but has already said he will relish the bigger space that will be available to him, due to the fact defenders can't clog the paint area as they do at collegiate level.
Coupled with a deeper three-point line, Williamson expects to have more room to operate in than he had at any point during his solitary season at Duke.
"I do like the spacing a lot more," he told NBA.com. "[Defenders] can't really [just] stand in the paint, so it gives me a lot more room to operate.
"The three-point line does create more spacing, because everybody can shoot. You can't really help off too much, otherwise it's an open three. I love the spacing. It's almost like a dream come true for me. Because every time I attack the basket, there is space for me."
The game against the Knicks will be broadcast live on ESPN, which will also carry the Pelicans' second outing of the Summer League tournament the following night against the Washington Wizards.
According to Sports Illustrated, the broadcaster specifically requested New Orleans played in primetime on both Friday and Saturday nights, such is the attention and hype surrounding Williamson.
While the latter will be the center of attention in Nevada, Barrett will also command a fair share of attention.
The Canadian was supposed to be one for the Knicks' long-term future, but with the franchise failing to land any of the free agents it was linked with, he might have to take on a bigger role than expected in his rookie season.
Is Zion Williamson Playing in the 2019 NBA Summer League? Pelicans Star Set for Duke Reunion with RJ Barrett | Sports