Zion WIlliamson's Former Agent Claims the Basketball Star Received Improper Benefits to Play at Duke
The former marketing agent for New Orleans Pelicans rookie Zion WIlliamson claims that Williamson took improper benefits from shoe companies to attend Duke University and play basketball there.
Prime Sports Marketing president Gina Ford, who is WIlliamson's former marketing agent, in a lawsuit between the company and Williamson has asked the basketball phenom to admit he, his mother and stepfather received "money, benefits, favors or others things of value" to attend Duke.
Williamson's mother, Sharonda Sampson, and his stepfather, Lee Anderson, are named in the request that has 11 bullet points and published by Daniel Wallach, the legal analyst for The Athletic.
Williamson was the hands-down best player in college basketball during the 2018-19 season—his freshman season. He won ACC and national player of the year, and he was the No. 1 overall pick in the 2019 NBA Draft, selected by the Pelicans.
An injury during the preseason caused him to miss much of the early regular season, but the hype around him spilled over into his first games as a pro.
But going back to Duke, college athletes are (were) still considered amateurs, and they are not allowed to receive benefits such as cash, shoes or endorsements.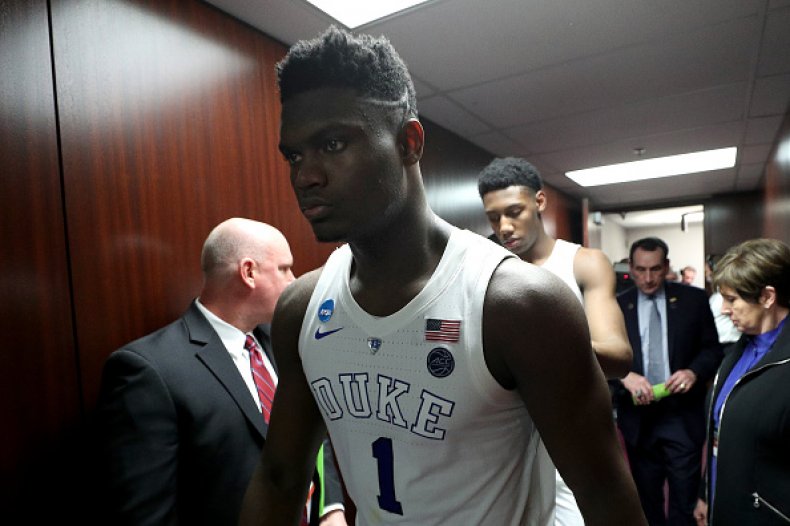 Williamson signed a deal with Prime Sports Marketing in April, then later sued the marketing company to end his contract, according to Sports Illustrated. Williamson claimed the contract was void and illegal under the North Carolina Uniform Athlete Agent Act, which was created to protect athletes against unethical agents.
In June, Ford and Prime Sports Marketing filed an 88-page complaint that demanded $100 million in damages.
"Ford hopes Williamson will pay a hefty price for what she depicts as Williamson and CAA conspiring to steal her work and brazenly breach a contract that Williamson had willingly signed," Sports Illustrated legal analyst Michael McCann said at the time.
Among the bullet points in Ford's request are:
Admit that you knew that Sharonda Sampson demanded and received gifts and economic benefits from persons acting on behalf of Duke University (directly and/or indirectly) to influence you to attend Duke University to play basketball.
Admit that you knew Lee Anderson demanded and received gifts, money and/or benefits from persons on behalf of Duke University (directly and/or indirectly) to influence you to attend Duke University to play basketball.
Admit that before you became a student at Duke, you, or person(s) acting on your behalf (including but not limited to Sharonda Sampson and Lee Anderson) received gifts, money and/or other benefits from persons other that NCAA certified agents between 1-1-2014 and 04-14-2019.
Williamson hired CAA Sports as his agents and representatives before last year's NBA Draft. No basketball has been played for two months after the NBA indefinitely shutdown after a player from the Utah Jazz tested positive for COVID-19.