Zoe Kravitz Faces Instant Online Backlash Over Will Smith Remarks
Zoe Kravitz is facing a backlash this morning for posting scathing comments about Will Smith slapping Chris Rock at the Oscars—prompting fans to criticize the star over her friendship with Jaden Smith, Will's son.
In an unlikely development in the Oscars slap saga, fans and social media users are now turning on The Batman actress, who is currently facing a severe backlash on Twitter over old remarks she made about the Karate Kid star when he was aged 14.
This situation began when Kravitz, who starred as Catwoman in the recent Batman remake, took to Instagram on Tuesday night to condemn Will Smith for storming the stage at the Academy Awards on Sunday night and slapping Chris Rock for a joke he made about his wife, Jada Pinkett Smith.
"Here's a picture of my dress at the award show where we are apparently assaulting people on stage now," Kravitz, 33, captioned one post.
In a second post, the star wrote: "And here is a picture of my dress at the party after the award show—where we are apparently screaming profanities and assaulting people on stage now."
Twitter users now appear to be punishing Kravitz for getting involved and are dragging her for once calling a then 14-year-old Jaden Smith "handsome" and "cool."
The two starred in the 2013 action film After Earth together.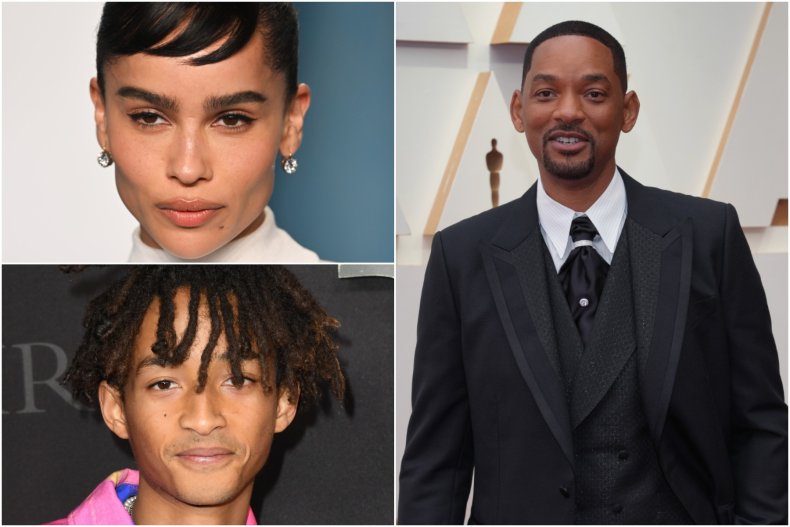 The resurfaced comments come from a 2013 interview with V Magazine in which Kravitz said: "There were moments that I was hanging out with Jaden and thinking, I can't believe you're 14, I have to check myself, like what I say to you."
She said at the time: "He has so much personality and so much swag, he is so much cooler than I am. And he's so handsome, I was always like, when you're older, you know, we'll hang out...Nope, that's inappropriate, you're 14."
A clip of Kravitz saying she brought Jaden Smith as a date to a movie premiere in 2014 has also resurfaced and amassed more than 850,000 views on the platform.
In the Extra TV clip, Kravitz tells a reporter: "I dragged him out tonight. This is my date."
The situation has led to Zoe Kravitz's name trending on Twitter on Wednesday, with the actress being widely mocked.
One viral tweet with more than 133,000 likes reads: "zoe kravitz lost all her twitter hype in just 30 minutes."
While another said: "zoe kravitz just mad at will smith for telling her to stay away from his son that's why she said all that."
Another person tweeted: "Nothing will ever beat how quickly the internet will switch up on someone. Yesterday Zoe Kravitz was the sexiest woman ever and today she has to beat predator allegations."
Newsweek has contacted Kravitz's representatives for comment.