Zoe LaVerne Apologizes for Charging Fans to See Photos of Newborn Daughter
TikTok star Zoe LaVerne, who has more than 21 million followers on the platform, has apologized after charging fans to see photos of her newborn daughter.
The 20-year-old announced the birth of her daughter, Emersyn Raylee, who arrived after an emergency caesarean section, in a message on Instagram last week.
But LaVerne drew backlash after sharing a link for fans to view pictures of her bundle of joy—at a cost of $15 apiece.
The new mother, who is engaged to the baby's father Dawson Day, has since apologized to fans on her TikTok account, sharing an emotional new video this week.
"It does look really messed up, but I'll explain better," she said from her bed.
"So first of all, this is my first time being a mom, and during my pregnancy, I had a bunch of death threats and people saying they were gonna kill her and people saying that they hope she dies and all this stuff.
"And it was really, really scary to me, and I talked to my fiancé about it. We literally had so many conversations about how I'm so worried to post her face, because I don't want people to hate on her and bring hr down and stuff. Which is like whatever. If you hate on a baby you're weird anyways.
"But I still was overthinking it all. And I didn't know what else to do in order for only my supporters to see her and not the people that hated."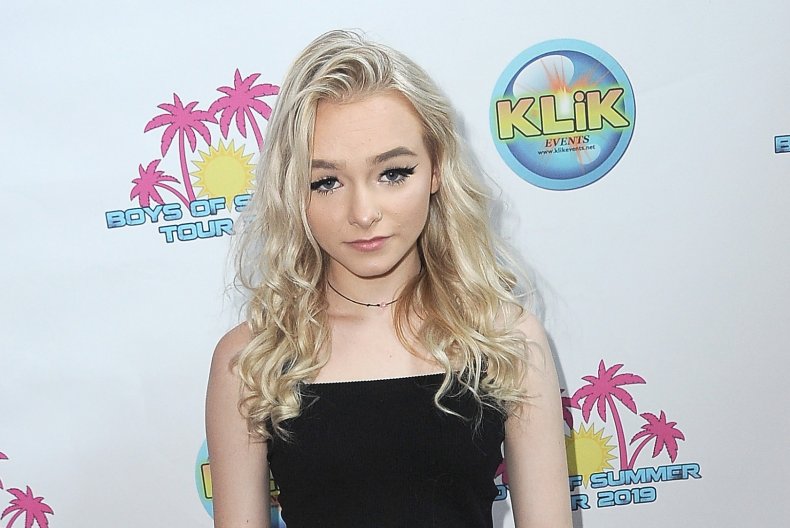 She continued: "So me and my team decided, well maybe if I made a link and people had to pay $15 to see her, that the haters—the people that wished death threats on her, or whatever—wouldn't care enough to pay to see her and only my supporters that actually support me and love me would pay to see her.
"So we created the link and we posted it and I realized that it looked super, super bad and I have a lot of people starting rumors about me and talking about me and saying I'm a bad mom and stuff. I promise you, I'm so new to this.
"I really don't know what the right way and what the wrong way is to do on this. I'm just trying to protect my baby and myself, because... I was just scared."
LaVerne said the money raised will go toward caring for her daughter, who is in a neonatal intensive care unit (NICU), and to families in similar positions.
"All the money I did receive off of the exclusive pictures of Emersyn I am going to saving for her needs... her diapers, her wipes and obviously her hospital bill.
"She was lifelined to a children's hospital to be put into the NICU when she was born. But don't worry, she's OK. She was just having some complications when she was born. I had an emergency C-section and I also was having complications.
"And with the rest of the money I made I am gonna be donating it to other mothers with children that need it, because I know it's hard to be a first-time mom sometimes. And even people that aren't first-time moms and they have complications during pregnancy and hospital bills are expensive and stuff. So I will be helping those people as well. I will be donating the rest of the money."
Concluding the video, LaVerne said: "So basically, I'm so sorry if I offended anybody. I understand why people would be upset or think that I would sell pictures of my baby. That's so messed up—I would never do that.
"I wasn't thinking of it in that way and that's why I took the pictures down after I posted it, because I felt bad and I posted her face. But thank you so much and I hope you guys understand and forgive me and come along with me on my journey of being a new mom. I'm learning."
The apology did not appear to be universally well received, as LaVerne returned to the platform with another video, to i part address a response that read: "There is no valid excuse for what you did. selling pictures of your child online is child endangerment and it's so dangerous."
LaVerne said "there is no excuse for what I did" but that she was not trying to gain financially. "That wasn't what I was trying to get," she said.
"This is so frustrating," added a tearful LaVerne. "I didn't even wanna do it in the first place. But as a new-time mom, I was scared to post her face at first because of the death threats and stuff that she received.
"So I looked at it like that, didn't think about it in any other wrong way that it could have been looked at, and I'm sorry. None of the money that I made off of it is going to me, it's going to Emersyn's needs and her hospital bill from being lifelined, because she had to be lifelined. She was in the NICU, and she still is in the NICU.
"It was all for her medical bills and the rest of the money I am donating to mothers and children who need it, because I know what it feels like to have complications like during your birth and stuff, so I'm sorry again."
The videos, which have racked up a collective total of almost 8 million views, can also be viewed here and here.
LaVerne announced her pregnancy in February, three months into her relationship with Day.