Zoe Saldana Talks Choosing 'Missing Link' Role for Her Kids, Teasing 'Avatar' Sequels
Zoe Saldana is an A-lister who has dozens of film credits under her belt. In her latest venture, the actress will star alongside Hugh Jackman and Zach Galifianakis in stop-motion animated feature Missing Link—out Friday.
Missing Link, written and directed by storyboard artist and filmmaker Chris Butler, follows Mr. Link (Galifianakis) as he seeks Sir Lionel Frost's (Jackman) help in locating the whereabouts of his relatives. The duo is later joined by Adelina Fortnight (Saldana), who helps the pair along their travels to Shangri-La.
The 40-year-old actress signed on to play Adelina in Missing Link because of her three children—Bowie, 4, Cy, 4, and Zen, 2. She also didn't want to pass up the opportunity to work on a project from Laika; a stop-motion animation studio committed to keeping this form of animation alive.
Saldana spoke with Newsweek about her excitement for Missing Link, what audiences can expect with Avatar' s upcoming installments, and her decision to star in several blockbuster franchises.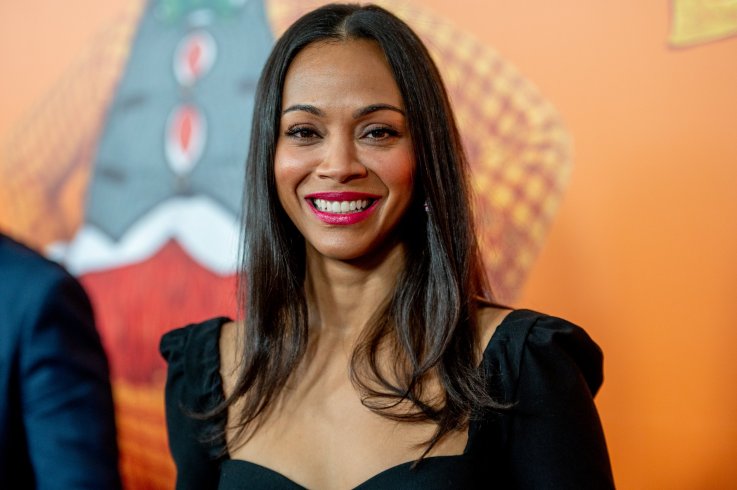 What piqued your interest in Missing Link and convinced you to join the film?
This time around, the opportunity to work with Laika was the most appealing to me. I'm a fan of Chris Butler. I like the stories he's written in the past like Paranorman, Coraline, and Box Trolls. I love everything Laika has ever done and I like that they work [on] one project at a time. It takes them approximately four to five years to make [each film]. They're meticulous. They do everything from scratch, from their original content to the deliverables on their projects. I like associating my name with organizations that stand by a true mission. Laika's mission of not allowing stop-motion to disappear completely, it resonates with me.
Was being a mother of three something that encouraged you to join the Missing Link cast?
It makes me feel good to know that I've made content since I've become a mom that my children can watch...It's the kind of movie that your kid is going to like it and you are as well because it appeals to all kinds of demographics.
How would you describe your character Adelina Fortnight?
Adelina is a very responsible individual who has had to start over a couple of times in her life. [She's] now finding herself in a place where she needs a change. She needs to do something that makes her feel purposeful. She embarks on this adventure with these two characters and ends up really walking away with the answer she's really looking for, which is her own independence. She needs to be completely independent for her to feel complete happiness.
What do you admire most about your character, Adelina?
Her best quality is her sense of justice. She doesn't allow anyone to be bullied in front of her. When Lionel [Jackman] is taking advantage of Mr. Link/Susan [Galifianakis], she stands up for Susan immediately. Adelina reminds me so much of all the women that raised me. It's true! They're dutiful and have a sense of justice. They never stop and they're very determined, but also they have a soft spot for underdogs. I like that about her.
Guardians of the Galaxy Vol. 3 was initially scheduled to debut in 2020. Do you have any hopes for the direction of the film or for your own character's story arc?
God, I wish I did. I really don't and I'm not at liberty, unfortunately, to say. I'm really happy that James Gunn is back to direct Guardians 3 because… he did something that's so amazing by leading by example and sending that message, especially to their audience which is usually young children, that redemption can be done if you realize that you acted impulsively.
You've already wrapped production on Avatar 2 and Avatar 3. What was it like to return to this universe to reprise Neytiri?
It was amazing. I feel really lucky that I've been able to do that on multiple occasions, on multiple projects. Neytiri is my favorite character that I'd ever, ever played. Now that we've come back to see Jake Sully [Sam Worthington] and Neytiri, they're going to have to battle so many more adversities that they could ever imagine. Jim [director James Cameron] has really put together a story that will be really hard for audiences to forget.
What would you say was the reason for Avatar' s subsequent sequels being delayed?
This was a really big undertaking the first time around and it took many, many years to put together. I think it'll be the same amount of time putting the sequels together as well. We also had to wait for the technology to continue to evolve. [Cameron] had other projects he was paying attention to. He also needed to take time off to write these scripts. He wanted to make sure the story was heading in the direction it needed to go in.
Avatar first debuted in 2009. Why do you think moviegoers will still be interested in seeing this film universe further explored within four additional sequels in the years to come?
I think that if anything, Avatar will gain more people. Whoever was just being born in 2009 are now 10 years old. By next year, they'll be 11 or 12, like super ready for Avatar and be introduced for the very first time. For many of us, we'll just be reintroduced all over again. Whether you're watching it with fresh eyes or you've been a fan, it's still something that's going to blow your mind. What made this movie [work initially] was just that it was so extraordinary to watch.
While your body of work includes several diverse titles, you've also appeared in a lot of franchises from Avatar, to Star Trek, to The Avengers, and Guardians. Do you ever have hesitation when signing on board to do franchises or is it a no-brainer for you?
I never thought that they were going to become franchises. I thought it was just going to be a one and done situation. When you're signing your deals, they kinda go 'They want you for five movies.' And you're like 'Why? I'm like 40. I'm going to be 50 when it's over.' They're like 'Oh it's just in case it's successful and they can do another one.' I'm like, 'Oh, OK.' Then when it does become successful and we do another one, I'm always the first person to say 'I'm pinching myself.'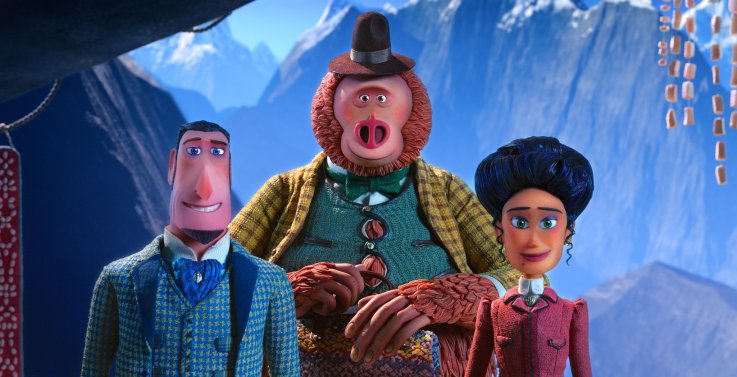 Zoe Saldana Talks Choosing 'Missing Link' Role for Her Kids, Teasing 'Avatar' Sequels | Culture