From Sunglasses to a Pacifier: Zoo Reveals Shocking Items Animals Swallowed
Sunglasses, a water bottle, pacifiers and ChapSticks are just some of the potentially "deadly" items zoo workers have removed from the stomachs of their beloved animals.
A report from Zoo Miami has revealed the alarming problem facing its furry and scaly residents, who end up ingesting whatever trash makes its way into their enclosures.
Ron Magill, Communications Director for the Florida attraction, shone a light on the subject in the zoo's January edition of its magazine, Keepin' It Wild.
It shared shocking images of the variety of items it has extracted from the animals, along with X-rays and a photo of an alligator undergoing a procedure to remove something it swallowed.
Magill told Newsweek: "This is not just a Zoo Miami problem—it is one that is experienced by zoos around the world. Hopefully, through awareness and education, this public behavior can be eliminated and animal lives can be protected from these hazards."
In the magazine piece, Magill explained guests can sometimes accidentally drop things into habitats, but they also throw objects—and make loud noises—to get the animals' attention.
"Though these visitors may believe this is harmless, the reality is that it can be very detrimental, and even deadly, to the animal involved.
"What can be even more dangerous to the animals is when foreign objects end up in their habitats," he wrote.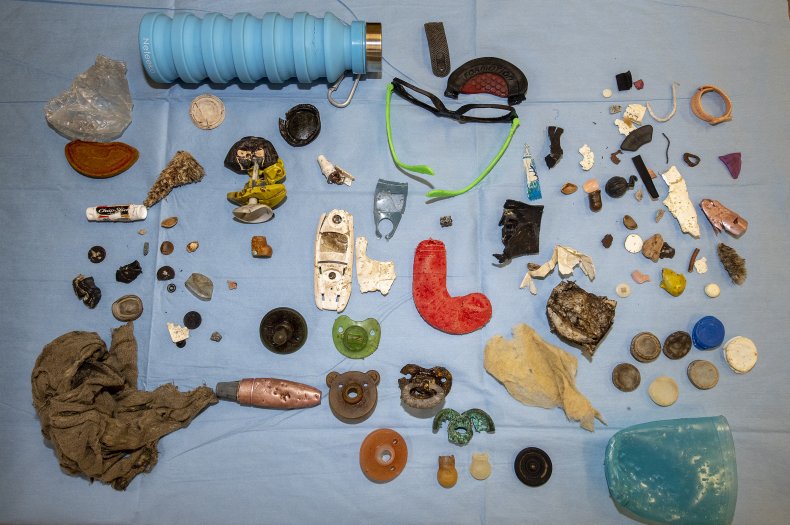 He acknowledged "loose" items, such as phones, sunglasses and hats, can occasionally fall in, which is why he stressed it's imperative that guests secure these items when around the animals.
However, addressing deliberate behavior, he said: "What is most disturbing is when guests purposely throw items into habitats to evoke responses from the animals.
"Not only is this illegal and subject to criminal prosecution, it can quickly lead to critical health issues that, without costly veterinary care, can result in the death of the animal."
When staff are aware an animal has eaten something, they closely monitor it to ensure it doesn't cause a "fatal obstruction."
At Zoo Miami, he revealed: "We have had some animals including alligators and a Komodo dragon that had to undergo surgery to remove items ranging from pacifiers to water bottles that could have proven fatal without veterinary intervention!"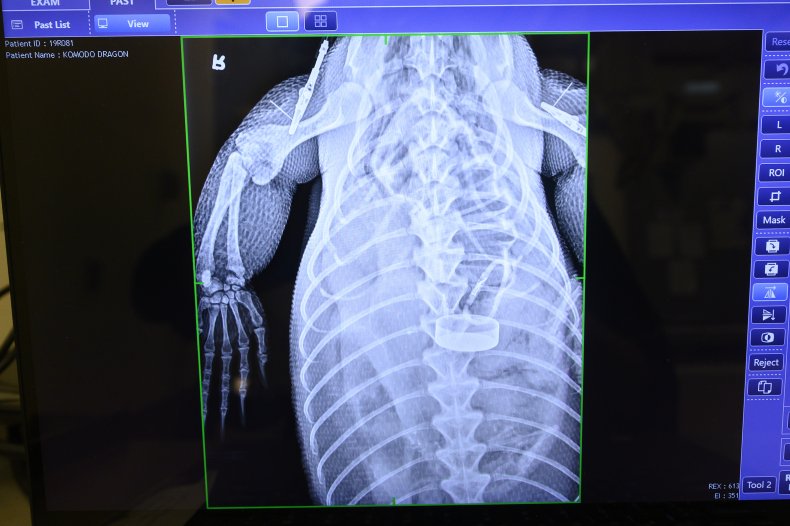 He referenced a female hyena who became lethargic and lost weight, and when her condition worsened she was examined by vets who discovered she had ingested large quantities of rubber from the public walkways.
"This product is in the process of being removed from animal areas," he confirmed, adding the hyena had to undergo emergency surgery to remove the foreign objects, noting if left it would have been "fatal."
Magill urged guests to keep personal items safe, and encouraged parents to educate children on why yelling, tapping on the glass and throwing items isn't good for the animals.
He stated any guests who drop, or sees someone else, throwing items into enclosures should inform zoo staff.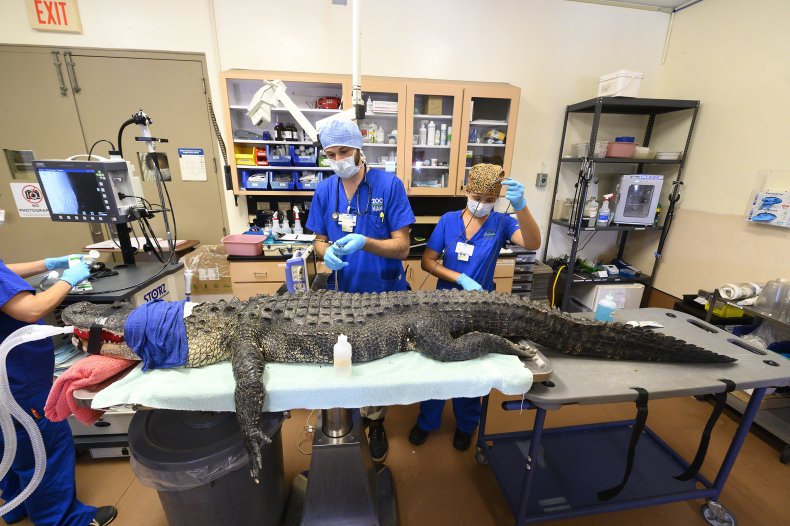 And there are a lot of people to keep track of in zoos, with 183 million visitors annually in the U.S. in 2018, according to the Association of Zoos and Aquariums (AZA).
AZA noted there are 214 accredited facilities in 46 states, and the District of Columbia.
While statistics from Largest.org in 2018, cited by Statista, claimed the biggest zoos in terms of acres are The Columbus Zoo and Aquarium, in Ohio, and Disney's Animal Kingdom, Florida, both reaching 580 acres.
In third place is Minnesota Zoo, at 485 acres, followed by Bronx Zoo at 365, and Brookfield Zoo, Chicago, at 215 acres.