How Zoos and Aquariums Are Keeping Animals From Going Stir Crazy With the Doors Shut to the Public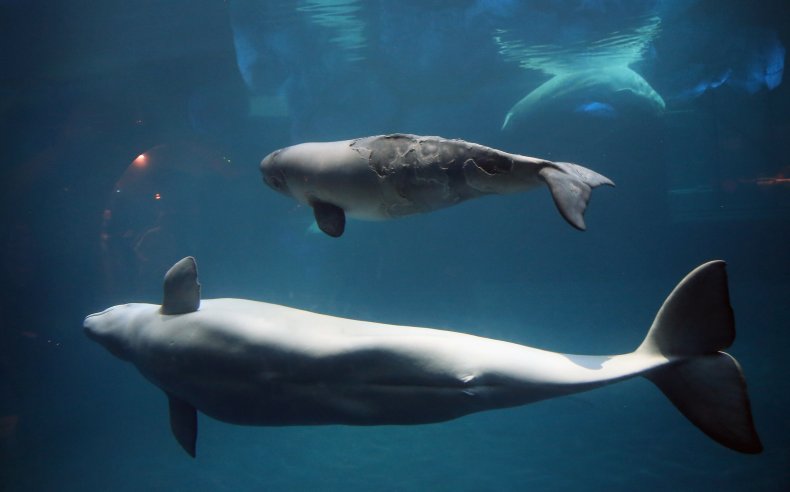 Many zoos and aquariums across the nation have closed doors in an effort to prevent further spreading of coronavirus between workers and the general public. But with no visitors to greet them each day, the animals have unfortunately been forced to practice social distancing as well.
So, some zookeepers and aquarium workers have come up with a few creative ways to keep animals active and possibly prevent them from going stir crazy.
For instance, at Chicago's Shedd Aquarium, penguins were released from their cages and allowed to roam around the aquarium. The aquatic animal center released a string of videos on Twitter of a rockhopper penguin couple as they explored the Shedd's rotunda area on Monday.
The aquarium also shared some interesting facts about the penguins along with a sweet video of the pair walking side-by-side, looking inquisitively at the other forms of life that fill their home.
"The adventure continues! This morning, Edward and Annie explored Shedd's rotunda. They are a bonded pair of rockhopper penguins, which means they are together for nesting season. Springtime is nesting season for penguins at Shedd, and this year is no different!" the tweet read.
The Shedd announced plans to share digital updates on the animals, including videos of their nesting practices, to not only keep the animals entertained, but people at home, too.
"Penguins like Edward and Annie will begin to build their nests next week. Join us digitally for nesting coverage! In the meantime, we will be sharing lots of different animal updates (and yes, Wellington will return!)," the aquarium wrote.
Wellington was one of the first penguins who got to waddle around the aquarium. Human caretakers at the aquarium first began sharing videos of penguins on field trips around the aquarium on Tuesday. The ever-curious Wellington appeared to be most interested in the fish at the aquarium's Amazon Rising ring. The black-barred silver dollar fish that filled the tank seemed to be just as interested in him, too.
In a statement to the Chicago Tribune on Sunday, the aquarium said it was keen on being "creative in how [caretakers] provide enrichment for the animals."
"Introducing new experiences, activities, foods and more to keep them active, encourage them to explore, problem-solve and express natural behaviors," the statement continued.
Meanwhile, Cincinnati Zoo, home of the famous hippo Fiona, has begun offering Home Safaris on Facebook Live during weekdays. The zoo shared its first live recording from Hippo Cove, giving viewers the chance to see Fiona and her mother Bibi go about their daily lives.
Oregon Zoo also announced plans to share videos of the animals for folks at home to enjoy. The zoo released a video of Toodles the ringtail on Monday, giving viewers a glimpse into the furry animal's regular snack time.