Children Watch in Horror as Tigers Eat Live Donkey at China Zoo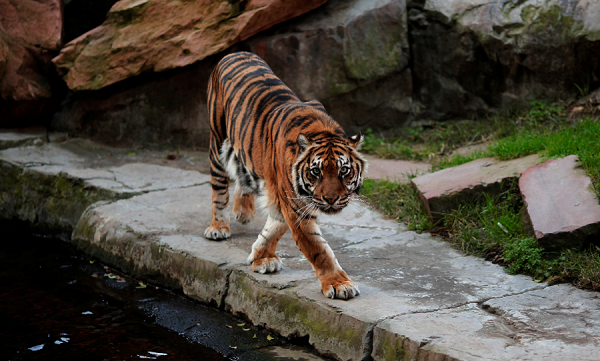 A zoo in China is facing controversy after a mob of angry investors fed a live donkey to tigers as zoo guests, including children, watched and cried out in horror, The Guardian reported. A video showing the investors pushing the donkey into the tiger enclosure sparked public outrage after it went viral Monday.
In the video, which has been viewed more than 210,000 times on LiveLeaks, the disgruntled investors are seen pushing the donkey out of the back of a pick-up truck, causing the animal to fall into a moat in the tiger pit. Within seconds, two tigers go after the donkey, clawing and biting the animal before it eventually dies 30 minutes later.
The shareholders were reportedly planning to also toss a sheep into the enclosure before the Changzhou zoo's security team stopped them.
In a statement released on Chinese website Sohu.com, the zoo blamed the incident on shareholders who were upset over unpaid returns. According to members at the zoo, some shareholders believed zoo officials and members of the court were "conspiring to cheat small investors of their investments."
Since investing in the zoo over two years ago, some shareholders have received zero financial returns on their investment. The zoo became entangled in a lawsuit shortly after the investments were made and the zoo's assets were frozen.
"Since we can't have any benefits, we thought why not feed them to the tigers, at least we can save on animal feed," an unidentified shareholder told local media following the protest.
With assets frozen, shareholders aren't the only ones who have been affected by the lawsuit against the zoo. The zoo hasn't been able to purchase the food necessary to feed various animals, some of which, including two giraffes and a chimpanzee, have died because the zoo wasn't able to obtain the necessary permits to transport them to an outside veterinary for medical treatment. The zoo noted that the shareholders were "filled with anger for a long time" regarding their missed payments and said the animal deaths only fueled their annoyance.
Following the donkey incident, the zoo, which is located right outside of Shanghai, issued an apology, saying it was "deeply sorry" and would ensure that a "similar incident would never happen again." The zoo also said it was working to resolve its legal problems, which would essentially allow it to settle the financial matters with shareholders.
There are zoos in China that allow live feedings, including a tiger sanctuary in the northeast province, Heilongjiang, which allows guests to pay to watch a live cow or chicken fed to tigers. However, the zoo in Changzhou does not have the specific sanctions that allow live feedings.