Zoo Guest Jumps Into Enclosure to Save Handler Bitten by Gator
A zoo handler was taken to the hospital Saturday to receive treatment after being bitten by an alligator during feeding. The incident could have been fatal, but thanks to her expertise, coupled with the bravery of two zoo guests, she escaped and is expected to make a full recovery.
The attack took place at Scales and Tails Utah, a family-run reptile and bird education center. Video obtained by local Fox 13 News shows a group of people, including children, watching the alligator from the enclosure's "safety zone."
When the trainer, Lindsay Bull, opens the door to the enclosure, the alligator tries to crawl out. She puts her hand up to stop it, but as she pushes the gator back into the water, it snaps down on her hand. Bull is then forced to jump into the tank with the gator, which performs a death roll with Bull's hand still in its mouth.
In a conversation with The Salt Lake Tribune, Bull said: "I was like, 'I don't want to do this. It is scary,' [but] what other choice do you have? You're going to roll and hopefully save your limb, or you're not and you're definitely going to lose your limb."
As Bull struggled in the water with the gator, a guest, identified as Donnie Wiseman, jumped in to help. In the video, he can be heard yelling "We got trouble," in an attempt to summon other employees. Wiseman then tries to pull Bull from the gator's clutches, but she tells him, "don't pull me, don't pull me," so he runs into the enclosure and jumps on the gator's back.
"I'm just like, 'What do I do? What do I need to do?'" Wiseman told Gephardt Daily. "And I got on him, just like in all the movies and documentaries I've seen."
Eventually, the gator released Bull's hand, and another guest, Todd Christopher, was able to pull her from the water. Bull continued to coach Wiseman, who was still on the gator's back. With her guidance, he was able to exit the enclosure without any injury.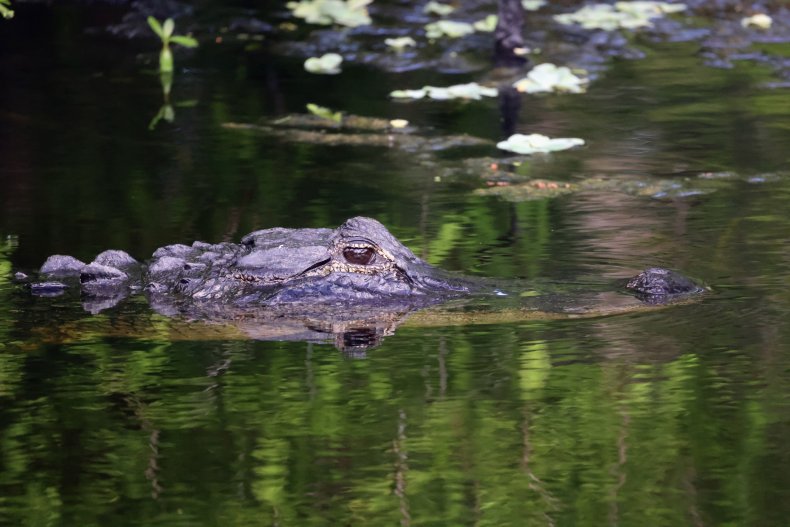 "She's the real hero," Wiseman said. "After she's released she's still there talking me through, because I was nervous, and I was very aware of the danger of the situation, especially after I got a front-row seat at what he just did."
The zoo posted a public thank-you to their Facebook page Sunday.
"Yesterday, the sort of event that we hope never happens happened," the post read. "One of our gator handlers got bitten by our large alligator and things took a bad turn. These gentlemen could have stayed in the safety zone as most of us would, but instead jumped into the situation of their own volition, and helped secure the alligator.
"Their help, combined with the training of our staff member, probably saved her life and her limbs," the post continued.
On Monday, the zoo also shared a status update on Bull, who was taken to the hospital to be treated for her injury.
"I got lucky to land in a hospital that employs what has to be the best orthopedic surgeon in Utah," Bull said in the update. "He was able to improvise and come up with a solution that should result in full use of my hand. I can't explain the level of admiration I have for that man."
Though the experience was undoubtedly terrifying, Wiseman said he looks forward to visiting the zoo again and hopes to see Bull after she's made her full recovery.
"To the staff at Scales and Tales, thank you for having such skilled and brave people working in that environment saved us both," he said in a Facebook comment. "I'm glad to hear she is doing well... I'll come visit again. I loved that place... p.s I would really like to still hold that anaconda if she would assist me when she is well."
Newsweek has reached out to Donnie Wiseman for comment but did not hear back in time for publication.