People around the world have been lining up to get vaccinated against COVID-19, but taking steps to safeguard against the deadly pandemic has extended beyond humans. The Detroit Zoo began vaccinating its most vulnerable animals, including gorillas, chimpanzees, tigers and lions.
According to a press release from the Detroit Zoo, the vaccine that has been administered was developed specifically for zoo animals by Zoetis, a veterinary pharmaceutical company. The use of this vaccine was authorized on a case-by-case basis by the United States Department of Agriculture.
"The animals routinely get other vaccinations," said the zoo's Chief Life Sciences Officer Scott Carter. "Many of the mammals are trained to present themselves to our animal care staff for minor medical procedures, including vaccinations. We're both thankful and relieved a special vaccine is now available to protect against COVID-19."
The Centers for Disease Control and Prevention noted that there have been reports of animals that were afflicted with the virus after close contact with people who had COVID-19. So far, the animals that have been reported infected include pet cats, dogs and one ferret, zoo animals, wild white-tailed deer in some states in the United States and mink on mink farms.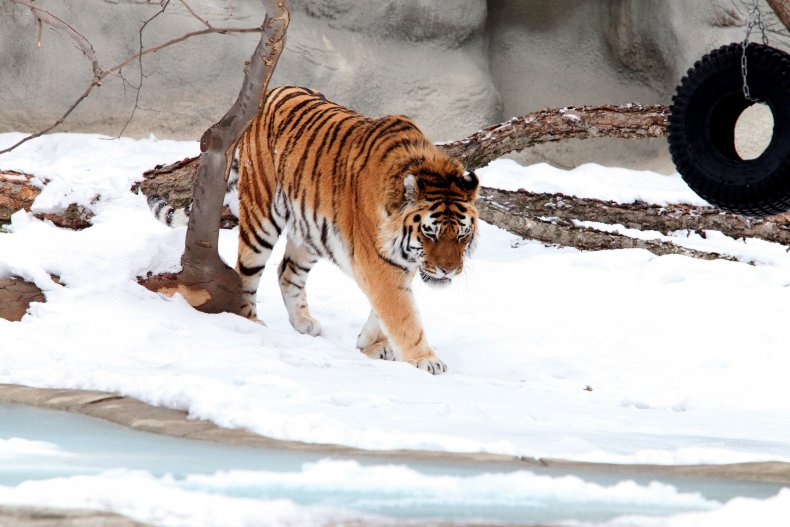 Dr. Ann Duncan, Detroit Zoo's director of animal health, told Newsweek that the zoo first began using this vaccine for its animals last week. And, although the zoo is home to a number of different species of animals, the same vaccine can be used for all of the animals.
Duncan explained that the zoo prioritized the animals most at risk of contracting the virus, which included ape species, big cats and types of minks and otters. None of the animals in the Detroit Zoo have been infected with the virus, but Duncan said it's important to take the necessary steps to add a layer of protection for them.
"It's not extremely common for animals to be infected with [the virus], but we think it's important to provide this safeguard since we can," she said.
And, while the Detroit Zoo has just started vaccinating its own animals, it isn't the only zoo taking advantage of this vaccine. Zoos in California have also started to vaccinate their animals, and KSAT reported that the San Antonio Zoo is expecting a shipment of the vaccines in the coming weeks.
The Detroit Zoo's press release also stated that Zoetis is donating more than 11,000 doses of the vaccine to 70 zoos and more than a dozen conservatories, sanctuaries and other organizations across 27 states.
Duncan said since they've started vaccinating the animals, there haven't been any adverse side effects observed by the zoo's caretakers.