Zoo Shares Sweet Photos to Announce Birth of Endangered Leopards
A collaboration to breed the most critically endangered big cat in the world led to the birth of two Amur leopard cubs at the Niabi Zoo in Coal Valley, Illinois.
According to a statement shared on the zoo's Facebook page, there are fewer than 100 individual Amur leopards left in the wild.
"While there are no other reports of captive breeding for this species yet this year, there were only seven animals born in the U.S. for all of 2021," the post stated.
Officials with the Niabi Zoo stated that it would receive and house one of several Amur leopards brought in from zoos in Europe to breed with its own "genetically valuable" male leopard named "Jilin."
"After lots of planning, and several COVID-related delays, we finally received 'Iona' from the Thrigby Hall Wildlife Gardens in Great Britain on July 5th of 2021," the post stated.
Lee Jackson, the director of the Niabi Zoo, told Newsweek Iona was quarantined for about 30 days before the zoo introduced her to Jilin.
"They hit it off quickly," Jackson said.
Sometimes, he said, there is a chance that animals don't get along and will not breed.
Both Jilin and Iona are first-time parents following the birth of the two cubs, which were pictured in the zoo's Facebook post announcing their birth.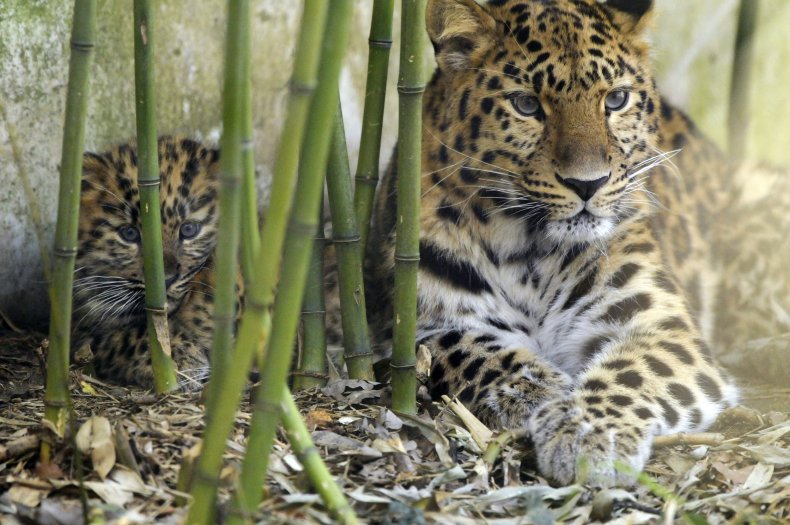 One of the photos shows a fluffy newborn staring back into the camera, while the second picture features both baby leopards.
As one cub is turned away, its sibling is pictured looking straight into the camera with its mouth open.
Zoo officials also said that a third cub was born, but it only survived a few days.
The World Wide Fund for Nature noted that in addition to being hunted for their coats and bones, the homes of Amur leopards have been destroyed.
These leopards are mainly found in the Russian Far East, though some live in northeast China and a few may be in North Korea.
In an effort to save this species in the wild, organizations have worked together with governments to put protections in place.
This includes supporting anti-poaching work, policies to stop the illegal trade of Amur leopard parts and protecting the habitats.
"The good news is, having been driven to the edge of extinction, their numbers appear to be rising thanks to conservation work—we're also able to survey more areas than before and use camera traps to estimate population changes," the organization said.
Being a part of a conservation program for a critically endangered species has meant a great deal to the Niabi Zoo.
"It speaks very well of the regard in which Niabi is held in the international conservation community, and to the expertise of the Niabi Zoo animal care staff," said Jackson.
He said Iona will stay with the Niabi Zoo to raise the cubs for at least two years, and so far, things have been going smoothly.
"We're all very proud of this, "Jackson said. "It's part of a bigger conservation effort and it was wonderful to contribute."
Updated 03/14/2022, 5:36 p.m. ET: This story has been updated with comments from Niabi Zoo Director Lee Jackson.