Zookeeper Killed by Tiger in 'Freak Accident'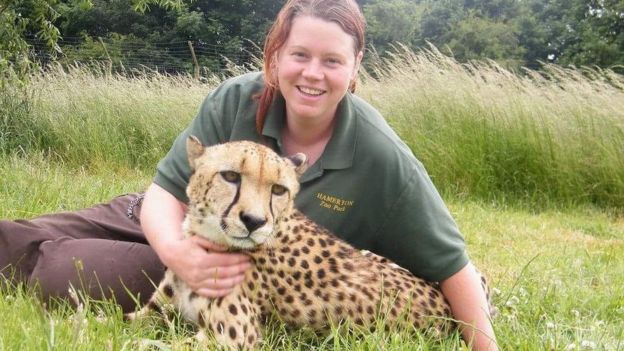 A tiger in a U.K. zoo has killed a keeper in what the park has described as a "freak accident."
The zookeeper killed was 33-year-old Rosa King, who died on the scene on Monday after the tiger entered the enclosure. The incident happened in Hamerton Zoo Park, in Cambridgeshire, central England, at around 11.15 a.m. local time police said.
Visitors were evacuated from the zoo before the keepers realized that the tiger had not escaped.
"At no point during the incident did any animals escape their enclosures and at no point was public safety affected in any way," said a zoo spokesperson in a statement. "All our thoughts and sympathies are with our colleagues, friends and families at this dreadful time."
Cambridgeshire Police said the incident was "not believed to be suspicious", and that the tiger involved had not been destroyed and was "believed to be fine." The zoo said it was conducting an investigation into what happened.
Peter Davis, a visitor at the zoo with his family, told the BBC he had heard a "commotion" near the enclosure where King was attacked, and a zookeeper screamed.
"One of the girls, we just heard her scream. And one of the girls shouted 'run'. So a few of us ran into one of the zookeepers' small rooms by the closure," he said.
He said they were held in the room for about 10 minutes. "As we came out, we were sort of ushered further away, but we were still looking at what was going on, and you could obviously see the keepers all distressed, not really knowing what to do, heads in their hands.
"A couple of them were throwing meat over the enclosure to try and entice the tiger away, but it was probably going on for 10 to 15 minutes," he added.
A friend of King's, British wildlife photographer Garry Chisholm, paid tribute to the keeper. "Rosa wasn't just a keeper at Hamerton Zoo—she was Hamerton Zoo," he said in a statement to media.
"She was the absolute central point of it, the focal point of it. She was the shining light of it.
"Her passion for the animals in her care was exceptional though her favourites were undoubtedly the cheetahs which she would refer to as her pride and joy," he said.