Zoom Rallies, Airlines Tumble as Pandemic Panic Grips Stock Market
The U.S. Stock Market on Thursday experienced its worst day since the height of the coronavirus as a dozen states saw a rise in COVID-19 related hospitalization, refreshing worries that the economy may not recover as quickly as optimists had hoped.
However, Zoom Video Communications, Inc., the company behind the increasingly used video conferencing software, has continued experiencing 32 percent market growth from March 28 to June 11.
School closures, conference cancellations and orders to shelter-in-place and work-from-home have all helped Zoom more gain hundreds of millions of users during the epidemic's early days. The company's continued growth suggests that investors expect it continue robust growth into the coming year.
Meanwhile, the exchange-traded fund (ETF) for airlines slumped, including United dropping by 13 percent drop, Delta going down by 11 percent, American close behind at 10 percent and Southwest at around 8 percent.
Market analysts say that reduced flight schedules in the fall won't be able to make up for all the canceled summertime travel. Airline financial numbers could fare even worse as the government's payroll support program and federal funds for airlines both expire soon.
In the overall market on Thursday, Dow Jones industrials lost more than 1,800 points, nearly seven percent; the S&P 500 fell nearly six percent; the energy sector was down by more than nine percent, the financial sector by more than eight percent and crude oil prices fell by eight percent.
The downturn follows a nearly three-month upturn with the S&P 500 climbing about 45 percent since late March, essentially recouping the entirety of its losses this year.
While President Donald Trump and other market analysts had hoped stocks would continue to improve as most states start to reopen their economies after statewide shutdowns of workspaces and non-essential businesses, at least 13 states have seen a rise in newly-confirmed coronavirus cases.
Even though the number of weekly filings for unemployment benefits has steadily decreased from 6.9 million on March 28 to 1.5 million by June 6, a total of 44.1 million Americans have filed for unemployment benefits over the last 12 weeks, signaling unemployment levels not seen since the Great Depression.
Democrats and Republicans in Congress have stalled out thus far on issuing an additional stimulus bill that could maintain unemployment benefits while encouraging spending, leaving uncertainty in economic stability over the next quarter.
"The virus and the measures taken to protect public health have induced sharp declines in economic activity and a surge in job losses," the Federal Reserve said in a statement released on Wednesday.
"The ongoing public health crisis will weigh heavily on economic activity, employment, and inflation in the near term, and poses considerable risks to the economic outlook over the medium term," the statement continued.
The Federal Reserve said it plans to keep its short-term interest rate near zero through 2022 and to keep purchasing nearly $120 billion in Treasury and mortgage bonds each month to maintain low longer-term borrowing rates, according to the Associated Press. The Federal Reserve hopes these measures encourage market spending and growth.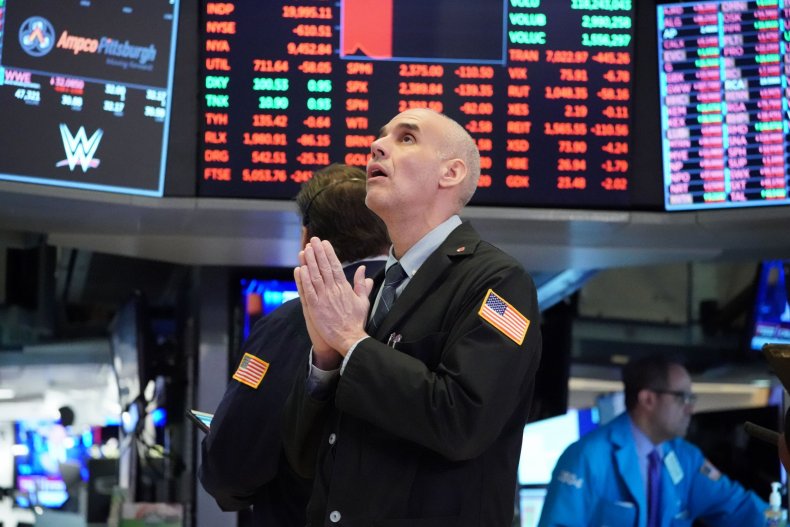 Although the economy added 2.5 million jobs in May, Federal Reserve Chairman Jerome Powell said it "could be some years" before millions of jobs return.
Kristina Hooper, chief global market strategist with the investment management company Invesco, told MarketWatch that Powell effectively "threw cold water" on a cheery market output with his and the reserve's recent statements.
"The stock market has almost had blinders on," Hooper said. "More than one in three companies in the S&P 500 are dispensing with earnings guidance. So investors have anchored to data, which has been relatively positive about reopenings in various states, improvements in PMIs and the jobs report last week. In one fell swoop, Jay Powell threw a lot of cold water on that narrative."