Zoom Shares Crash After Pfizer Claims Its COVID Vaccine Is 90 Percent Effective
Shares in video-call software Zoom plunged by around 15 percent this morning as news broke about a promising COVID-19 vaccine candidate.
Pharmaceutical companies Pfizer and BioNTech said today that their vaccine candidate appeared to be over 90 percent effective in preventing COVID-19, impacting the value of a company that surged in popularity in a year of lockdowns and quarantines.
Pfizer and BioNTech suggested their mRNA-based vaccine trials showed "evidence of efficacy" against COVID-19 in participants without prior evidence of an infection.
Pfizer Chairman Dr. Albert Bourla said it was a "great day for science and humanity," as the news sent Zoom shares into freefall. Shares in Amazon and Netflix also fell by between three and six percent after the announcement.
The pandemic changed how citizens around the world work, learn and socialize, with video software becoming critical to daily lives as more people found themselves under government-ordered lockdown intended to limit the spread of the disease.
Prior to today's shift, Zoom shares had spiked by more than 600 percent this year to date, while Amazon was up close to 80 percent and Netflix up by nearly 60 percent. Zoom stock appeared to recover slightly during premarket trading.
"The more the coronavirus makes in-person interactions dangerous, the more valuable Zoom is," tweeted Justin Wolfers, who is a professor of economics and public policy at the Gerald R. Ford School of Public Policy at the University of Michigan.
"So Zoom's stock crashing can signal that traders believe we're making progress in the war on the virus — like today's news about a potentially powerful vaccine."
The vaccine candidate news also resulted in positive movements in the stocks of airlines and cruise liners, which were both hit hard by the pandemic. Mirroring Zoom's downturn was Peloton, a home exercise company, which saw its shares fall by 13 percent.
In a media release, Pfizer and BioNTech said Emergency Use Authorization (EUA) would be sought from the Food and Drug Administration (FDA) in the wake of the next safety milestone being completed, estimated to be the third week of November.
The companies said that current projections indicate they could produce up to 50 million vaccine doses in 2020 and up to 1.3 billion doses in 2021, although tests continue.
Donald Trump, who last week lost the presidential election to Democratic candidate Joe Biden, reacted with an all-caps response on Twitter, writing: "STOCK MARKET UP BIG, VACCINE COMING SOON. REPORT 90% EFFECTIVE. SUCH GREAT NEWS!"
The following graphic, provided by Statista, shows the stock performance of multiple companies on Monday, following news about the promising vaccine candidate.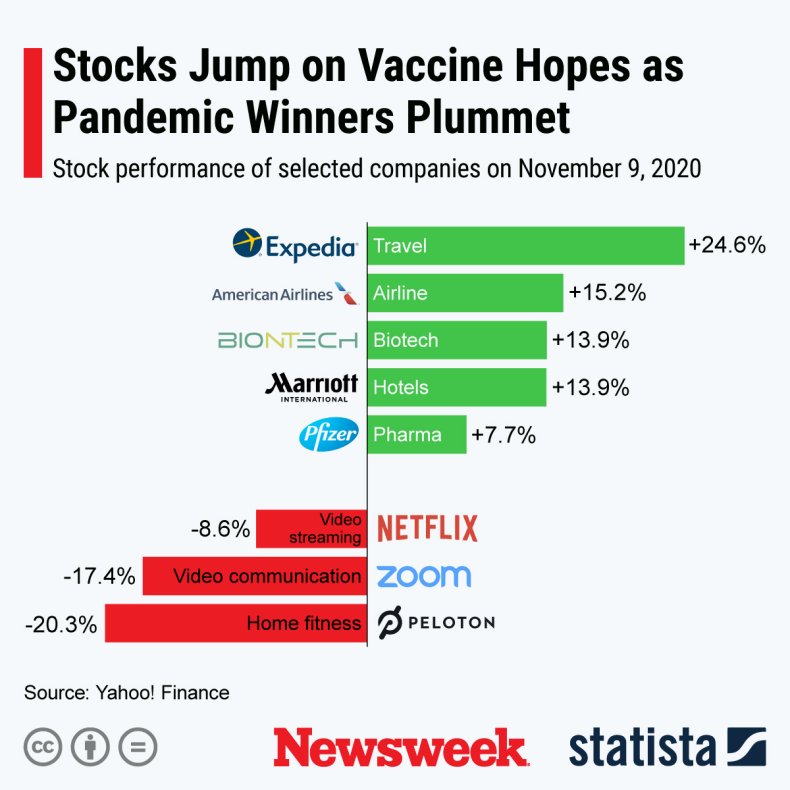 The wider scientific community expressed healthy skepticism about the vaccine, saying more data is needed to independently confirm the findings of the firms' analysis.
"The two companies... point out that the trial participants are ethnically diverse, which is good, but say nothing about the age of people in the trial," said Prof Eleanor Riley, Professor of Immunology and Infectious Disease, at Scotland's University of Edinburgh.
"If a vaccine is to reduce severe disease and death and enable the population... it will need to be effective in older and elderly members of our society.
Prof. Riley added: "We also know nothing yet about the severity of cases that were seen in the trial, whether infection or infectiousness was prevented or how long immunity is expected to last. But, I think we have reason to be cautiously optimistic."
This article was updated with a graph provided by analytics company Statista.