GOP Rep Video-Conferences Into Committee Meeting Upside-Down—'At Least He's Not a Cat'
A House committee meeting got off to a sideways start after a congressman appeared in a video conference upside-down.
At a virtual House Committee meeting on Wednesday, Tom Emmer, a Republican representative for Minnesota's 6th congressional district, began speaking about the topic of the day—financial services—when Representative Maxine Waters asked him to suspend his argument because his face appeared on the meeting's screen upside-down.
A video of the mishap made waves on social media.
"I'm sorry Mr. Emmer. Are you OK?" Waters asked in the clip.
Emmer wasn't initially aware that it appeared as if he was standing on his head—as one congressman pointed out—because he simply responded: "I am."
When people in the meeting tried to explain that his video settings made him look as though he was upside-down, he confessed that he didn't have a clue as to how why the video appeared that way. "I don't know how to fix that," he said.
Members of Congress attempted to help him, but that didn't come without a few jokes and wisecracks. "At least you're not a cat," one person yelled, referencing the recent viral video of a lawyer who showed up to a Zoom meeting with a cat filter on display.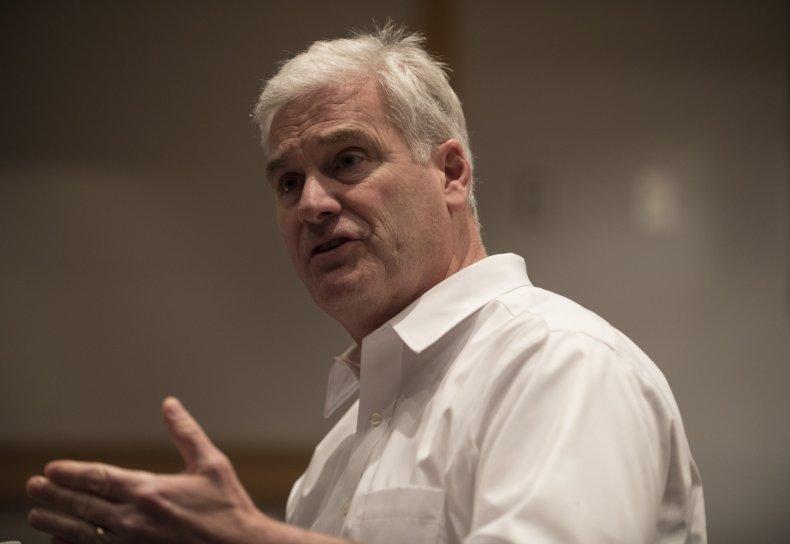 Emmer was confused by that too. "Is this a metaphor?" he asked.
"I don't know, but it's upside-down," Waters replied.
Emmer explained that he was trying to fix the video but couldn't figure it out. "I don't know what happened. It just came out this way. I turned off, and I turned it back on, and I'm still.…"
After a few more seconds, someone adjusts the video and Emmer is right side up.
The Capitol Hill video fiasco comes a day after a county attorney in Presidio County, Texas couldn't figure out how to turn off the cat filter on a zoom call. Rod Ponton was speaking on Tuesday during a virtual hearing in Texas' 394th Judicial District Court when he appeared on the screen under the guise of an adorable white kitten, which presiding Judge Roy Ferguson pointed out.
After struggling to remove the filter, a frustrated Polton declares: "I'm here live. I'm not a cat."
It turned out that Polton was using his secretary's computer for the call, and while she was the one who was able to finally help get real Polton back on the screen, the lawyer said she was "mortified."
That video went viral within minutes of surfacing online. Despite all the jokes and memes that have come from it, Polton told The New York Times that he was happy he was able to give people across the country a laugh.
"If I can make the country chuckle for a moment in these difficult times they're going through, I'm happy to let them do that at my expense," he said.