Zuckerberg Hospital ER Doesn't Take Private Insurance, Sticking San Francisco Patients With Huge Bills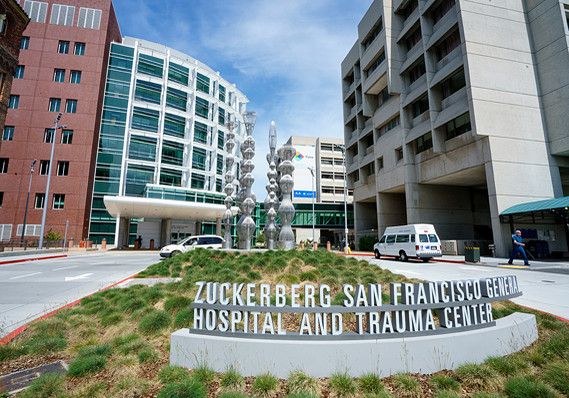 Updated January 8, 4:21 p.m. with comment from Zuckerberg San Francisco General.
In 2015, Facebook founder Mark Zuckerberg and his wife, Priscilla Chan, donated $75 million to San Francisco General Hospital for the construction of a Level I Trauma Center, the only such facility in San Francisco. The hospital was subsequently renamed Zuckerberg San Francisco General.
The largest public hospital in the city, Zuckerberg San Francisco General cares for 20 percent of all San Franciscans, according to the hospital's website. But patients who find themselves at the hospital may be in for a surprise after an ambulance ride and treatment, because Zuckerberg San Francisco General doesn't take private insurance.
After a year-long investigation in which it looked at several case studies of patients saddled with massive debt after routine treatments, Vox, found that Zuckergerg San Francisco General was exceptional in its billing practices, After getting hit by a car on her bike, Nina Dang was taken to Zuckerberg San Francisco General and was treated for a broken arm. Doctors also took a CT scan of her brain and spine. Her bill: $24,074, with her insurance agreeing to cover only $3,830.
Five other bills reviewed by Vox revealed a similar pattern, with privately insured patients sent massive bills for treatments, without any recourse to their insurance coverage that was meant to protect them.
Zuckerberg San Francisco General, unlike most hospitals, doesn't negotiate prices with health insurance providers. It is considered "out-of-network" for all private insurance plans. The hospital instead focuses on patients with public health plans, such as Medicare and Medicaid, recouping from patients with private insurance what the hospital loses treating the uninsured and underinsured. In Dang's case, Zuckerberg San Francisco General billed 12 times the Medicare rate for her treatment.
"It's a pretty common thing," a spokesperson for the hospital told Vox. "We're the trauma center for the whole city. Our mission is to serve people who are underserved because of their financial needs. We have to be attuned to that population."
But contrary to the hospital's position, only 1 percent of ambulance rides nationwide drop patients at out-of-network emergency rooms, according to a study by economist Christopher Garmon at the University of Missouri Kansas City. The study also found that approximately 20 percent of emergency department admissions nationwide resulted in a surprise medical bill. Because of its size and top-tier emergency room, Zuckerberg San Francisco General takes in one-third of ambulances in the city, meaning many of its patients, some unconscious on arrival, are unaware of the hospital's unusual lack of support for their insurance.
"According to what I've seen, that's unusual," Garmon told Vox. "I've heard anecdotes of some hospitals trying a strategy like this, but my impression is that it doesn't last very long."
Robert Berman, at the medical billing service Systemedic, agreed. "For the ER to be out of network? That's a bit odd," Berman told Vox.
"As a Level 1 trauma center, we must meet certain requirements, 24/7/365, as delineated in the California Code of Regulations (CCR) and by state and national credentialing agencies. The requirements are substantial and, because they require such commitment of resources, costly," a statement from ZSFG released to Newsweek reads. "We realize there are challenges, difficulties and inefficiencies in our national system of healthcare insurance. We realize burdens are often placed on individuals who are least able to afford them. And we are not in the position of defending the inequities of this system, only working within our prevailing system to the best of our abilities."
Emergency room patients attempted to reduce out-of-network bills as part of a 2009 class action brought against Zuckerberg San Francisco General, but the ruling was not in their favor, since the hospital's billing system is legal in California.
Only 21 states, including California, have legislation designed to protect patients against unexpected billing when hospitals and insurance companies disagree on out-of-network payments.