Zuckerberg Talks Dislike Button, Real Name Policy, Privacy and Ethics in Live Q&A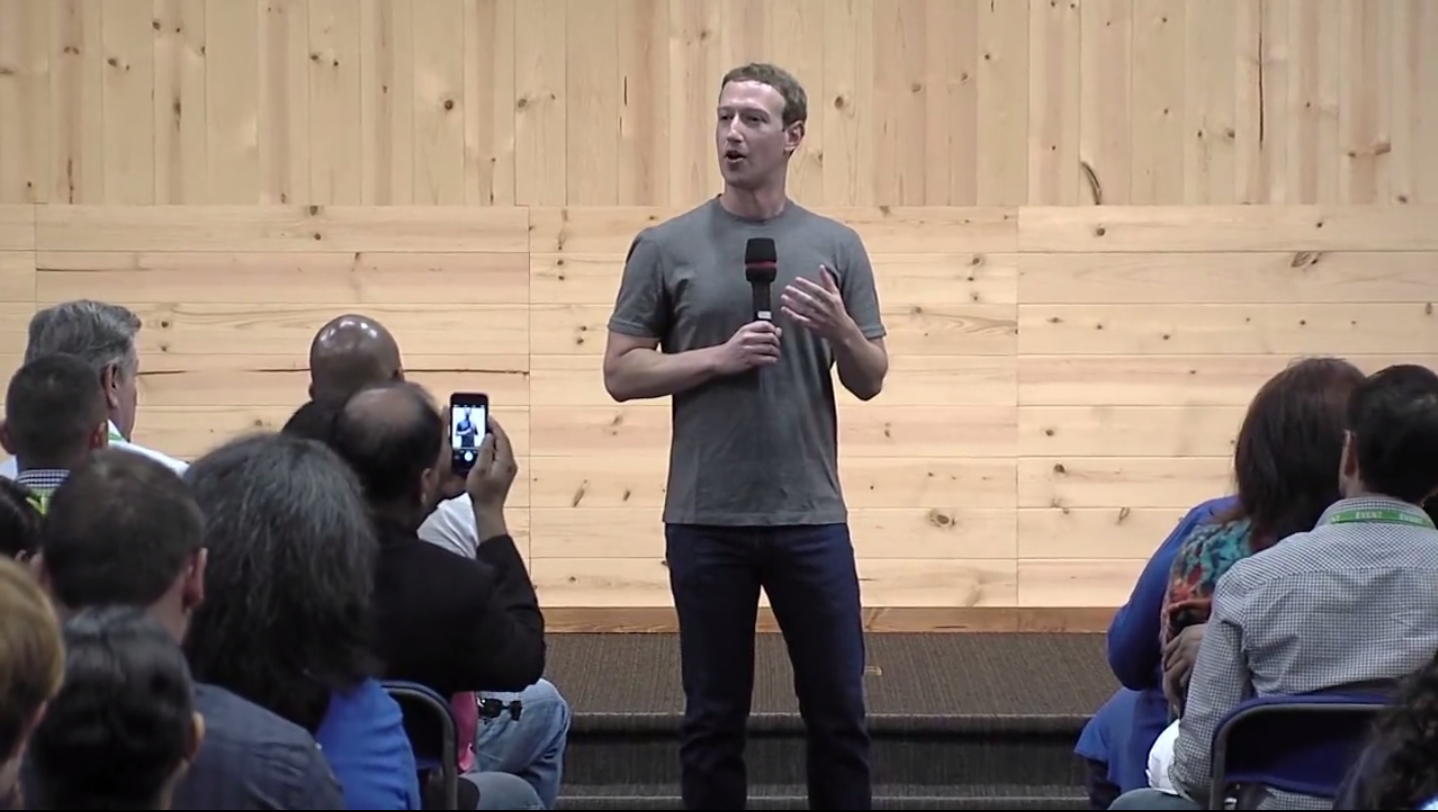 Facebook held its second public question-and-answer session on Thursday, enabling members of its global community to pose questions to CEO Mark Zuckerberg on topics ranging from features of the social media site to how the platform impacts societal interactions.
Similar to its first town hall endeavor, Facebook crowdsourced questions on Zuckerberg's profile and asked the community to vote on questions by liking them. Here's a look at Zuckerberg's responses to those popular questions and ones taken from the live audience of Facebook users.
Has there been any discussion of a dislike button?
The short answer is no.
"Some people have asked for a dislike button to be able to say 'that thing isn't good' but we don't think that is something that is good for the world so we're not going to build that," Zuckerberg said. But he also explained that implementing additional buttons to allow users to quickly convey sentiments other than positivity has been discussed internally before.
"The like button is very valuable because it is a way for you to quickly express a positive emotion or sentiment when someone puts themselves out there and shares something," Zuckerberg contended. " ... and often people tell us that they don't feel comfortable pressing like because like isn't the appropriate sentiment when someone lost a loved one or is talking about a very difficult issue. I think giving people more ways to express more emotions would be powerful but we need to figure out the right way to do it so it is used for good and not to demean posts."
He explained that while he believes it is an important discussion, there are no plans to roll out such changes anytime soon.
How can Facebook transition to a more productive medium?
Though many view Facebook as a time waster, like the person who posed this question, Zuckerberg disagrees.
"In our society we grow up, go to school, are told to do our work, get good grades, and then you can socialize and build relationships and have friends after you are done with your homework ... I think that that is wrong," he said.
"I don't know how our society got to this point. For me, the relationships that I have, the friends, the family, that's the part of my life that matters and that is what I think Facebook is trying to help people do, giving people a tool to stay connected with more people that they wouldn't otherwise have the ability to ... so I don't think it is a waste of time at all."
Why can't I change my username?
Facebook's real name policy provoked outrage in recent months--the platform barred a notorious drag queen from using her name, which led to a mass exodus of users from Facebook and onto another social media site, Ello.
The series of events resulted in Facebook issuing an apology through a staffer named Chris Cox, who said: "I want to apologize to the affected community of drag queens, drag kings, transgender and extensive community of our friends, neighbors and members of the LGBT community for the hardship that we've put you through in dealing with your Facebook accounts over the past few weeks. We've had this policy for over 10 years, and until recently it's done a good job of creating a safe community without inadvertently harming groups like what happened here."
But Zuckerberg seemed less apologetic in his answer.
"On Facebook, most people refer to themselves by their real name and that is a really important part of the culture of the community," he said. "There are a lot of online communities that are separate from the real world and what we've tried to do with Facebook is make it so it's more of a reflection of the relationships you have in the real world and an extension of your real world and reality."
Why are there so many privacy updates?
The terms of use keep changing. Though Zuckerberg didn't provide a digestible summary of the newest round of privacy updates, he did address the reasons for their frequency.
"What we try to do is update the privacy policy about once a year to reflect the technological and business changes that happened in that year," he explained. "It used to be that Facebook was one product, it was this website .. now Facebook is this company that offers a lot of different services [like Instagram and Whatsapp] ... in making that change from a single product to a handful ... we have to update our policy to let our community know how these products are going to tie together."
He continued, "Another thing is .. we can't start building products without making it clear to everyone in our community what we're doing with different types of information and if we want to start dealing with products that have to use location information, for example, that's really sensitive ... so that's the kind of thing we'll update and put in our privacy policy."
What's with Facebook experimenting on users?
A report published in August revealed that Facebook had conducted an experiment back in 2012 in which they manipulated hundreds of thousands of users' emotions for a week.
"We ran a relatively small test that didn't show as many happy posts or didn't show as many sad posts and measured whether they were posting happy or sad things afterwards," Zuckerberg explained. "We think that the only way that we can make our services better for the world is if we try different things and learn from feedback."
In response to the idea that interfering with users' psychological and emotional well being is taking testing a step too far, Zuckerberg said, "I think that's the type of thing that our community should want us to test. We do have a responsibility to test that. We could have done it a lot better."
Since that experiment was conducted in 2012, Zuckerberg said internal policies have changed so that developers must run tests up the chain of command before they can be implemented.
In light of the protests in Ferguson, what role does social media play in bringing communities together?
"We take our role in this civic debate really seriously and there are two things that we want to try to do," Zuckerberg said. "We want to give everyone a voice ... and [make] sure people are exposed to a diversity of different opinions because we think that builds stronger communities and really helps society to move forward."
Zuckerberg didn't elaborate on how Facebook ensures users are exposed to a diversity of opinion but some possibilities may include: suggestions to add that person you never agreed with in high school as a friend, manipulating the news feed algorithm so that posts from your opinionated uncle pop up more frequently or hitting you with targeted ads that are aimed to expand your worldview.