Zuckerberg Tells Fox News Facebook Won't Censor Politicians, While Warren Says Facebook Could Help Trump Win Again
In an advance clip of an interview set to air Friday on Fox News, Facebook CEO Mark Zuckerberg said he would not censor social media posts from politicians, including President Donald Trump.
Democratic presidential candidate Elizabeth Warren, meanwhile, condemned Facebook and Zuckerberg for earlier remarks via Twitter. It's the latest in a string of criticisms the senator has leveled against the company.
"Facebook is actively helping Trump spread lies and misinformation," Warren wrote. "Facebook already helped elect Donald Trump once. They might do it again—and profit off of it."
It appeared Warren was specifically responding to an earlier speech Zuckerberg gave on Thursday at Georgetown University about free speech. During that speech, Zuckerberg said he didn't "think most people want to live in a world where you can only post things that tech companies judge to be 100 percent true."
According to a portion of the interview with Fox News host Dana Perino posted on Thursday, Zuckerberg reiterated similar themes, saying the company had no plans to censor Trump or politicians in general.
"My belief is that in a democracy, I don't think that we want private companies censoring politicians in the news," Zuckerberg said. "I generally believe that as a principle, people should decide what is credible and what they want to believe, who they want to vote for. And I don't think that should be something that we want tech companies or any kind of company doing."
Warren has previously sparred with Facebook and Zuckerberg, tweeting on Saturday that her team had intentionally made a political advertisement with false claims to see how quickly Facebook would run it.
Warren has also spoken about breaking up Silicon Valley technology companies, saying the companies held too much power and tweeting with the hashtag "#BreakUpBigTech."
Warren also said on Twitter Thursday night that Facebook was "unprepared" for the 2020 election.
Zuckerberg, meanwhile, previously threatened legal action if Warren were elected president in leaked comments. "At the end of the day," Zuckerberg said, according to Politico, "if someone's going to try to threaten something that existential, you go to the mat and you fight."
Zuckerberg later backed off his comments slightly.
"Maybe I said that in a little bit more unfiltered of a way than I would say it externally," Zuckerberg said, "but fundamentally we believe everything we said that was in there."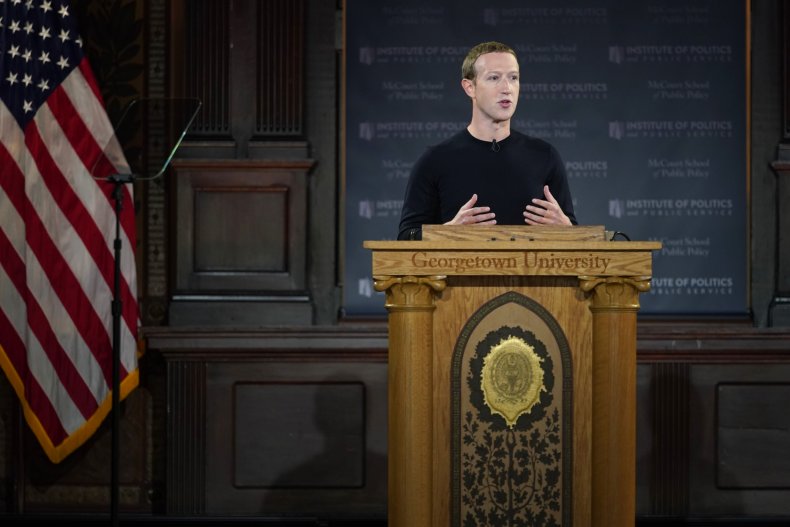 Zuckerberg said he still planned on treating Warren fairly.
"Even when people disagree with what I think would be good to happen in the world, I still want to give them a voice," Zuckerberg said. "That's what we're here to do."
Warren's campaign did not immediately respond to Newsweek's request for comment on Thursday night.
Zuckerberg Tells Fox News Facebook Won't Censor Politicians, While Warren Says Facebook Could Help Trump Win Again | Politics