Zuma Dangerous For South Africa, says 'Obama of Soweto'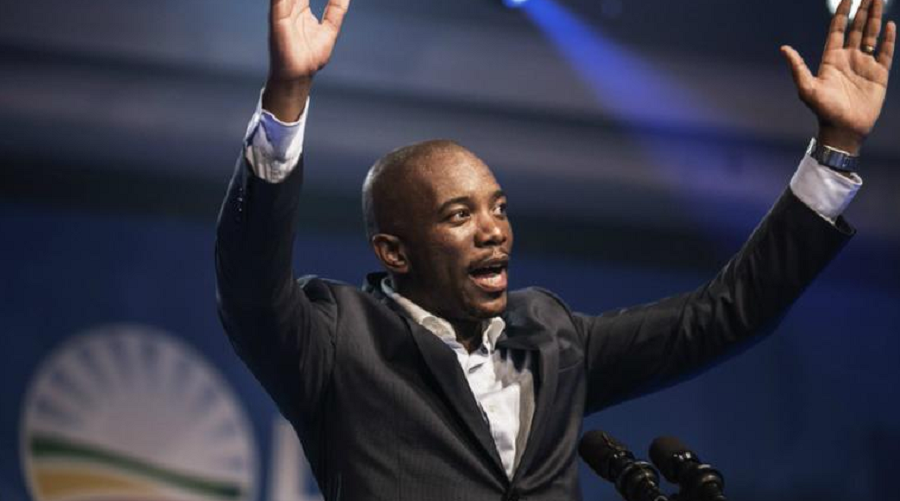 President Jacob Zuma has become "dangerous to South Africa", which is at risk of slipping into a dictatorship, according to the main opposition party's newly elected leader, who says Zuma must be held to account by the South African parliament.
Speaking to Newsweek, Mmusi Maimane, who became the Democratic Alliance's (DA) first black leader last week, says the South African president has behaved improperly in responding to allegations that he used 246 million rand (€19m) of public funds to extend his private residence.
Last year, Zuma faced calls for his resignation after public prosecutor Thuli Mandonsela called for him to repay public funds used to extend his residence in Nkandla, which lies in one of the poorest provinces in South Africa, KwaZulu Natal.
The prosecutor found that money diverted from inner-city regeneration projects to fund the extensions and the building of a swimming pool was justified as a firefighting security measure.
Members of the radical left-wing Economic Freedom Fighters party were ejected from parliament in February in chaotic circumstances after asking Zuma when he intended to repay the funds, to which Zuma failed to respond. The president has been accused of avoiding parliament after appearing only once in 2014 following his re-election last May.
"Once any leader rises above the institutions, then you create a formula for dictatorship," says Maimane.
"If he stops showing up to parliament or dismisses parliament then he becomes a law unto himself and dangerous for South Africa."
The ANC's national spokesperson, Zizi Kodwa, told Newsweek that the president had answered questions about Nkandla on numerous occasions and that investigations into the affair had been carried out by independent state institutions.
"Nobody, regardless of their position in government, is above the law in South Africa. Mr Maimane as the leader of the opposition should know that," says Kodwa.
A report by the South African police minister assessing Zuma's liability for the Nkandla scandal is due to be released to parliament next week.
Maimane takes the reins of the DA from Helen Zille, a former journalist and anti-apartheid activist. The party, which won its highest ever share of the vote with 22% in last year's elections, has been dogged by accusations that it represents the white former ruling classes of South Africa.
The new leader was born in the same Soweto township of Johannesburg as Nelson Mandela and was active as a preacher prior to his election. He has enjoyed a swift rise after joining the DA in 2009 and spearheading the Nkandla corruption charges against Zuma as the party's parliamentary spokesman.
Since his election, he has been dubbed the "Obama of Soweto" and fielded a Twitter Q&A session which which saw #AskMmusi trending for much of Wednesday morning. However, he has also been questioned over his stance on homosexuality, though he has declared he supports the constitutional rights of homosexuals, including same-sex marriage.
The DA faces a real challenge for the role of main opposition from the EFF. The left-wing party gained 6% of the vote last year despite only being formed in 2013, making it the third-largest party in parliament. The EFF and Malema have been trying to woo poor black South African voters with calls for reappropriation of land without compensation and nationalisation of large sectors of the economy.
But Maimane says the EFF, whose radical leader Julius Malema has called for an end to "white supremacy" in South Africa, will soon implode under internal pressure and will be a spent force by the time of the next general election in 2019.
"The EFF may win the short-term game but the long-term game is still far from over. In fact, their brand is already starting to be destroyed because South Africans see them as a party which is distracting and which doesn't uphold the rule of law," says Maimane.
South Africa has been the scene of civil turmoil in recent months. Xenophobic violence in Johannesburg and Durban saw at least seven people killed and thousands of migrants displaced as foreign-owned businesses were targeted.
Maimane believes that the outpouring of violence is the result of suffocating economic conditions. Almost a quarter of South Africans are jobless and the unemployment rate has not fallen below 20% in the last 18 years, with unemployment believed to be much higher among black youth. According to the CIA World Factbook, more than 30% of the population live below the poverty line in what is one of the world's most unequal societies.
"The xenophobic violence is misdirected anger. The anger must be put through the ballot box and vote out a government that is not delivering on the dream of a non-racial society. We must make sure our anger is used to remove this government and elect a government which will advance the economic, inclusive society that we want to see," says Maimane.