Zygo Underwater Headphones: Finally Swim and Stream Audio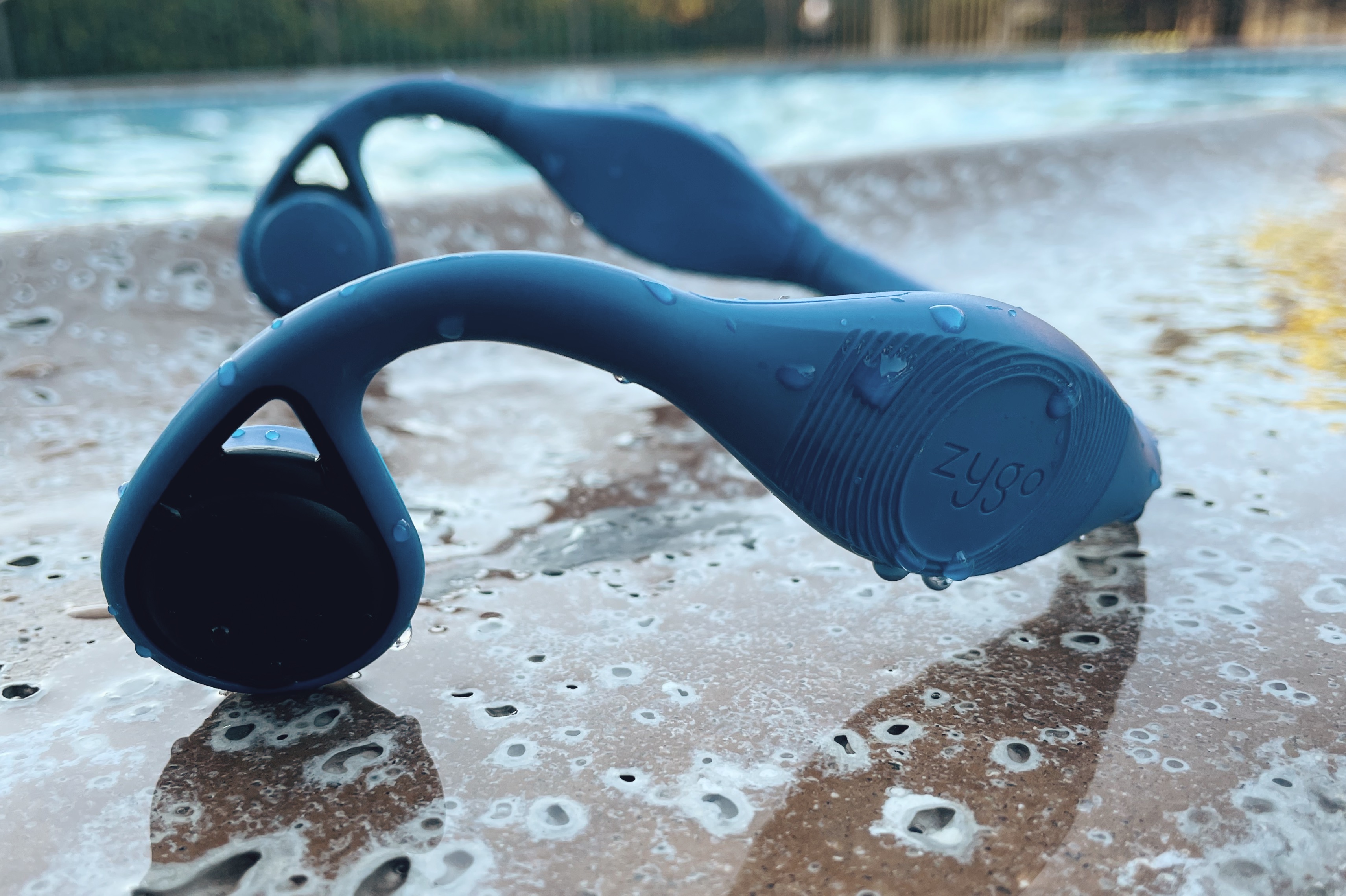 The reason I run each day instead of swim has a lot to do with the ability to stream music and/or audio. Being able to listen to music, podcasts, audiobooks or even the occasional baseball radio broadcasts while exercising really helps distract me. From anecdotal evidence I've heard, others feel the same way. Not having abundant audio access is a major factor why swimming for exercise takes a backseat to other activities.
There are waterproof headphones to listen to music while swimming, sure, but they aren't convenient. The larger issue with listening in a pool is that Bluetooth connectivity does not transmit through water, so the devices that you have been able to use in water need to have the content downloaded and stored on them. Since most services, such as Spotify, Apple Music, Audible and similar don't allow downloading MP3s, you're left to use and manage only local files you own. That's a nonstarter for a lot of people in the era of subscription services.
The solution that plenty of people have been waiting for to stream audio while they swim is Zygo. The bone-conducting headphones connect to a transmitter via radio frequencies, and the transmitter connects to a phone or device via Bluetooth. While a Bluetooth signal may not be able to penetrate water, radio waves can. It's a clever hack that allows any app or service you can listen to on your phone to be used underwater.
Setting Up Zygo Headphones
With the addition of a middle-man transmitter, the Zygo headphones are slightly more complicated to set up than typical Bluetooth headphones, but not by much. They work by powering the transmitter and connecting it to your phone in the Bluetooth settings. Then you turn on the headphones and they automatically connect to the receiver, usually within 10 to 20 seconds.
From a wearer's standpoint, it's just a typical wireless headset once those two pieces are connected. Play audio from your phone, and you're hearing it instantly.
There is a Zygo app, but at the time of writing, it's not used for any over-the-air firmware updates or headset configuration. More on the app below.
The Sound of Music Underwater
Bone-conducting headphones—over Bluetooth and radio waves—do not provide great audio quality. One example, "We're So in Tune" from Kississippi loses a lot of the melodic nuance until you're mostly hearing the hits from the drum and blended rhythm. There's little sense in describing the sound any further because finer details are lost. But, in this case, it's not about sound quality, and the audio is ultimately listenable. In my experience, both music and speech were clear enough to be useful.
If you've never used bone-conducting headphones before, they don't play audio directly into your ears. They send sound waves into your head by touching against the bones in it. Out of the water, the audio is much quieter than it is underwater, where it feels like the volume almost doubles. It's a strange sensation to listen to music underwater, and it seems like everyone else might be able to hear it, as well—even though they can't. This increased volume in the water does make moving your head in and out of the water a little distracting. Overall, it's weird, but not a major concern. Again, utility trumps nearly any downsides.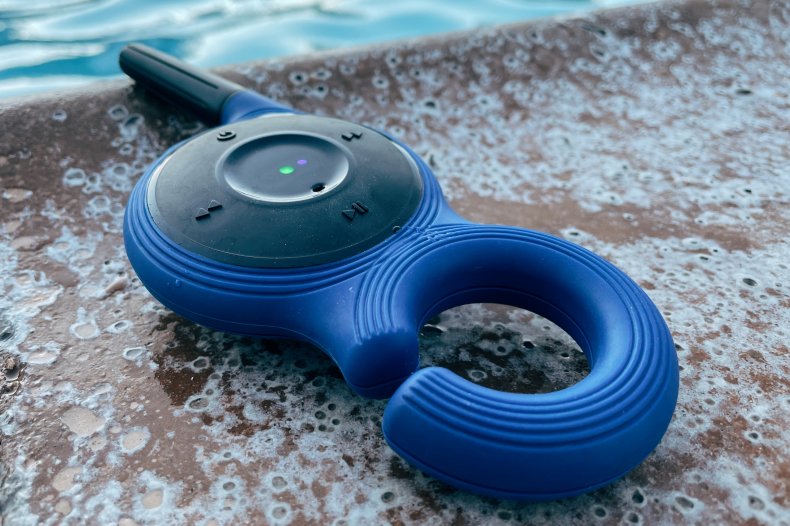 There are volume controls on the headset, but no playback controls. Those can be accessed on the transmitter. This helps to avoid the need to touch your phone while you're wet.
A larger version of the headset will be available in the near future for people who need it. There's a sizing guide on Zygo's website based around hat size that should help determine which fit is best. The standard size fit me just fine and didn't ever fall off or feel too tight.
In terms of listening underwater, there's about a 2-foot range in which the headset can be submerged before the audio cuts out. Once you come back closer to the surface, the audio returns. The depth limitation might sound a little disappointing, but in practice I found it to be just fine. I didn't have any problems with audio cutting out when doing turns. Zygo advertises a 50-meter range from the transmitter while underwater.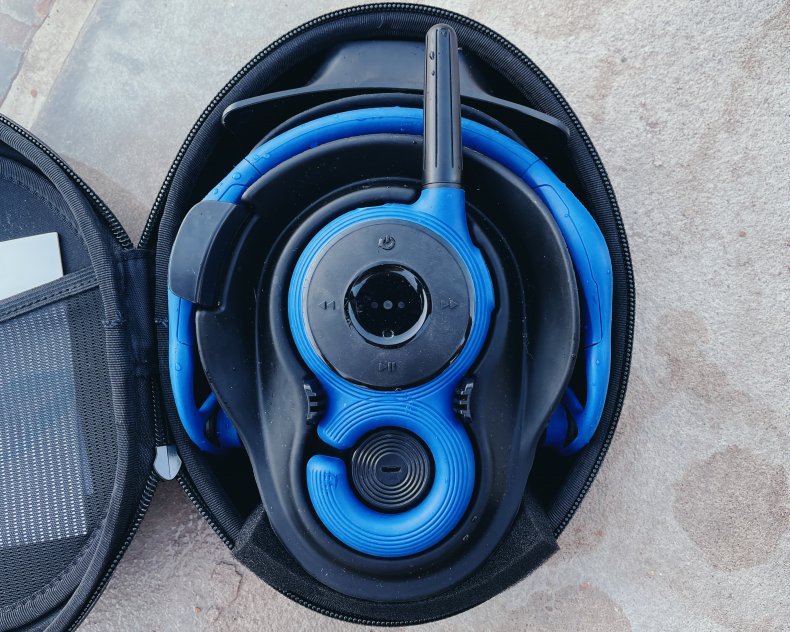 Zygo Features
Zygo's mobile app is a little untraditional. Unlike other companion apps that offer settings and configurations, it is purely a coaching tool. There are lessons and different training instructions that you can listen to while swimming. The audio instructions in the app cost $14.99 a month. As of now, you'll need to subscribe or use the two-week free trial to get into the app at all. I'm told additional functionality such as over-the-air firmware updates could come in the future.
While their primary use is streaming audio, the secondary feature of the headset and transmitter is an intercom. The transmitter has a microphone on it, and you can talk directly into the headset, like a walkie-talkie. It's a one-way street, as there's no mic on the headphone and no way to respond. (That's also why you can't use the Zygo headset to take phone calls.)
If you don't want to use the built-in mic, there's a 3.5 mm jack to plug in your own. The idea here is that a coach might want to attach a lapel microphone for convenience. Clearly, Zygo is aimed at swim teams and schools with the intercom-like feature.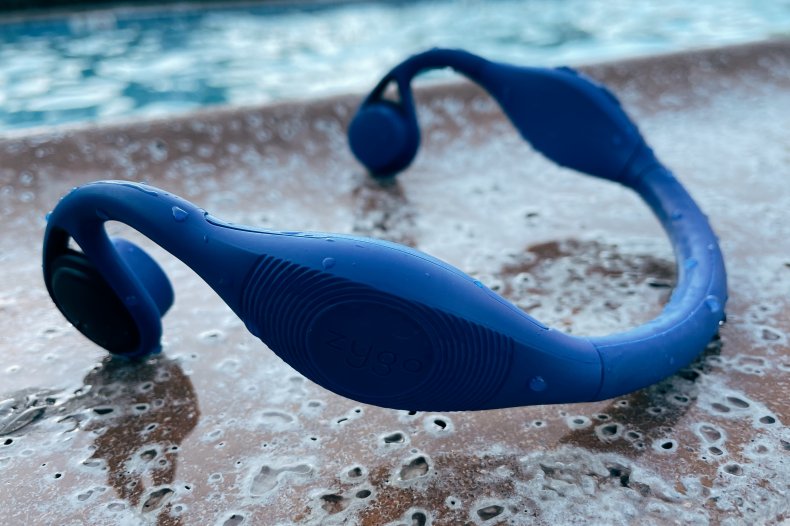 The headset battery is advertised for 3 hours, while the transmitter is advertised for 8 hours. Both of the pieces tuck neatly into the case, which also doubles as the charging dock. It's a clever design that does away with needing multiple, proprietary cables, which are likely to get lost. There's also a stand for the transmitter that fits into the case, along with a pair of earplugs.
Beyond working with earplugs, the headset will accommodate goggles and a swim cap.
Should You Buy Zygo Headphones?
Zygo's method for getting audio to stream underwater works around current technology constraints. It doesn't provide the best audio fidelity, but in this case, having something is much better than having nothing. Its cleverness will be a welcome solution for swimmers. I thoroughly enjoyed using the headset in the pool. It made the time I spent swimming laps go by much quicker than when I wasn't listening to anything.
Zygo starts at $299 with additional purchasing options available if you want more than one headset. It's not inexpensive, but if you can get over the price hurdle or think it's worth it for your pool activities then, by all means, jump in.
Buy at Zygo.
Newsweek may earn a commission from links on this page, but we only recommend products we back. We participate in various affiliate marketing programs, which means we may get paid commissions on editorially chosen products purchased through our links to retailer sites.