1 in 3 People in Los Angeles Have Had COVID as County Soars Toward 1 Million Cases
New estimates show that one in three people in Los Angeles County have been infected with the coronavirus since the start of the pandemic, as the county comes close to reaching a million cases.
According to new projections from county scientists, it is believed that more than 3 million of the county's 10 million residents have had the disease, the Los Angeles Times reported.
That number includes nearly 13,000 people in Los Angeles County who have died from the virus, and it is more than triple the cumulative number of coronavirus cases that have been confirmed by testing.
Scientists have long believed the true number of infections far surpasses those that are captured through testing, as many individuals never show symptoms for the disease.
Los Angeles County is currently the hardest hit region in the United States and is on track to being the first to report 1 million cases. By Thursday afternoon, the county had recorded 958,497 cases and 12,955 deaths, according to Johns Hopkins University.
In the last week alone, the county has averaged more than 15,000 new cases a day, while over 1,600 people—more than 200 people daily—have died.
Los Angeles County Public Health Director Barbara Ferrer called the situation "tragic, upsetting and, frankly, overwhelming," in a news briefing on Wednesday.
Ferrer urged residents to follow virus precautions "as if your life or the life of a loved one depends on it. Because it just may."
"Your infection could lead to dozens of other infections in just a matter of a few days, and someone along that path of transmission could very well die from COVID-19," Ferrer said. "These are just not normal times, and so we can't go out and just continue to act like nothing is going on."
The surge in new cases has left hospitals in many areas across the county overwhelmed. Over the past few weeks, an average of 700 to 850 new patients a day with coronavirus infections have been admitted to hospitals in Los Angeles County, the Los Angeles Times reported.
"That's three times higher than what was seen earlier in the pandemic," said Dr. Christina Ghaly, the Los Angeles County director of health services, told the news outlet.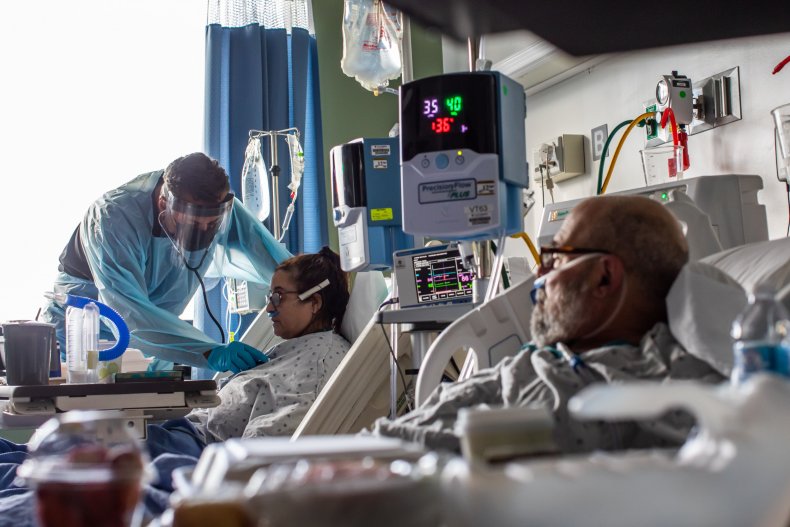 In some areas, hospitals have been forced to turn ambulances away, while others have set up makeshift areas in gift shops and parking lots in order to create more space.
"Hospitals are declaring internal disasters and having to open church gyms to serve as hospital units," Los Angeles County Supervisor Hilda Solis said on January 5, according to CNN. "Our health care workers are physically and mentally exhausted and sick."
On December 3, Governor Gavin Newsom announced new stay-at-home rules across five regions throughout the state.
The order declared that once a region's intensive care unit capacity falls below 15 percent, individuals in that area would be required to stay home except for work and local shopping for at least three weeks.
Los Angeles County, which is in Southern California, is currently at zero percent ICU availability.
"This is the most challenging moment since the beginning of this pandemic," Newsom said in December. "If there was ever any time to put aside your doubt, to put aside your skepticism, to put aside your cynicism to put aside your ideology, to put aside any consideration except this: Lives are in the balance. Lives will be lost unless we do more than we've ever done."
Newsweek reached out to Newsom for additional comment but did not hear back in time for publication.