1/6 Rioter Accused of Tasing Officer Fanone Says He Wasn't Properly Read His Rights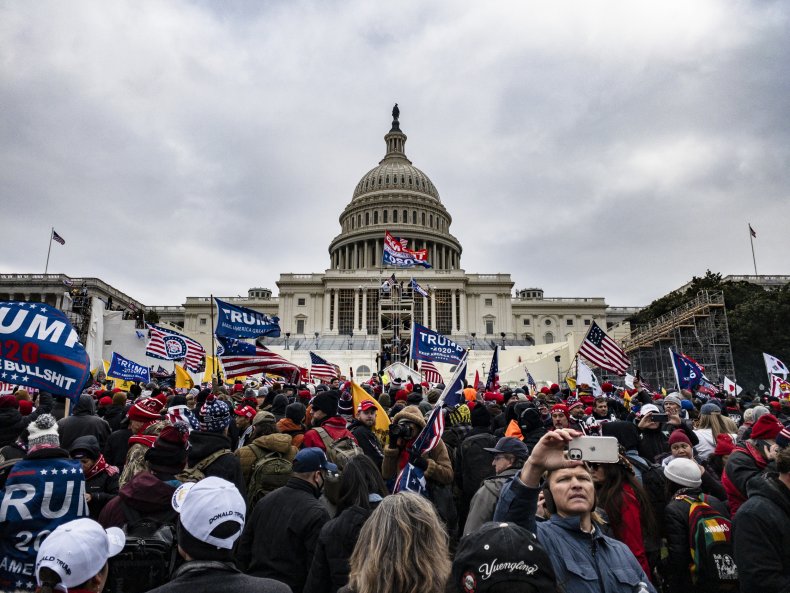 A man accused of tasing Washington, D.C. Police Officer Michael Fanone amid the Capitol riot is attempting to get his videotaped statement to the FBI dropped as his lawyers allege that he was not properly read his rights.
Lawyers for Daniel Rodriguez also attempted on Tuesday to throw out his statement because their client was subjected to "coercive questioning," according to The Huffington Post. U.S. District Judge Amy Berman Jackson did not make a final ruling but appeared unconvinced by the defense arguments, while suggesting that she would allow most of Rodriguez's recorded FBI statement to be admitted if the case goes to trial.
Jackson did say that a small portion of the video recorded before Rodriguez was read his rights would not be allowed during the potential trial, although the defendant's statement on tasing and more occurred later. The portion that will not be allowed at a trial included agents questioning Rodriguez about whether he had been recently exposed to COVID-19 ahead of the interrogation, while the defendant also chastised himself over being "so weak" for crying, according to a transcript of the statement.
Rodriguez does appear to clearly admit to tasing Fanone during the portion of the video that is likely to be admissible. He also credited conspiracy theorist and podcast host Alex Jones for radicalizing him to "fight" for former President Donald Trump's false claims of massive election fraud, while describing himself as "so stupid" and a "f***ing piece of sh*t" for doing so.
"I don't know. I'm a piece of sh*t," Rodriguez is heard saying when FBI agents asked why he tased Fanone. "I'm sorry. I don't know. He's a human being with children, and he's not a bad guy. He sounds like he's just doing his job and he's ... I'm an a**hole."
He later added, "I don't really know exactly why I tased him. When you do something, you're like, godd*mnit, why did I do that? I just ... I had ... got caught up in the moment and I didn't really think. I didn't think about him and his family and what was going to happen to him. I should've protected him and stopped what was going on."
Fanone suffered a heart attack, a traumatic brain injury and a concussion due to the riot. He was attacked by Trump supporters as they attempted to stop Congress from certifying President Joe Biden's 2020 election win. Fanone was also diagnosed with post-traumatic stress disorder following the riot and received repeated threats after speaking out about the attack.
Lawyers last month indicated that they may attempt to use a "public authority defense" for Rodriguez, which would involve arguing that he attacked Fanone while acting "on behalf of" Trump. Earlier this month, another rioter accused of participating in violence at the Capitol on January 6, Ryan Nichols, alleged during a Newsmax interview that he heroically "helped save" the life and others during the riot.