1 in 8 Nurses Say They Haven't Been Vaccinated and Don't Plan to
As the nation continues its efforts to ramp up vaccination rates, figures seem to lag not only among the public but also in hospitals, where one in eight nurses say they have not been vaccinated and aren't planning on doing so.
A survey conducted between July 8 and 29 by the American Nurses Association (ANA) and American Nurses Foundation (ANF) found that among nearly 5,000 nurses, a quarter said they didn't trust the vaccines or were unsure about the safety and effectiveness of the shots.
Of those who don't intend on getting vaccinated, the main concerns included lack of information about long-term effects and vaccine safety, as well as mistrust in the information surrounding the vaccines' development and approval.
Although the majority of nurses, 88 percent, are vaccinated, the proportion of vaccine-hesitant staff could present a problem for hospitals if vaccine mandates are issued for all healthcare workers.
Hospitals across the country are facing severe nursing shortages—an issue that existed before the pandemic but has been exacerbated by many leaving the field over the last 16 months due to burnout from caring for COVID patients.
The Biden administration has already required that nursing home staff be vaccinated in order for long-term care facilities to receive federal Medicare and Medicaid funding—a mandate that some in the industry have warned will pose "disastrous workforce challenges."
Those in the nursing home industry have suggested that in order to prevent staff from leaving for other healthcare positions, the federal government should mandate vaccines for all healthcare workers.
But figures from the survey hint that a broader mandate could also drive out ICU staff at a time when hospitals in the nation's hotspots are reaching pandemic highs.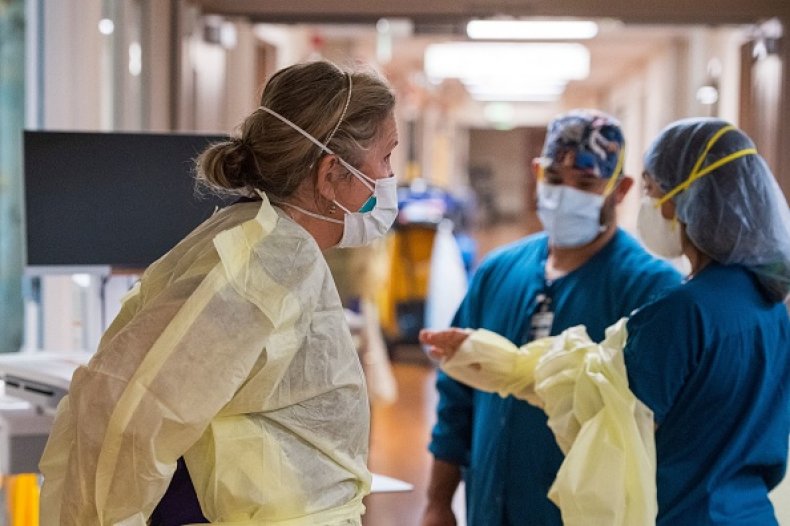 Still, some experts said the highly transmissible Delta variant makes it a clear decision that nurses should be inoculated, even if a mandate could alienate members of the dwindling workforce.
Last month, the ANA said it supported mandating vaccinations for nurses, stressing that hospital staff have "ethical obligations to model the same prevention measures as their patients."
Notably, almost 60 percent of the nurses surveyed, said they would support a vaccine mandate.
"As the largest group of health care professionals, nurses are critical to all facets of COVID-19 response efforts and must strive to remain physically and psychologically safe to function optimally to care for themselves, their patients and their communities," ANA President Dr. Ernest Grant said on July 26. "Nurses must get vaccinated."
Michael Sinensky, CEO of WeShield, a leading PPE supplier, told Newsweek that hospitals could potentially combat further staff shortages by offering higher wages.
"In a hospital setting, it makes sense to have all staffers vaccinated as they are taking care of the sick. While COVID can penetrate some with vaccines, it's still a lot less of a chance than if one is not vaccinated," Sinensky said.
He added, "If a hospital chooses to have mandates and they are seeing a labor shortage, they will have to increase compensation to lure additional workers which is their choice as well or be understaffed."