What Is the '1 Tree for Every Pet Picture' Sticker on Instagram? Viral Trend Explained
A viral Instagram trend has promised to plant a tree for every pet photo shared to Instagram Stories with a sticker attached.
The new sticker feature allows users to jump on trends and link their Stories to a wider campaign.
One viral sticker trend said: "We'll plant 1 tree for every pet picture."
Over 4.2 million Stories were shared using the sticker, which would mean a huge forest is to be planted somewhere.
But is it too good to be true?
Is a Tree Really Going To Be Planted for Every Pet Photo?
Initially, it was not clear where the trend started or who exactly "we" was in this scenario.
The sticker did not link back to the trend's originator or an official campaign.
As there is no way of verifying the person or account behind the trend, it was not clear if any trees would be planted.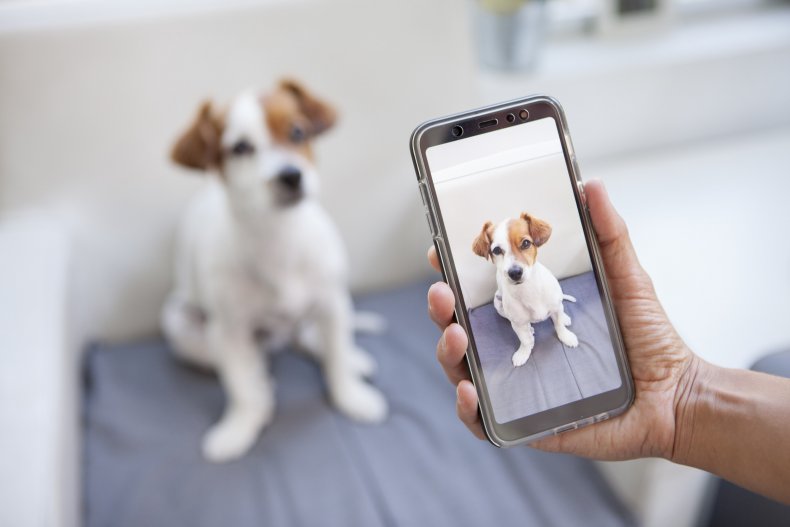 The account @plantatreeco has claimed ownership of the campaign.
In a post on its feed, it said that they had only posted the Story for 10 minutes before deleting it.
"We immediately understood the potential this post had and believed we didn't have the resources to keep our end of the post," it said.
"Instagram has also stripped us from the credit of making the post, hiding the originator of the post from the millions of people who have participated.
"Though we don't have the ability to plant 4 million trees, we can use this awareness to make a lasting impact which is why we started this fundraiser."
The post has a fundraiser attached and has so far raised over $3,500 for Trees For The Future.
Trees For The Future told Newsweek it has no affiliation with @plantatreeco.
Lindsay Cobb, marketing and communications manager, said: "When the fundraiser came to our attention, we immediately reached out to the group asking them to clarify the nature of the fundraiser and we reported the post to Instagram."
While there is no way to verify if @plantatreeco is the original poster behind this trend, Instagram confirmed that the originator of "add yours" stickers is shown unless the author has chosen to keep their handle anonymous, their account is private, or the original post is deleted.
A spokesperson for Instagram's parent company, the newly renamed Meta, told Newsweek: "The 'we'll plant one tree for every pet picture' trend shows the power of the Instagram community to raise awareness on important topics. Like all other 'Add Yours' sticker threads, it was started by an independent Instagram account – not Instagram."
While many of your friends' Stories may still be viewable with the sticker attached, on some individuals' Stories they no longer link to all the other users who posted their pet photos using the sticker or allow you to "add yours."
As this is a new feature, it may be plausible that the sticker's viral popularity may have overwhelmed Instagram's servers preventing the stories from continuing to link to each other or preventing more users from adding to the sticker.
There may also be a limit to the number of users able to add to a sticker.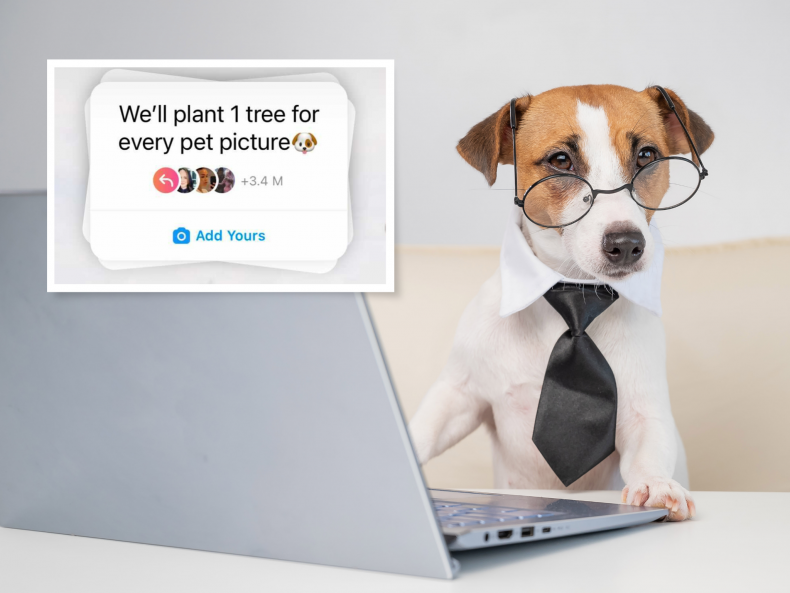 Newsweek has contacted representatives at Instagram for clarity on this.
Some have been skeptical of @plantatreeco's intentions behind the post.
In @plantatreeco's description, they claim to have raised over $500,000 "for different charities" and planted 6,500 trees, though there is no link to any website.
A number of accounts exist on Instagram including @takedown_plantatreeco and @exposing.plantatreeco, claiming that @plantatreeco is not fulfiling its philanthropic promises.
Twitter users have consistently shared their skepticism about @plantatreeco's motivations, with some posts dating back as far as 2019.
@plantatreeco has been accused of using a number of social and environmental causes to grow its follower base including the Australian bushfires and Black Lives Matter movement in the wake of George Floyd's death.
A website that appears to be linked to the Instagram account sells jewelry and has only received negative reviews on TrustPilot.
Newsweek has contacted @plantatreeco for comment.
It is strongly advised that you users avoid sharing their personal details with @plantatreeco.
How to Donate Instead
If you are passionate about reforestation though, there are a number of tree-planting initiatives you could perhaps donate to instead.
You can donate directly to Trees For The Future, which aims to end poverty by training farmers in sub-Saharan Africa to plant trees in order to regenerate their land.
Cobb added that the non-profit does have the capacity to plant as many trees as the original trend promised.
"We must clarify that Trees for the Future has the capacity to plant millions of trees. This year alone, farmers planted more than 35 million trees across our projects," she said.
"We've planted more than 225 million trees to date, positively impacting more than 300,000 people. Earlier this year, we announced our goal to plant one billion trees by 2030 and we're happy to report that we are on track to meet that goal."
The Trillion Trees campaign was launched by the WWF, WCS and Birdlife International with the intention of protecting and restoring one trillion trees by 2050 with projects worldwide.
Similarly, the Nature Conservancy's Plant a Billion Trees campaign aims to plant one billion trees around the world by 2025 in an effort to tackle deforestation.
A reforestation effort closer to home, One Tree Planted is a non-profit organization partnering with U.S. Forest Service, U.S. State Forest and Conservation District to plant trees in a number of states including California, Oregon and Florida.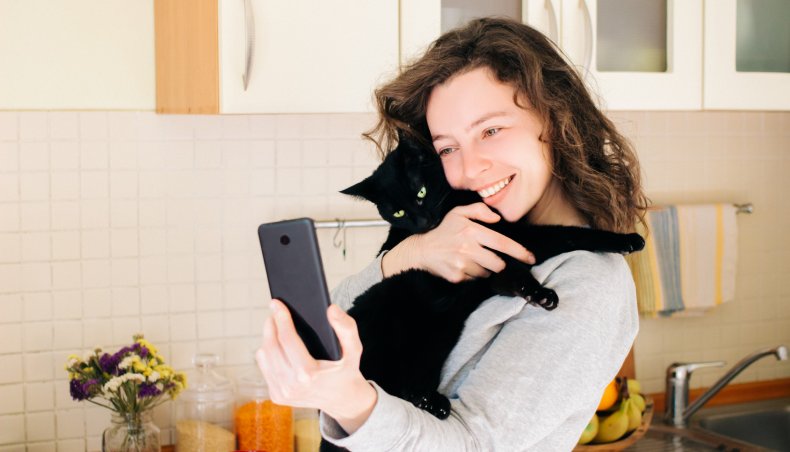 Correction: A previous version of this story misstated that Trees For The Future trains farmers in Africa, Latin America, and South and Southeast Asia. Currently, all their countries of operation fall within sub-Saharan Africa.