10 Senate Republicans Seek Biden Meeting to Discuss Alternative COVID Relief Plan
A group of 10 Senate Republicans sent a letter to President Joe Biden on Sunday, offering to meet to discuss an alternative COVID-19 relief proposal that they believe can pass quickly with bipartisan support.
Biden's administration has put forward a $1.9 trillion COVID-19 stimulus package, while voicing a desire to pass the bill with the backing of at least some Republicans. However, the proposal has met pushback from key moderate GOP senators. Some of these Republican lawmakers, led by Senator Susan Collins of Maine, sent the Sunday letter to the White House voicing a desire to work together while proposing modifications.
"In the spirit of bipartisanship and unity, we have developed a COVID-19 relief framework that builds on prior COVID assistance laws, all of which passed with bipartisan support. Our proposal reflects many of your stated priorities, and with your support, we believe that this plan could be approved quickly by Congress with bipartisan support," the Republican senators wrote. "We request the opportunity to meet with you to discuss our proposal in greater detail and how we can work together to meet the needs of the American people during this persistent pandemic."
In addition to Collins, Republican Senators Lisa Murkowski of Alaska, Bill Cassidy of Louisiana, Mitt Romney of Utah, Rob Portman of Ohio, Shelley Moore Capito of West Virginia, Todd Young of Indiana, Jerry Moran of Kansas, Michael Rounds of South Dakota and Thom Tillis of North Carolina signed the letter.
While the Republican lawmakers said they agreed with key portions of Biden's massive proposal—such as $160 billion for testing, vaccines and treatments—they suggested other parts of the package should be reformed. A key part of Biden's plan is $1,400 stimulus checks for most Americans, but the GOP senators said these payments should be more targeted to those struggling during the pandemic. The senators also said they want to extend additional federal unemployment payments at the current level of $300 per week, instead of raising them to $400 as Biden has proposed.
"We recognize your calls for unity and want to work in good faith with your Administration to meet the health, economic, and societal challenges of the COVID crisis," the senators wrote.
Newsweek reached out to the White House press secretary and Collins' office for comment but did not immediately receive responses.
Brian Deese, Biden's top economic advisor, previously suggested that the president is potentially willing to compromise when it comes to how the $1,400 stimulus checks are doled out.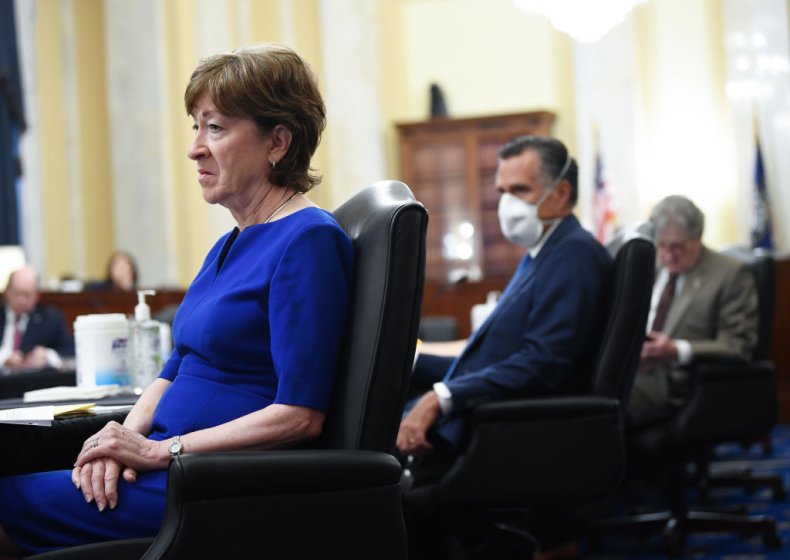 "Certainly, if there are ways to make that provision, and other provisions, more effective, that's something that we're open to, that we'll have conversations about," Deese told CNBC last Tuesday.
However, Democrats have warned that they are willing to push through the COVID-19 relief package without bipartisan support if necessary. Although most legislation requires 60 votes in the Senate to pass—due to the legislative filibuster rule—Democrats could pass the $1.9 trillion package through the budget reconciliation process, which would only need a slim majority. But the Biden administration has stressed repeatedly a desire to get GOP buy-in, hoping to avoid the reconciliation process.