A bipartisan group of 16 senators met with White House officials via a private Zoom call on Sunday to discuss President Joe Biden's $1.9 trillion stimulus package, with many questioning the high cost and raising concerns about doling out $1,400 stimulus checks so liberally.
Ahead of the Georgia Senate runoffs—which were won by freshman Democratic Senators Raphael Warnock and Jon Ossoff—there was significant bipartisan support for raising the $600 stimulus checks included in the $900 billion December COVID-19 relief package to $2,000. But now that the elections are over and the Biden administration has taken office, a number of Democratic and Republican lawmakers are raising concerns about pushing through another massive pandemic relief bill while the funds from the previous legislation haven't yet been fully spent.
"It really depends on what the justification is," Senator Bill Cassidy, a Louisiana Republican, said Monday on Fox News morning show Fox & Friends. "And I think we came out of our call yesterday saying, 'OK, show us the justification.' We can all agree we need to have money out there for vaccines…and testing."
The GOP senator suggested that the bipartisan group of lawmakers were not outright dismissing the provisions in the Biden plan, but wanted to better understand why some of them were needed. Other lawmakers on the call reportedly raised concerns about giving $1,400 stimulus checks to Americans who are not currently struggling financially.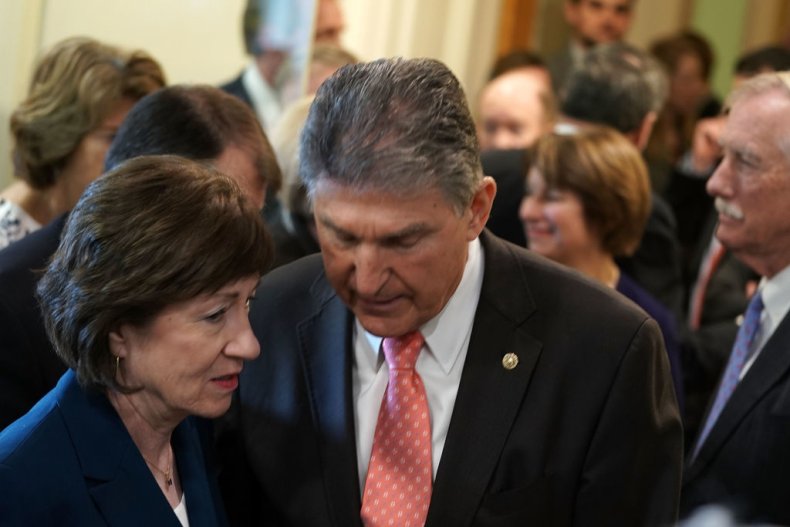 "I was the first to raise that issue, but there seemed to be a lot of agreement…that those payments need to be more targeted," Senator Susan Collins, a Maine Republican, told Politico on Sunday after the call. "I would say that it was not clear to me how the administration came up with its $1.9 trillion figure for the package."
Earlier this month, Senator Joe Manchin, a moderate West Virginia Democrat who helped organize the Sunday call, questioned the need to send out additional stimulus checks that are not more targeted.
"Sending checks to people that basically already have a check and aren't going to be able to spend that or are not going to spend it, usually are putting it in their savings account right now, that's not who we are. We have done an awful lot of that—it's time now to target where the money goes," Manchin told CNN.
Under the current White House proposal, any American earning less than $75,000 annually would be eligible to receive $1,400 stimulus checks. Those earning above $75,000 would receive a progressively smaller amount, with anyone earning more than $99,000 per year being ineligible altogether. Couples filing jointly would receive $2,800 as long as their combined income was less than $150,000, and those earning more would receive progressively less with the cut off being $198,000. The relief plan would also provide additional payments for dependents.
In addition to the stimulus checks, Biden's package would include enhanced federal unemployment assistance of $400 per week instead of the current $300, $25 billion in rental assistance for low and moderate income Americans, additional funding for food stamps and more money to help struggling small businesses among a number of other priorities. The plan would also set aside $20 billion for a national vaccination program and some $50 billion for COVID-19 testing.
Critics of the direct payments argue that millions of Americans will be receiving checks that they don't need. While millions of American workers remain unemployed and are struggling to meet their financial obligations, many others who would be eligible for the stimulus checks have not suffered financially during the pandemic—with some even saving more money than they would in a typical year.
Proponents of the stimulus checks argue it's a quick and convenient way to get money out to the economy and help working Americans. They contend that even Americans who are not struggling financially will be more likely to spend the stimulus money, which will provide a boost to the economy. And while moderates and conservatives may be opposed to non targeted relief, progressives are pushing for even higher amounts.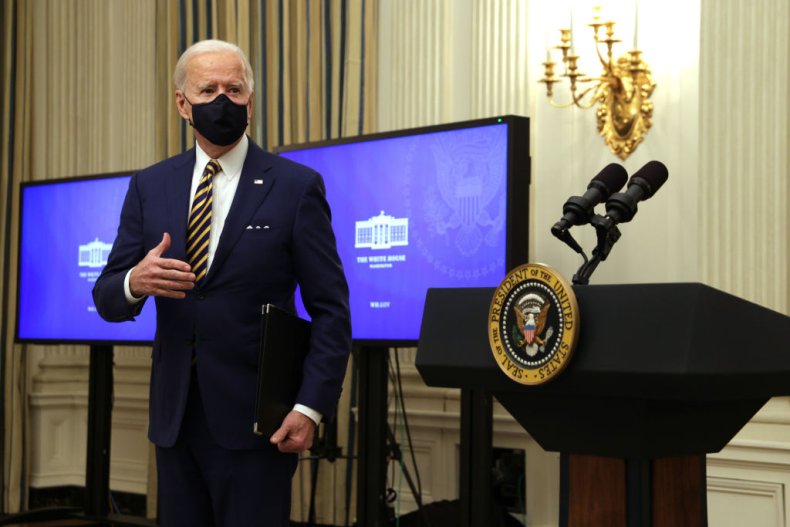 Biden and White House officials have repeatedly stressed the desire to govern with bipartisan support. The president hopes to pass his large COVID-19 package with at least some Republican buy-in. But if that's not possible, Democrats are considering passing the legislation through the so-called budget reconciliation process that would allow the legislation to be pushed through the Senate with the support of a slim majority (51 votes) instead of the 60 vote threshold due to the filibuster legislative rule.
Senator Bernie Sanders, an independent progressive from Vermont who caucuses with the Democrats, chairs the Senate Budget Committee and has strongly supported Biden's $1.9 trillion package. Sanders would be key to pushing the package through the reconciliation process without Republican support.
"If Republicans want to come on board and pass COVID relief now, let's do it," Sanders tweeted on Sunday. "But what we aren't going to do is wait weeks and weeks to get the American people, who are living in more economic desperation than at any time since the Great Depression, the help they need."
However, at the present time it's unclear if the $1.9 trillion Biden proposal even has enough support from Senate Democrats to pass without significant modifications. Newsweek reached out to the White House for comment but did not immediately receive a response.