Over 100K Pledge to Stop Paying Surging Energy Bills in Britain
More than 100,000 people have pledged to stop paying their energy bills in the U.K. as prices continue to soar during the worsening cost-of-living crisis.
The country's energy regulator Ofgem on Friday announced that it was raising the price cap by 80 percent, raising the cost for the average customer from £1,971 ($2,314) a year to £3,549.
The latest price cap—the maximum amount that gas suppliers can charge customers per unit of energy—will take effect on October 1.
The U.K. government announced that households will receive £400 to help with their rising energy bills, paid in six installments from October.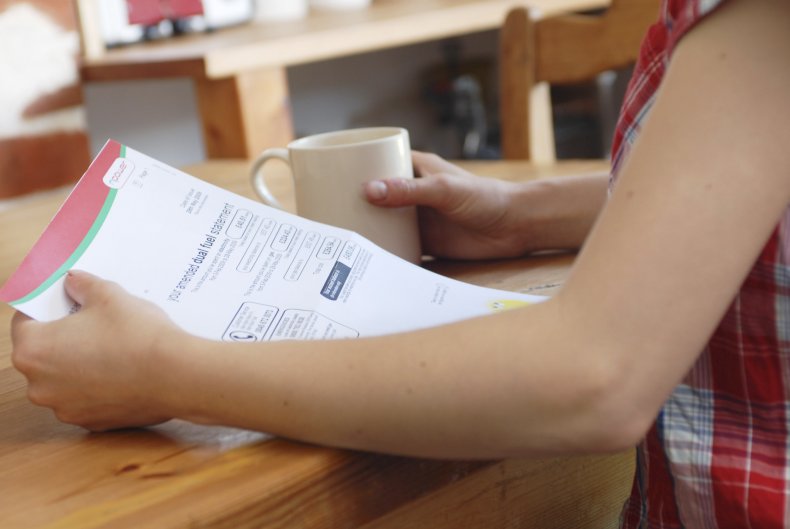 A grassroots campaign called "Don't Pay" is urging people to join a mass boycott in an effort to pressure companies to reduce bills to an affordable level as the colder months approach.
The campaign is calling for the energy price cap to be reversed to the pre-April 2021 rate, an end to enforcement of pre-payment meters and an emergency social tariff to ensure all households can keep warm this winter.
It says supporters will cancel their direct debit payments from October 1 if its terms aren't met. More than 129,000 people have pledged to join the campaign, according to its website.
"Our movement is growing fast, as people refuse to foot the bill for a crisis that isn't of their making," a spokesperson for the campaign said in a statement to Newsweek.
"We can't rely on Ofgem to protect us from these colossal price hikes. We demand that the government and energy companies come forward with immediate solutions to tackle the true scale of this crisis."
Households across Europe and the U.S. are facing much higher energy bills this year.
The wholesale price that energy companies pay to buy the gas and electricity sold to customers started to rise following the pandemic and it has soared further since Russia's invasion of Ukraine began in late February.
In the U.S., one in six households—more than 20 million—are behind on their utility bills, Bloomberg reported, citing figures from the National Energy Assistance Directors Association (NEADA).
Things are expected to get worse, with forecasters predicting "extreme" weather this coming winter.
The NEADA warned in June that electricity prices "are expected to increase significantly this summer as result of rapidly rising natural gas prices, a primary feeder fuel for electricity and a warmer summer creating additional demand for electricity."
'Tsunami of Shutoffs'
The association cited the Census Household Pulse Survey, conducted between April and May, which found that almost 20 percent of U.S. households reported keeping their home at a temperature that felt unsafe or unhealthy for at least one month in the last year.
Further spikes in energy costs will lead to "a tsunami of shutoffs," Jean Su, the energy justice program director at the Center for Biological Diversity, told Bloomberg.
The NEADA and the Center for Biological Diversity have been contacted for further comment.
Update 8/30/22, 7 a.m. ET: This article has been updated with comment from a Don't Pay spokesperson.