Farmers' Almanac Forecasts 'Extreme' Winter Weather as Energy Bills Soar
The United States should prepare for "extreme" weather this winter, according to the Farmers' Almanac.
The 204-year-old publication, which has released annual extended weather forecasts since 1818, has warned the coming winter will have "plenty of snow, rain, and mush—as well as some record-breaking cold temperatures."
The forecast comes as many will have been hoping for a milder winter after a summer of extreme heat, as Americans continue to grapple with soaring energy bills and health hazards. Newsweek reported last month that more than a dozen people had died due to a dangerous heat wave across the U.S.
The Almanac predicts a stormy winter is on the way—with the eastern half of the country expected to be hit harder, the publication's staff said in a press release: "For some areas this may mean snow, but for others it will result in more slush and mush."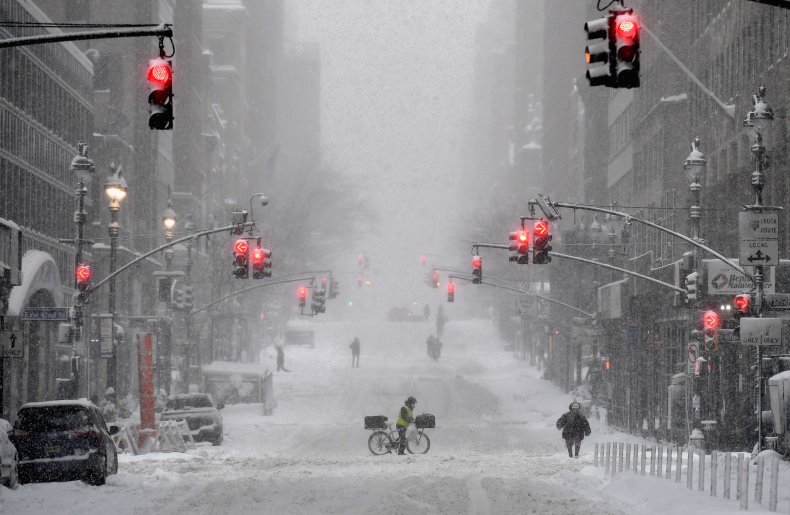 The extended winter forecast warns that the first bite of winter is expected to come earlier than last year, with December looking "stormy and cold" nationwide.
January could be the stormiest for much of the country, the Almanac's forecast warns, with heavy snow predicted to reach as far south as Texas and Oklahoma in the first week of 2023.
The forecast adds that the period between January 16 and 23 raises "another red flag for bouts of heavy rain and snow across the eastern two-thirds of the country followed by what might be one of the coldest outbreaks of arctic air we have seen in several years. How cold? Try 40 degrees below zero!"
Chilly temperatures are forecast to also disturb warm weather seekers in the Southeast during January but should be near-normal in February.
That region "will see frequent storms bringing cold rains and a wintry mix of wet snow, sleet, ice, freezing rain—as well as chilly temperatures," the forecast warns.
But temperatures in the Great Lakes areas, Northeast and North Central regions could be low enough to send people hibernating, the release says. An "unreasonably cold" and snowy winter is forecast for the Great Lakes region, but North Central states are expected to see "glacial" temperatures and plenty of snow.
Those in the western half of the country "should escape major shivers," according to the Almanac. Brisk temperatures are forecast for the Northwest, while mild temperatures are expected in the Southwest.
But a drier than normal winter is predicted for California, Arizona and other southwestern states "which won't help the drought situation," it adds.
The Almanac predicted many of the winter storms that hit the U.S. last winter, including the powerful nor'easter storm in October. The 2023 Farmers' Almanac offers 16 months of weather predictions, starting from September 2022, and will hit shelves on August 15.
According to the publication's website, a "mathematical and astronomical" formula is used to make its weather forecasts. It concedes that long-range forecasting "remains an inexact science," but says its followers have reported that its forecasts are 80 to 85 percent accurate.