As parts of the U.S. have faced a wave of high temperatures over the past few weeks, at least 12 individuals have died from heat-related issues.
Last week, the National Weather Service Weather Prediction Center announced that 28 states were under an excessive heat warning and cautioned that high temperatures nearing 100 degrees Fahrenheit will "will increase the risk of heat-related illnesses."
Several states and cities such as New York and Boston issued warnings for the heat wave, telling residents to stay inside as much as possible and to be aware of heat-related issues.
In New York, WNBC reported that the city's medical examiner's office announced that one individual died over the past weekend due to heat exposure. According to WNBC, the individual, who was not identified by the medical examiner's office, already had some underlying medical issues, such as heart disease.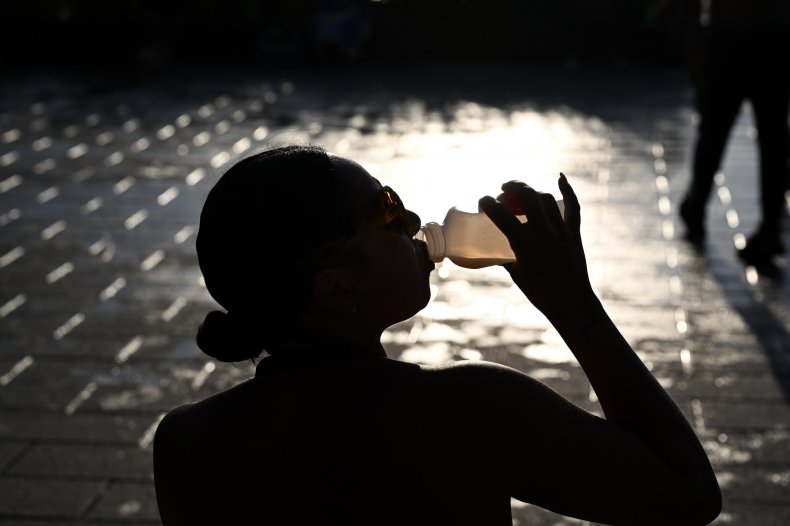 Newsweek reached out to the New York City Medical Examiner's Office for comment.
Similarly, Pennsylvania and Dallas also saw at least one heat-related death over the past weekend.
According to WCAU news in Philadelphia, the Lehigh County Coroner's Office announced that a 73-year-old man died last Thursday due to suffering "from excessive heat exposure, complicated by underlying medical conditions."
The Dallas County Department of Health and Human Services (DCHHS) announced on Thursday that a 66-year-old female resident, who had underlying health conditions, became the first heat-related death in the county this year.
"We are very saddened to report our first heat-related death this season," Dr. Philip Huang, director of DCHHS said in a press release. "We are experiencing extreme heat this season, and this again reminds us how important it is to take every possible precaution."
In South Dakota, the Pennington County Sheriff's Office announced that a hiker, identified as 22-year-old Maxwell Right, died after collapsing and running out of water on an unmarked trail.
"Maxwell Right, 22 years old from St. Louis, Missouri, collapsed and died from suspected dehydration and exposure. His 21-year-old companion from Missouri was reached by Park Rangers and flown by Life Flight air ambulance to Monument Health," the sheriff's office said on July 21.
Arizona's Maricopa County Public Health Department, issued a report on the number of heat-associated deaths in the county since the start of 2022. According to the report, as of July 16, there have been at least 29 confirmed heat-associated deaths. KNXV-TV in Arizona reported that between July 10 and July 16, there were at least 12 heat-related deaths in Maricopa County.
Newsweek reached out to the Maricopa County Public Health Department for comment.
While speaking with Newsweek last week, Jonathan Porter, a chief meteorologist for AccuWeather explained that the current wave of high temperatures across parts of the U.S. is likely to continue for several days.
"As far as the Southern Plains and the places experiencing extreme drought conditions, there does not appear to be much of a break in the heat on the horizon or any significant opportunity for drought busting rain. AccuWeather expects above average temperatures to continue over Texas and the Southern Plains through the month of August," Porter told Newsweek. "In general though, it looks like the dry and hot weather will continue, as AccuWeather meteorologists have been accurately forecasting for months in advance."