Sweltering U.S. Heat Prompts Warnings, Cancellations Across Country
As the U.S. is facing a wave of extremely high temperatures, several areas across the nation have issued warnings and some activities have been forced to cancel.
On Wednesday, the National Weather Service wrote on Twitter, "Excessive heat across the southern Plains and lower Mississippi Valley will expand into the Southeast U.S. by this weekend. Excessive heat is forecast through Wednesday in central California and likely along the Colorado River in the Southwest Thursday and Friday."
The National Weather Service Weather Prediction Center also posted a similar tweet stating, "Excessive Heat Warnings and Heat Advisories are in effect this morning throughout 28 states, stretching from California to New Hampshire. High temperatures into the 90s and 100s will increase the risk of heat related illnesses."
The warnings for extremely high temperatures comes shortly after a number of European countries also faced a heat wave this past week, with many areas surpassing 100 degrees Fahrenheit.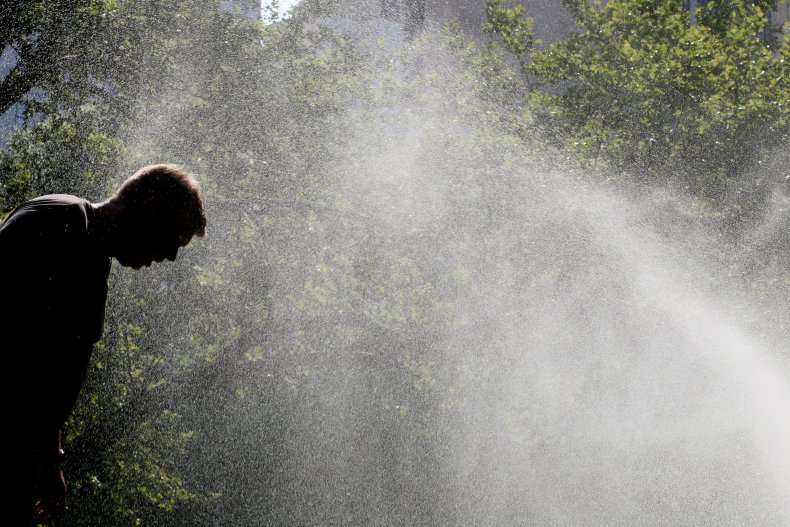 In response to the forecast high temperatures in the U.S. many officials have issued warnings and cautions for residents.
In New York, Governor Kathy Hochul encouraged residents to "prepare for dangerous heat conditions beginning Tuesday and expected to last through Thursday as a combination of hot temperatures and moderate-to-high humidity levels are expected to cause heat index values in the 90s and potentially the low 100s in certain areas, including the New York City region."
In upstate New York, the North Syracuse School District announced that "all activities" on the district's grounds "are shut down" on Wednesday due to the high temperatures.
Similar to New York, Boston Mayor Michelle Wu and Philadelphia's Department of Public Health also issued warnings for the upcoming heat wave.
"The Health Department declares a Heat Health Emergency when the temperature gets high enough that vulnerable people—especially our elderly neighbors and family members—are at an increased risk of getting sick or dying from the heat," Philadelphia's Health Commissioner Dr. Cheryl Bettigole said in a statement.
Wu also declared a heat emergency and said, "It is clear that a changing climate is a risk to our health and communities. I urge everyone to stay cool and safe, and check on your neighbors during the week."
In Texas, the Dallas Area Rapid Transit issued warnings for customers that trains would not be operating above 30 miles per hour, due to heat concerns.
According to CNN, Austin Mayor Steve Adler also urged residents to conserve power due to high temperatures in the area.
KFDA news in Texas also reported that due to high temperatures in the area, the city of Amarillo announced that it was canceling events planned by the city's parks and recreation department.
After reaching out to the National Oceanic and Atmospheric Administration, Newsweek was directed to a map forecasting temperatures for August. The map shows that many areas in Texas and Louisiana are expected to have above-average temperatures for the upcoming month.