11-Foot Python Found Coiled And 'Ready to Pounce' Under Butcher's Table
A man setting up his small business for the day got the ultimate early-morning shock when he discovered an 11-foot, 88-pound python lying in wait under his table.
According to a report from The New Straits Times, Malaysian butcher Zulkifli Mohad Samsuni got the shock of his life while preparing for a day at the Felda Sungai Behrang Public Market on Thursday.
Samsuni reportedly was setting up and cleaning his table at the market at 8 a.m. when he spotted a massive 11-foot python lying in wait under him.
Immediately after finding the snake, Samsuni alerted authorities with the Muallim District Civil Defense Force, also known locally as the AMP. Captain Shahrizal Hussin told The New Straits Times that first responders donned their necessary personal protective equipment and quickly arrived at the scene, finding the live python "coiled" under the butcher's station.
"Upon arriving at the scene, the APM found a python coiled-up under the concrete table where the butcher was selling his meat," Hussin said in a statement obtained by the outlet.
"APM members wore PPE to capture the python due to the Enhanced Movement Control Order [EMCO] being implemented in the Hulu Bernam Timur sub-district [in Malaysia]."
According to Hussin, the APM team that responded to the call managed to subdue the animal and used a wrangling hook to remove it from the scene. The operation took about 10 minutes, The New Straits Times reported.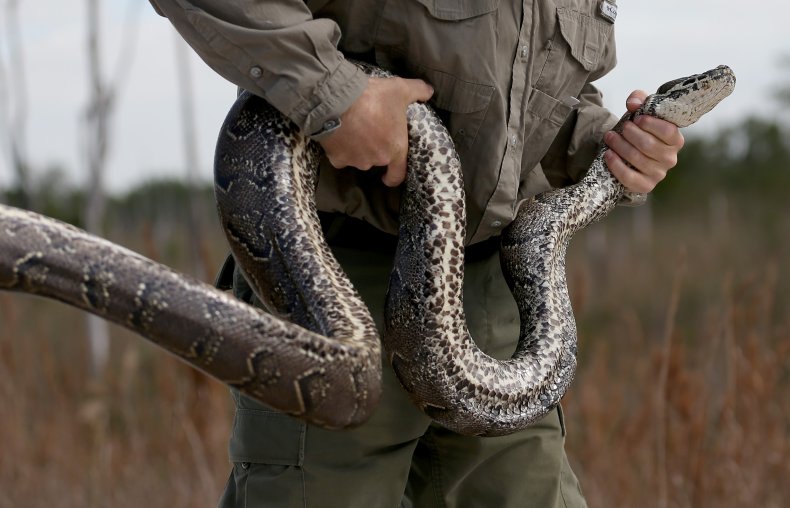 The outlet also noted that after the python was removed, it was measured to be 3.6 meters, or just over 11 feet, in length, and weighed a whopping 40 kilograms, or 88 pounds.
Once removed from the public market, the python was temporarily held at the Muallim District APM office, Hussin said.
"The python will be handed over to the Sungkai Department of Wildlife and National Parks [in Perhilitan] this afternoon for further action," he said on Thursday.
Authorities have reason to believe that the python was attracted to the butcher's station after smelling the meat Samsuni had for sale. It was likely planning to pounce in an attempt to feed, The New Straits Times reported.
Newsweek was unable to independently verify the claims made in The New Straits Times.
Samsuni is fortunate that the situation was handled before the python had a chance to strike. In South Africa, a woman reported on Facebook that she and her husband had to work quickly to rescue their small dachshund from the grip of a 15-foot python. Fortunately, the dog only suffered a few bite wounds in its belly.
Another hungry python was found slithering near a kitchen door in Australia. In a viral YouTube video, a self-proclaimed snake wrangler came in to remove the beast, and after successfully calming it down, he posted photos of it slithering around his neck and shoulders.