An 11-month-old girl was shot in the face by a stray bullet as she sat in a parked car with her mother in the Bronx, New York, according to reports.
The baby and her mom had been waiting on Valentine Avenue while the girl's father was inside a nearby deli on Wednesday about 6:45 p.m., according to ABC-affiliate WABC.
On the same street, a man armed with a gun fired two shots at another man who he was chasing. One bullet flew into the car and struck the girl in the left cheek.
New York Police Department told Newsweek on Thursday morning that no arrests had been made over the shooting and the "child victim remains in critical but stable condition."
Police have since shared a video (above) that shows the suspect, an unknown male, running down Valentine Avenue at the time of the shooting.
An eyewitness told NBC-affiliate WNBC that the mother called 911 and ripped off her baby's blood-stained pink jacket.
Deputy Chief Timothy McCormack said officers found the mom holding her baby girl, and "immediately escorted" them en route to the nearby St. Barnabas Hospital.
The girl was said to be in a serious condition during the ambulance journey, and was later transferred to Columbia Presbyterian, WNBC reported.
New York City Mayor Eric Adams was horrified by the shooting and said he would not abandon the city to gun violence.
On Twitter on Thursday, Mayor Adams said of the shooting: "If that's not a wake-up call, I don't know what is.
"It should be unimaginable that this would happen in our city. But it did.
"Leaders at every level have abandoned city streets. I won't. I refuse to surrender New York City to violence."
In a second tweet, Mayor Adams added: "We keep this young soul in our prayers tonight. She's hospitalized and in a critical but stable condition. She should be safe at home."
According to the Gun Violence Archive (GVA), a database that collects information about shootings across the U.S., three children aged between 0 and 11 in New York State have been wounded after being struck by a bullet since January 1, this year.
Nationwide, 38 children aged between 0 to 11 have been injured after being shot, GVA data said.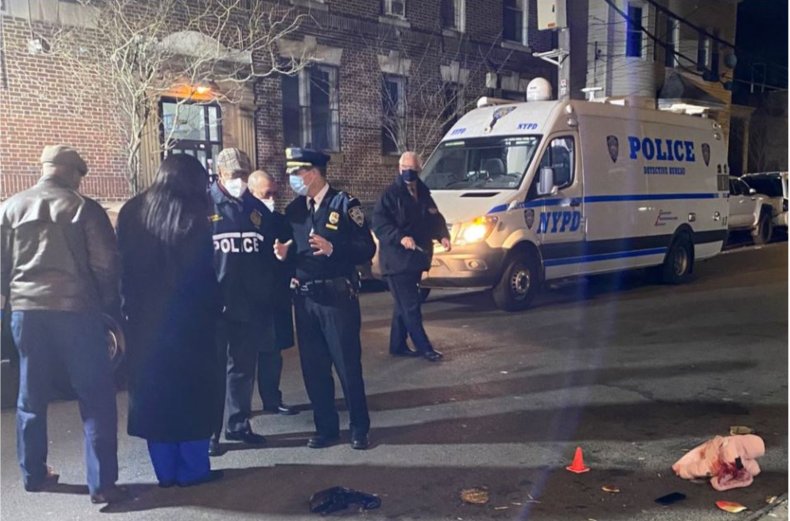 Update 01/20/22, 11:23 a.m. ET: A video released by police has been added to this article.