11-Year-Old Charged With Armed Carjacking After Video Doorbell Captures Crime
An 11-year-old boy has been charged in connection to an armed carjacking that occurred last November in Chicago in an incident that was recorded by a doorbell security camera and is now one of several high-profile cases nationwide involving teens accused of serious crimes.
Police said the boy was arrested Wednesday and charged with aggravated vehicular hijacking and criminal trespass to property, the city's WFLD reported. He is the second 11-year-old charged in connection to a carjacking in the Chicago area within the last three months.
A neighbor's doorbell security camera caught footage of the alleged carjacking that shows the young boy and other males approaching two women, a mother and her adult daughter, as they pulled into their driveway, WLS-TV reported. The victims' purses, cellphones and SUV were taken in the incident.
Police were later able to return the SUV and some of their belongings, WLS-TV added.
"It actually makes me very sad that kids are around these types of situations and not in school and doing what 11-year-olds usually do," one of the victims said to WLS-TV, adding that the boy was skipping as he approached. "The kid stopped and looked at me, and my daughter looked at me, and I said, 'Oh God.' Within 20 seconds, the kid walked up and pulled a gun out on us."
Police said the 11-year-old was also seen on November 13 in a car that had been reported stolen, according to WFLD. Separately, another 11-year-old was arrested in November in connection to a carjacking.
"Let me say that again, because that shocks the conscience," Chicago Police Superintendent David Brown was quoted by WFLD after that first arrest, in November. "Our task force arrested an 11-year-old for carjacking."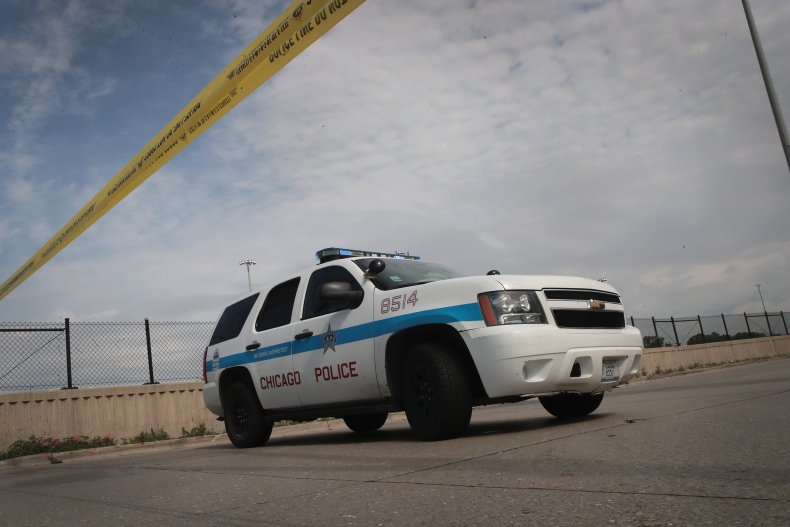 According to WBBM-TV, the 11-year-old had his first court appearance on Thursday and was placed on electronic monitoring until his next court date, which is scheduled for February.
According to WFLD, Chicago carjackings are up 300 percent and the city has seen a 50 percent increase in shootings since 2019, reaching the highest numbers in nearly 30 years.
Other cases across the U.S. have involved teens charged with felonies.
The 11-year-old's arrest follows that of another Chicago teenager, Emilio Corripio, a 16-year-old self-described member of the Latin Kings gang arrested this week for charges related to the shooting death of 8-year-old Melissa Ortega.
Anna Bella Dukes, an 18-year-old in New Mexico was arrested and charged this week with murder, kidnapping, tampering with police evidence and conspiracy and two counts of armed robbery, NBC News reported, in connection to a fatal shooting and alleged carjacking in February 2021. According to Albuquerque police, a 17-year-old boy was also involved in the shooting, and he turned himself in last month.
Also this week, four Ohio teenagers, all aged 15 and 16, were charged in connection to the fatal shooting a Lyft driver and alleged robbery of another.