110 Central American Migrants Scale Arizona Border Wall With Ladder Before CBP Catches Them
Customs and Border Patrol (CBP) agents have detained more than 110 Central American immigrants in Arizona after they scaled a border barrier between the United States and Mexico using a ladder.
The immigrants were caught on Monday, according to a tweet from CBP Arizona, which included a video of the group climbing over the barrier. They reportedly entered the U.S. near the city of Yuma and were aided by a smuggler.
Jose Garibay, a spokesperson for CBP, told Tucson.com that most of the group was composed of family units. He said the smuggler helping the migrants ran back into Mexico after the group had reached the U.S. side of the barrier. The spokesperson explained that CBP does not have jurisdiction to follow smugglers into Mexico to prevent them from assisting other migrants in the future.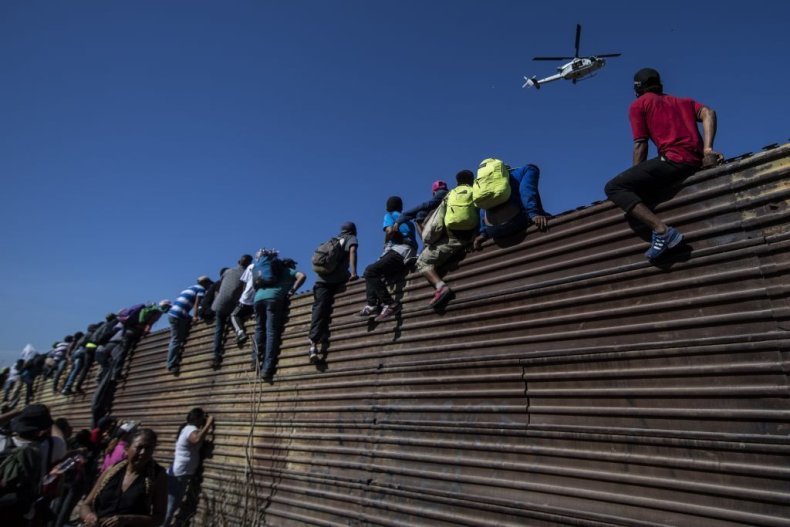 CBP also found 376 migrants last week in the Arizona city of San Luis after the group dug under the border fence, local ABC affiliate KGUN 9 reported. Of that group, 179 were children.
Garibay said such large groups of migrants are not routinely apprehended by CBP, but explained to Tucson.com that such crossings doubled in the Yuma Sector last year, to more than 26,000. The spokesperson also said that the majority of those detained have been family units, primarily from Guatemala.
The recent migrant detentions in Arizona came as the U.S. government remains partially shut down due to President Donald Trump's insistence on building a wall along the Mexican border. Before Christmas, Trump refused to sign a bipartisan budget that would have allowed the government to remain open as Congress continued to discuss border security concerns. Trump has refused to sign any budget that does not include $5.7 billion of funding for the wall, while 800,000 federal employees have been forced to work without pay or have been temporarily furloughed.
Trump has repeatedly insisted that criminals are entering the country through the southern border. Democrats and many analysts have pushed back, pointing out that the immigrants are often families escaping from economic problems and soaring crime rates. They've also repeatedly explained that a wall would be ineffective at preventing drugs and criminals from crossing the border, as most enter the country undetected through legal ports. But the president has insisted that his proposed wall will bring security and safety.
"Without a Wall there cannot be safety and security at the Border or for the U.S.A. BUILD THE WALL AND CRIME WILL FALL!," the president tweeted on Thursday.