11K Christians Protest Franklin Graham's Florida Tour, Say It Doesn't Speak for Their Faith in Petition
On Tuesday, the nonprofit Christian social justice organization Faithful America announced its intent to protest the Florida leg of Reverend Franklin Graham's "Decision America" tour.
Their petition, which has 11,000 signatures, cites Graham's previous statements about homosexuality being a "sin" as one of a number of reasons that his values do not match their own; noting that three of the venues at which Graham will appear are publicly owned, it calls for the cities hosting these rallies to either cancel Graham's appearances or donate the money accrued during the rallies to LGBTQ charities.
"I don't know about the 11,000 who have signed an online petition, but we've had some 25,000 attend in person, and we're only halfway through," said Franklin Graham to Newsweek when reached for comment.
Graham has a history of speaking out against LGBTQ issues. Most recently, in April, Graham replied to former South Bend, Indiana mayor Pete Buttigieg's statement that he is a practicing Christian and does not believe this conflicts with his homosexuality, with the suggestion that Buttigieg should be "repentant" of his sexual orientation.
"Mayor Buttigieg says he's a gay Christian. As a Christian I believe the Bible which defines homosexuality as sin, something to be repentant of, not something to be flaunted, praised or politicized. The Bible says marriage is between a man & a woman — not two men, not two women," Graham tweeted at the time.
"The core of the Christian faith is believing and following Jesus Christ, who God sent to be the Savior of the world — to save us from sin, to save us from hell, to save us from eternal damnation," he concluded.
In May, when asked by Fox News Radio if schools should be required to teach an LGBTQ-inclusive curriculum, Graham replied, "Homosexuality goes against God's plan for the human race."
In November, he replied to an Illinois school board's vote which allowed transgender students at Palatine High School to use the locker rooms which are consistent with their gender identity by tweeting, "What about the privacy of the other 99+% of students? What about their right?"
The petition references Graham's 2017 proclamation during an interview with the Huffington Post that the Trump administration's ban of immigrants and refugees from Iraq, Syria, Iran, Sudan, Libya, Somalia, and Yemen from entering America is "not a Bible issue."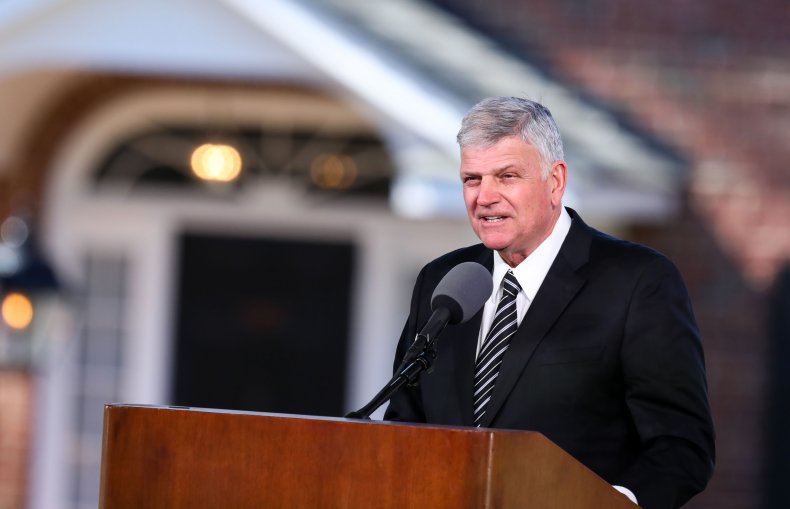 Graham has generally been a stalwart supporter of President Trump, telling Axios on HBO, "I never said he was the best example of the Christian faith. He defends the faith. And I appreciate that very much."
But Graham has gone on to express mixed opinions about the Trump administration's immigration policies, telling the Christian Broadcasting Network (CBN) in 2018 that its border separation policy is,"disgraceful, and it's terrible to see families ripped apart and I don't support that one bit." He blamed other politicians "for the last 20, 30 years that have allowed this to escalate to the point where it is today."
The petition also refers to a November 2019 podcast appearance in which Graham stated that the impeachment proceedings against President Trump are being guided by an "almost a demonic power."
Graham's tour is scheduled to reach the cities of Palm Beach County, Key West, and Panama City in Florida from January 11 to January 19.
Among other actions, Faithful America has protested MSNBC's use of speakers from The Family Research Council on-air, and took part in a protest against the building of an oil pipeline across property owned by the Sisters of Loretto in Kentucky. Both protests were successful.
Updated (1/15/2020 3:35 p.m.: With a comment from Reverend Franklin Graham.)