Evangelical pastor Franklin Graham tweeted his outrage about an Illinois school district's decision to allow unrestricted access to locker rooms for transgender students.
"What about the privacy of the other 99+% of students? What about their right?" Graham wrote to his 2 million Twitter followers Friday morning.
The Palantine-Schaumburg High School District 211 in Cook County voted to remove a policy that required trans students to use privacy stalls in locker rooms on Thursday. Beginning next semester, no student will be required to use privacy stalls, although they will still be available to all students, the Daily Herald reported. The decision to allow unrestricted access followed a lawsuit filed by Nova Maday, a transgender student, in 2017.
In his tweet, Graham offensively called transgender girls "biological boys" citing the common right-wing fear that men claim to be transgender women in order to sneak into women's bathrooms and locker rooms. "A school board in IL voted in favor of allowing biological boys into the girls' locker room saying they should be 'supported in a manner consistent w/their gender identity,'" he said. The tweet linked to an article from conservative news outlet The Daily Wire, which called the decision "simply evil."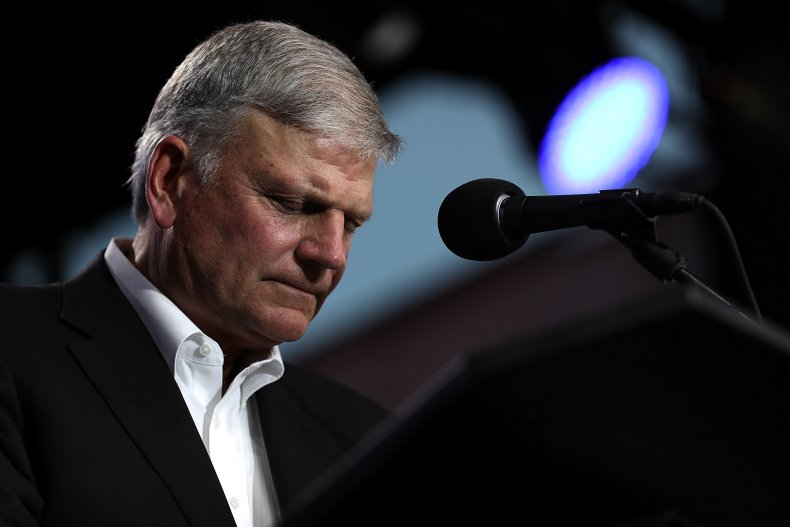 Superintendent Dan Cates dismissed these fears before the board voted on the issue. He cited the district's policy that a student, along with their parent or guardian, must request that their gender to be changed in all school records. The gender on record with the school dictates which gender-specific facilities the student may use.
Cates also reiterated that no issues have arisen since transgender students began sharing locker rooms with their peers.
The Daily Wire argued that the decision would invade the privacy of cisgender students. The site focused on a Daily Herald video interview with Maday and another student in which the outlet misgendered Maday. Maday said she was "ecstatic" after the decision, while the other student expressed discomfort with it. "My privacy is being invaded," she said.
In a follow-up tweet, Graham called for community members to oppose the decision. "What can parents, grandparents, & concerned residents do? I'd say pack out the next school board meeting & demand the decision be reversed. Also get behind people who'll run for school board, use common sense, & defend the privacy of all students. You don't have to take it," he wrote.
"It's a great first step. It's huge, and school districts all across the state and nation are watching," Maday told The Daily Herald regarding the decision.