12 Auto Industry Expert Predictions for 2022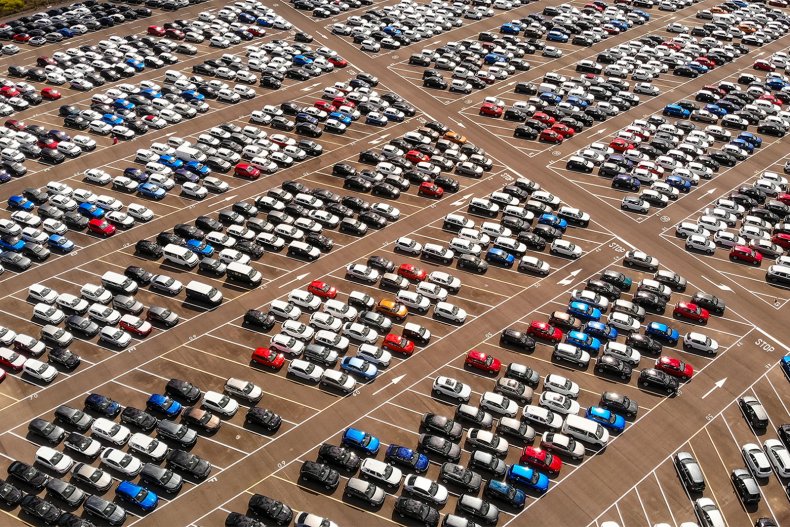 Automakers have their hands full. In the last year the automotive industry has seen reduced inventory, price increases and production delays due to the ongoing semiconductor chip shortage. Big changes are coming for products and plants. The industry is in the midst of a big push toward widespread electrification and a zero emissions future.
Newsweek spoke with numerous automotive industry experts about what they think the market will look like, what trends will continue and what new things we may see in 2022. Here's what they said.
Prediction 1: New vehicle prices will go up
Price increases are due to a multitude of things. Demand will continue to be high in 2022, even if inventories remain low. That means fewer dealer discounts and manufacturer incentives.
Due to the semiconductor chip shortage and pandemic-related supply chain restraints, the auto industry has seen a lower production rate than is traditional, across the board. According to CoPilot, a car buying app, production for crossover models, the largest automotive category, was down 63 percent in 2021.
The cost of wages and supplies for making vehicles continues to go up. All of this has tipped the scale, causing model price increases so automakers don't feel an even larger impact on profits.
"The sub $20,000 car or vehicle has disappeared from the entire US auto market," Tyson Jominy, vice president of data and analytics at J.D. Power told Newsweek. "As recently as 2016, 20 percent of all sales in the industry were below $20,000 and that started falling in 2017. It's been trending down and it's completely collapsed. [Now] fewer than 1 percent of vehicles now sold are under $20,000."
Throughout 2021, Kelley Blue Book tracked the average transaction price for new vehicles. August marked the fifth consecutive record-setting month of all-time high new-vehicle prices at an average of $43,355.
Prediction 2: The vehicle customization market will grow
Mike Spagnola, the vice president of the SEMA Show, predicts that the vehicle customization market will continue to grow in 2022
"Taking an older vehicle and converting it is certainly becoming very popular and I think you'll see that as the next generation of builders come up, becoming more popular," Spagnola told Newsweek.
"Looking at the other side, once Ford releases the new Lightning truck, we're gonna see a lot of customization on that. The new Hummer, we're gonna see from General Motors, we're gonna see customization on that. So we see that the market's going to be strong, probably more into 2023, 2024."
As the demand for customization increases, automakers are looking to keep money for those in-house rather than flowing to aftermarket shops. Ford Performance Parts, Chevrolet Performance, and Mopar have expanded offerings for buyers in recent years.
Dodge recently launched Direct Connection, a full catalog of parts designed, developed and validated by Stellantis engineering. The parts also come with factory-backed performance warranty coverage.
Prediction 3: Buyers will pay more for their new vehicles
Pat Ryan, CEO and founder of CoPilot says there were two main price jumps in the last year due to stimulus checks resulting in shoppers having money to spare.
The initial price jump came in March [2021] when the [third round of] stimulus checks dropped," Ryan said. "What happened is there were already enough people who had money because they weren't taking vacations, and they've gotten some more, so because of that, car values really took off," Ryan explained to Newsweek.
In monitoring dealerships around the country tracking price changes and buying trends, CoPilot noticed the demand for personal vehicles increased as more people were driving their own vehicles, affecting price.
Ryan cites a very specific example of how New York City is affected by the change. "Go to places like Manhattan, there used to be all the construction happening in Manhattan, so people would take public transportation," Ryan said.
"What happened is a lot of these construction companies —in order to keep the construction crews going — they bought out the parking garages. So now a lot of the construction workers are driving into Manhattan. People who used to take public transportation are no longer doing so, they're driving."
The Metropolitan Transportation Authority (MTA) in New York City saw ridership declines of 90 percent in March 2020, according to reporting by Fortune. The Chicago Transit Authority (CTA) and San Francisco's Bay Area Rapid Transit (BART) both saw ridership levels decline 80 percent and 90 percent, respectively.
In October 2021, the American American Public Transportation Association reported that the national ridership remained down by 62 percent.
Prediction 4: Not as many types of vehicles will be available
Due to supply chain restrictions around the globe, many manufacturers have had a hard time producing their full lineup of vehicles. The luxury market, which is typically more limited in supply, is being hardest hit by seller markups.
"It's been a challenge replacing vehicles at the high end.., consumers at the highest end have the least negotiating power of anyone," Jominy explained to Newsweek.
"They're all paying over sticker, perhaps famously the Mercedes G-Wagon is an incredibly short supply for a number of reasons, and it's essentially out of market now so those vehicles that are there are going for $450,000 markups."
Prediction 5: Buyers won't want new sports cars and sedans
Cars will continue to remain unpopular choices in 2022, a continuation of a near-half-decade-long trend. In 2019, the last year vehicle sales were not impacted by the coronavirus, sedan sales were 22.1 percent of annual auto sales, according to IHS Markit.
"Everyone kind of knows that cars are out of favor," Jominy told Newsweek. "It's been going on for half a decade. But what's been interesting is that of the other vehicles that automakers are choosing to build right now...fewer cars, and we're seeing trucks and SUVs. They're 81 percent of the industry right now."
The sports car market has also seen a significant decline in popularity for a number of reasons.
"The market for sports cars and anything fun in general is really dwindling," Jominy said. "And certainly as the price of cars goes up, we need cars to do everything. You used to have multiple cars, one to commute to work, one to have fun with and nowadays, just because of the expensive cars and parking and insurance, you have to have one thing that does it all."
Prediction 6: Demand for vintage sports cars will increase
While new sports cars have decreased in popularity, interest in vintage sports cars has been steadily increasing. Howard Swig, head of auctions at Bring a Trailer, a used vehicle buying site, has found that sports cars from as recent as the early 2000s are moving from the used car space to become vintage collector cars.
"Cars from the 90s and 2000s, which, not too long ago, were just used fully depreciated cars, are now starting to be appreciated as more kind of entry level collectibles," Swig told Newsweek.
Collectors are generally holding onto the desirable models that they have added to their garage over the years, causing the sale price for those that come up for auction or sale to be higher.
Though Swig has seen "very strong" results from Ferrari Dinos, Porsche Speedsters and Jaguar E-Types in the past. He sees the interest band for European classics growing, saying that that the "interest band is really starting to break out in terms of interest and values".
Prediction 7: Utility vehicles will capture more market share
Utility vehicle popularity has been going the opposite way of sedans. This trend is likely to continue according to Stephanie Brinley, principal automotive analyst at IHS Markit.
"Automakers pulled back on their production of passenger cars, more so than utility vehicles in 2021," Brinley told Newsweek. "We'll see a similar strategy in 2022 as well, ...there will be a focus on building the vehicles that are in the most popular segments and that can give them the best profit margin, that's going to be utility vehicles."
The global market for SUVs grew by over 10 percent in 2020 and 2021. This year, SUVs were on course to account for more than 45 percent of global car sales, which set new volume and market share records, according to a study by the International Energy Agency.
Prediction 8: New cars, trucks, vans and SUVs will have less available features
The international semiconductor chip shortage has caused several automakers to limit production of many vehicles. These little pieces of technology chips essentially function as the brain of the vehicles.
Those that are able to still produce are cutting features like heated seats and automated headlights to save on chips, even though they may still be listed as available on paper.
"Things like parking assist or in some cases, heated seats or wireless charging. There's a whole series of features that are scarce or not available," Ryan explained to Newsweek. "So you know someone looking to replace their lease car may have to wait six months, and they get a car with less features than the car they have today.
While the shortage is expected to continue into 2022, the experts at JP Morgan are predicting a reprieve around mid-year as supply chains begin to open back up.
Prediction 9: Used cars won't depreciate as quickly as in the past
Without as many new cars being produced and sold as is typical during a traditional sales year, demand for fresh vehicles is also constraining the supply of the used car market. Because of this, used cars aren't as quick to depreciate as they have been in the past and many cost close to what a new model runs.
According to data collected by CoPilot, since December 2020, used car prices have increased faster than new car prices, up 30 percent. Trucks, typically the best selling vehicles in the country, have seen some significant price increases due to this.
Used truck inventory was down by seven percent in 2021 while prices continued to increase as trucks are a necessity for many consumers. Average vehicle pricing continues to creep up. In 2019, J.D. Power reported that a new truck cost $51,500 on average. Kelley Blue Book's 2021 mid-year report found that a new truck now costs $56,200 on average.
CoPilot also found that vehicles that were less than three years old and those over 13 year old were quickest to increase in value over the same timeframe.
"If you have a car to sell, you could take a three year old car and you literally have no depreciation," Ryan told Newsweek. "To put it in perspective. I was helping somebody over the weekend. They had a 2019 Chevy Tahoe – the 2019 Chevy Tahoe should be worth $45,000 – right now, it's worth $63,000."
Prediction 10: Auto shows will increase test driving options
The pandemic has caused auto shows, large and small, to evolve. Spagnola predicts we will see a larger variety of consumer-focused activations as these shows begin to pop back onto the schedule and automakers will find new avenues for revealing vehicles year-round.
"You're seeing vehicles being released at racetracks, you're seeing them released in the mountains and special online releases, and certainly, with the advent of social media and the ability for original equipment manufacturers, to reach their markets in different ways, they're not reliant just on a January Detroit Auto Show," Spagnola told Newsweek.
Vehicle testing at auto shows is likely to gain popularity and become more important as dealership supplies dwindle. At many shows, attendees can buckle up and be driven or drive on obstacle courses in new models, or schedule time for a road test.
Spagnola has seen the popularity of these attractions grow as he has traveled from auto show to auto show across the U.S. "That seems to be more and more popular now where the consumer can actually get into a vehicle and drive on the full test track. At an event, we saw that in LA we've seen that in Detroit evolve over the last few years. We've seen [it at] our own SEMA show."
Prediction 11: Demand for electric vehicles will grow
The chip has caused significant difficulty for much of the new car market, however, electric vehicle production might benefit from these constraints.
The last half of 2021 has seen more demand for electric and hybrid vehicles and Brinley predicts that automakers will have no choice but to meet that demand as customers become more comfortable with the technology and additional electric vehicles make their market debut as part of a larger, industry-wide focus on zero-emissions vehicles.
"The auto industry traditionally has had more inventory than it absolutely needs and you've always had a little bit of a gap in the inventory that you could kind of let consumers figure out what they wanted," Brinley explained to Newsweek. "But for really, kind of the first time in the industry, we have not enough inventory to meet demand for anything. Like, as a whole. So I say that also, because we're going to see a number of electric vehicle crossover utilities be introduced in 2020 to go on sale in 2022.
Brinley went onto to explain that the capacity for electric vehicles is not as high as traditional vehicles using the example that the Hyundai Ioniq PHEV is not likely to outsell the Hyundai Tucson but the company is likely to sell all of the Ioniq PHEV they produce which may not be the case for the Tucson.
Prediction 12: Vehicle sales will increase
Brinley says that overall, the automotive industry is thriving as more people are driving their own vehicles or using excess funds to buy additional cars. Brinley expects the trend to continue into the new year.
"Sales in the US will be about 15.5 million units in 2022," she told Newsweek. "Just for context, in 2021 we were at about 15.1, just under 15.1. In 2020, it had dropped down to 14.6. So we are seeing sales increase after the dip in 2020. But it's a slow increase and it's constrained by inventory. So it's going to be an interesting year to watch the dynamics of that continue to unfold."