12 U.S. Mass Shootings Leave 17 Dead, 41 Injured in a Single Weekend
At least 12 mass shootings took place in the U.S. this past weekend, leaving 17 people dead—including two suspected shooters—and wounding dozens more.
The Gun Violence Archive recorded six mass shootings on Saturday and another six on Sunday.
The nonprofit group, which catalogs gun violence in the nation, defines a mass shooting as four or more people shot or killed in a single incident, not counting the shooter.
The U.S. has experienced 196 mass shootings so far in 2021, according to the group.
Here are the 12 shootings that took place this weekend alone:
Saturday, May 8
Milwaukee, Wisconsin
Four people, aged between 23 to 45, were wounded in a shooting on Saturday afternoon. The Milwaukee Police Department said two men have been arrested in connection with the shooting.
Compton, California
Sheriff's deputies heard shots fired in the 15100 block of South Lime Avenue at 5.30 p.m. and found two dead males, aged between 15 and 20, from gunshot wounds. Shortly afterwards, deputies were informed of two other gunshot victims who had been taken to a hospital.
Detroit, Michigan
Four people were shot in an alley behind a building in the 15700 block of Plymouth Road in the early hours of Saturday morning. The victims, aged between 17 and 47, were all transported to hospital and listed in temporary serious condition, according to local media.
Woodlawn, Maryland
Three people died and another person was injured in a shooting in the 7500 block of Maury Road early on Saturday morning. Police said officers shot the suspect, identified as 56-year-old Everton Brown, after he refused to drop his handgun and he later died in hospital.
Oakland California
Four people were injured after someone opened fire on a group of people socializing outside, the East Bay Times reported. Police said some parked vehicles and apartment buildings were also struck by bullets.
Citrus Heights, Califórnia
Police officers located four people who had been shot after a fight broke out in a nightclub in the 7400 block of Auburn Boulevard at around 1.25 a.m., The Sacramento Bee reported.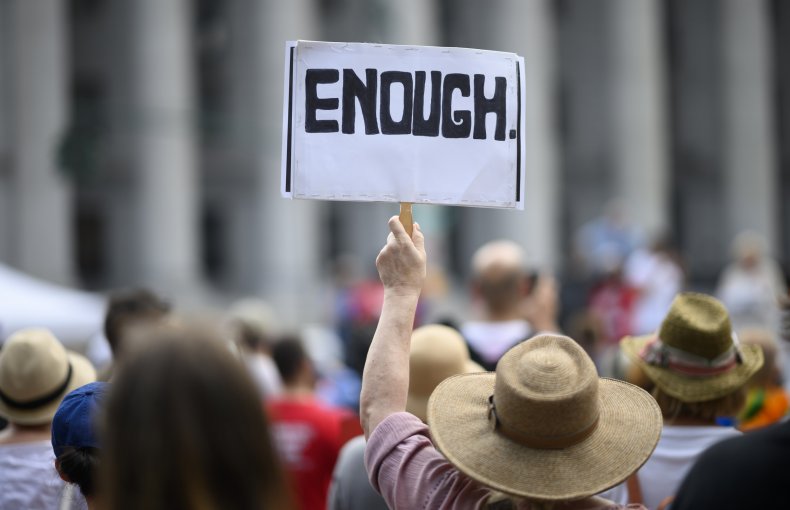 Sunday, May 9
Colorado Springs, Colorado
A gunman opened fire at a birthday party at a mobile home shortly after midnight. Police said the suspect killed his girlfriend and five members of her family, then himself.
Los Angeles, California
One person was killed and three others wounded after suspects opened fire on a Mother's Day party in the 6200 block of Afton Place in Hollywood. The motive for the shooting wasn't known, KTLA reported.
Charleston, South Carolina
Five people were injured in a shooting during a fight early on Sunday morning, police said. Police have arrested and charged a man in connection with the incident, authorities said.
Phoenix, Arizona
One person was killed and seven others wounded in a shooting at the Hyatt Regency hotel on Sunday. Police said an altercation broke out among a group of people and shots were fired by more than one individual.
Newark, New Jersey
Four people—two men and two women—were injured in a shooting in the 300 block of Chancellor Avenue in Newark on Sunday, Newark police said in a tweet.
Philadelphia, Pennsylvania
Five people were shot in the 100 block of Albanus Street on Sunday afternoon. Two victims, a 17-year-old boy and a 23-year-old, died at the scene, according to CBS Philly. Three other victims were transported to hospital in a stable condition.