More than 1,300 attorneys have signed an ethics complaint directed to the California Bar, urging the organization to investigate lawyer John Eastman, who advised former President Donald Trump on ways to attempt to overturn the 2020 election results.
Eastman wrote a now infamous memo that suggested then-Vice President Mike Pence had the authority to reject electors from key battleground states that flipped blue for President Joe Biden, resulting in Trump's Electoral College loss. The right-wing attorney has faced substantial backlash for his connection to Trump, and others have previously urged the California Bar to investigate his actions and possibly sanction him.
"Mr. Eastman appears to have acted in concert with other attorneys, notably Rudolph W. Giuliani and Jeffrey C. Clark, in an effort to install Mr. Trump in the office of President of the United States for another four years notwithstanding the irrefutable fact that the people of the United States had chosen Joseph R. Biden to replace him," the attorneys wrote in the Thursday letter outlining their ethics complaint against Eastman.
"We believe that concerted unethical action by lawyers aggravates the circumstances of their violation," they added.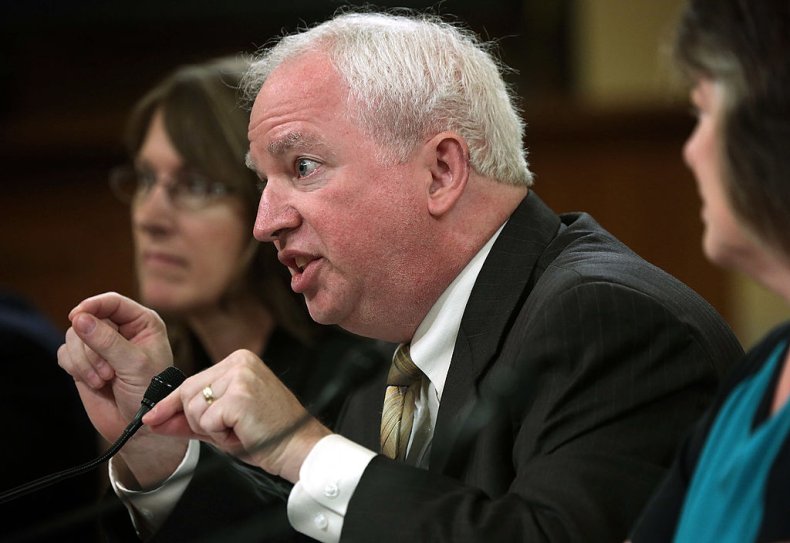 Previously, the States United Democracy Center filed complaints against Eastman with the California Bar in October and November. The new ethics complaint, backed by attorneys through the efforts of Lawyers Defending American Democracy, cited those previous complaints to urge an investigation of Eastman's behavior.
"The essence of our complaint is that when Mr. Eastman engaged in the activities documented by States United, he was not acting independently to provide legal advice to President Trump. Instead, he was participating with Mr. Giuliani and Mr. Clark in a carefully orchestrated collective plan to overturn the results of the 2020 Presidential election even though all of the available evidence clearly showed that Joseph R. Biden had won," the lawyers wrote.
George Cardona, chief trial counsel for the California Bar, told Newsweek in a statement that he "cannot comment on what actions we have taken in response to these complaints or whether an attorney is being investigated, nor can we comment on past closed complaints that lacked evidence or cause to proceed to disciplinary charges."
He continued, "That said, every lawyer admitted to practice in California takes an oath outlined by statute: to support the Constitution of the United States and the California Constitution, and to faithfully discharge their duties to the best of their knowledge and ability. California statutes and the Rules of Professional Conduct require lawyers to exercise honesty, integrity and accountability in the course of their professional practice.
"Failure to adhere to the rules and statutes that govern the practice of lawyers may result in them being subject to discipline, in keeping with the State Bar's public protection mission," Cardona said.
Notably, Giuliani—a Republican who previously served as mayor of New York City—had his law license suspended in June because of falsehoods he spread about the 2020 election. A New York court ruled this summer that he made "demonstrably false and misleading statements" in his efforts to keep Trump in power. He now faces potential disbarment as well.
Eastman spoke to the crowd of Trump supporters in Washington, D.C., on January 6 that would proceed to violently storm the Capitol in an apparent effort to disrupt the formal certification of Biden's election win. The attorney has refused to cooperate with the House select committee investigating the January 6 attack, choosing to sue Verizon and the committee in an effort to prevent a review of his phone records.
The conservative pro-Trump attorney told The New York Times in October that he was still investigating discredited allegations of widespread voter fraud in the 2020 election. He argued that the claims had not been properly reviewed—despite more than 60 election challenge lawsuits failing in state and federal courts.
"There are lots of allegations out there that didn't get their day in court and lots of people that believe them and wish they got their day in court," he told the Times.
"And I am working very diligently with several teams—statistical teams, election specialists teams, all sorts of teams—to try and identify the various claims and determine whether they have merit or there is reasonable explanation for them," he added.
Trump and his allies continue to claim that the 2020 election was "rigged" or "stolen" in Biden's favor. They have not provided evidence substantiating their allegations. Even judges appointed by Trump and other Republicans have dismissed election challenge lawsuits filed in support of the former president. Audits and recounts in key battleground states have consistently reaffirmed Biden's victory over Trump as well.