Trump Attorney Who Wrote Memo About Overturning Biden Win Now Calls Idea 'Crazy'
Conservative attorney John Eastman said that the strategy outlined in a now-infamous memo about how to overturn President Joe Biden's Electoral College victory on January 6 was "crazy," suggesting it was not a "viable" option.
Eastman, who represented former President Donald Trump before the Supreme Court after the 2020 election, wrote a memo (which was first reported in the book Peril by Washington Post journalists) outlining strategies to prevent Biden's win from being formally certified by Congress. The lawyer met with the former president and former Vice President Mike Pence to discuss the document just days before the pro-Trump attack on the U.S. Capitol.
In an interview with National Review published on Friday, Eastman said he didn't believe the strategy would work but had been asked to outline options being discussed by Trump's legal team. In his memo, the lawyer wrote that "if the Republicans in the State Delegations stand firm," Trump would be reelected by the House.
Eastman told the publication that he told the former president, "Look, I don't think they would hold firm on this." He added: "Anybody who thinks that that's a viable strategy is crazy."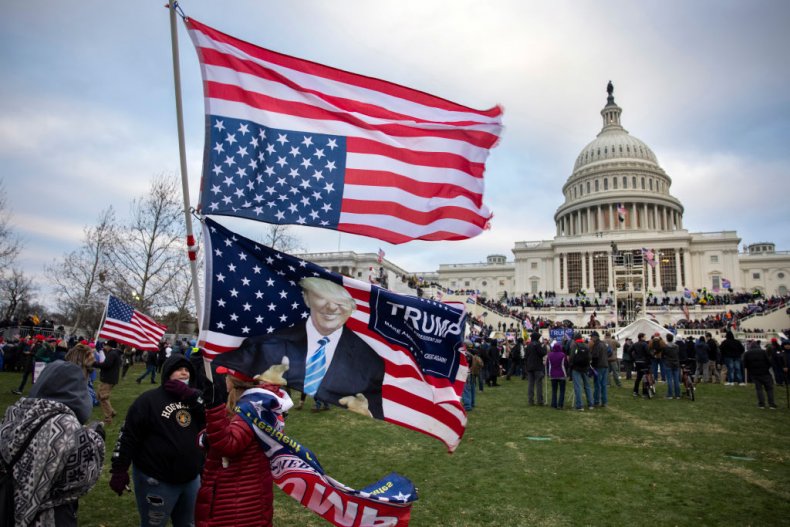 "The memo was not being provided to Trump or Pence as my advice," the attorney insisted to National Review. "The memo was designed to outline every single possible scenario that had been floated, so that we could talk about it."
The memo also suggested that Pence could reject the Electoral College votes from states, declaring them invalid. At the beginning of October, The New York Times published an article including interview remarks from Eastman, in which he said Pence asked him in a meeting with Trump, "Do you think I have such power?"
According to The Times, Eastman told the then vice president that it would be "foolish" to attempt to do so unless states had already selected a new slate of electors favorable to Trump. Pence ultimately rejected the idea that he could overturn Biden's victory, angering Trump and his supporters.
"It is my considered judgment that my oath to support and defend the Constitution constrains me from claiming unilateral authority to determine which electoral votes should be counted and which should not," Pence said in a January 6 statement.
Shortly later, Trump publicly urged Pence to disregard the Constitution at a "Stop the Steal" rally held at the Ellipse near the White House. "So I hope Mike has the courage to do what he has to do," he said.
Hundreds of angry pro-Trump rioters then proceeded to march to the Capitol, attacking the legislative branch of government. Many expressed a desire to harm or kill Mike Pence as well as other lawmakers. "Hang Mike Pence" was a popular slogan among the mob, as a gallows was erected in front of the Capitol.
Although Eastman is distancing himself from supporting the idea outlined in the memo he wrote, he continues to back baseless claims that the 2020 election was rife with fraud. The pro-Trump lawyer told The Times that he continues to investigate allegations of fraud and is in the process of writing a book on the topic. Trump and many of his right-wing allies continue to promote the groundless claims as well.
More than 60 election challenge lawsuits filed by Trump and his allies have failed in state and federal courts. Even judges appointed by Trump and other Republicans rejected the allegations or dismissed the lawsuits for lacking merit. Meanwhile, audits and recounts in key battleground states—including in areas where the election was overseen by pro-Trump Republicans—have reaffirmed Biden's win.
Newsweek reached out to Trump's press office for comment.