Georgia's GOP Secretary of State Says Trump 'Threw' His Family 'Under the Bus' Despite Fact They Voted for Him
Georgia's Secretary of State Brad Raffensperger published an op-ed on Wednesday, pointing out that he and his family had voted for and donated to President Donald Trump, but the president still "threw" them "under the bus."
Trump endorsed Raffensperger, a Republican, ahead of his 2018 election in Georgia. Over the past few weeks, as it became apparent that Georgia would flip blue for President-elect Joe Biden, Trump and his supporters have repeatedly attacked Raffensperger as well as the Southern state's other Republican officials. In the face of significant criticism and death threats, these GOP election officials have insisted that they would follow the laws and ensure the integrity of their state's results.
"By all accounts, Georgia had a wildly successful and smooth election. We finally defeated voting lines and put behind us Fulton County's now notorious reputation for disastrous elections. This should be something for Georgians to celebrate, whether their favored presidential candidate won or lost," Raffensperger wrote in his article for USA Today titled: "My family voted for Trump. He threw us under the bus anyway."
"For those wondering, mine lost—my family voted for him, donated to him and are now being thrown under the bus by him," he added.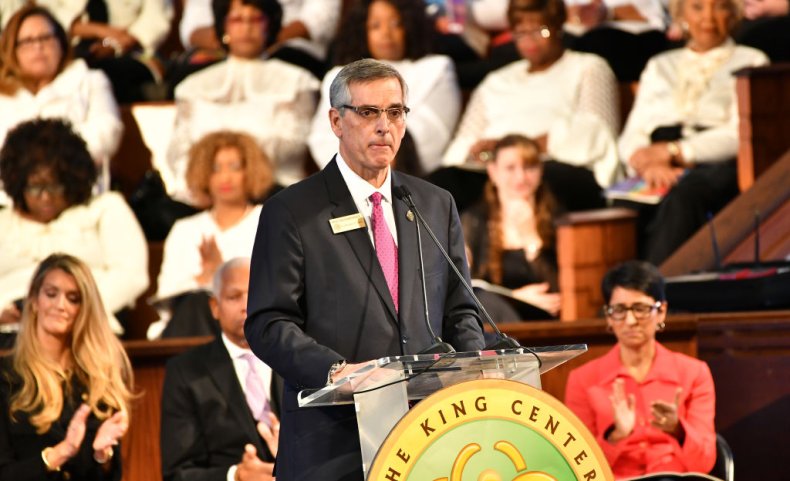 Raffensperger pointed out that elections are "the bedrock of our democracy," asserting that they must be "run fairly and, perhaps more important, impartially." Although he noted that this should not be a "partisan" viewpoint, the Republican official wrote that "some don't seem to see it that way."
"In the days that followed, a losing presidential campaign refused to accept the facts, following a playbook written by a failed gubernatorial candidate two years before. A failed senate candidate with nothing to do tried to undermine the integrity of Georgia's elections. A self-described 'attorney for the damned' took up the cause," Raffensperger explained. "An onslaught of fake news and unrepentant disinformation threatened to tear the fabric of our country apart. People on both sides of the aisle generated controversies out of nowhere to stir up trouble."
Newsweek reached out to the Trump campaign and the White House for comment, but they did not immediately respond.
Although Biden and Vice President-elect Kamala Harris were declared the winners of the presidential election more than two weeks ago on November 7, Trump has refused to concede. Until Monday, Emily Murphy, a Trump appointee overseeing the General Services Administration, blocked Biden's team from starting the formal transition process. But after Georgia's hand recount and the certification of results in Michigan, Murphy, admitted that Biden was the apparent winner.
Nonetheless, Trump and his lawyers have continued to push baseless claims of widespread fraud, as the president's campaign continues to raise funds from supporters believing he has a shot at overturning the election results. Although the campaign filed numerous lawsuits in multiple states, the president's legal team failed to provide evidence to support their claims of widespread election fraud.
Georgia's leaders have pushed back repeatedly against the unsubstantiated claims from Trump and his allies. They have explained that the election was well-managed and that there is no evidence to back the sweeping claims made by the president and his lawyers. Gabriel Sterling, a Republican who serves as Georgia's election implementation manager, raised concerns in an interview with CNN this week that Trump's criticism could be undermining the two GOP Senate candidates in runoffs against Democratic challengers on January 5.
"One of the things I'm personally worried about now…is this is a distraction at this point," Sterling said. The Republican official pointed out that a friend had received several text messages from Democrats explaining how to request absentee ballots ahead of the runoffs but had only received messages from the Trump campaign requesting donations.
"They [the Trump campaign] need to make the main thing, the main thing," Sterling said. "The main thing for them right now ought to be this U.S. Senate race."