More than one in 10 U.S. adults would turn down a coronavirus vaccine, according to recent polling.
Research from Morning Consult found 14 percent said they would not get vaccinated against COVID-19.
The age group most likely to turn down such a treatment were those between 35 and 44, at 18 percent.
While in political splits, Republicans were most likely to turn it down at 20 percent, followed by independents at 16, then Democrats at 7.
However, the majority said they would take up the offer of vaccination, with 64 percent of adults overall welcoming the prospect.
Those aged over 65 were the most likely to say yes to a vaccine, at 80 percent.
These percentages come from Morning Consult's coronavirus trend tracker and are based upon 2,200 surveys of U.S. adults. The latest poll used relating to the question of being tested for coronavirus was conducted between May 1 and 3.
It comes as the Trump administration is reportedly aiming to make vaccines available for millions, with its "Operation Warp Speed" seeking to ramp up efforts. According to reports, it intends to have 300 million doses of a vaccine available by January.
Meanwhile, leading health experts, including Dr. Anthony Fauci, suggested that more than one coronavirus vaccine might be required in order to combat the pandemic.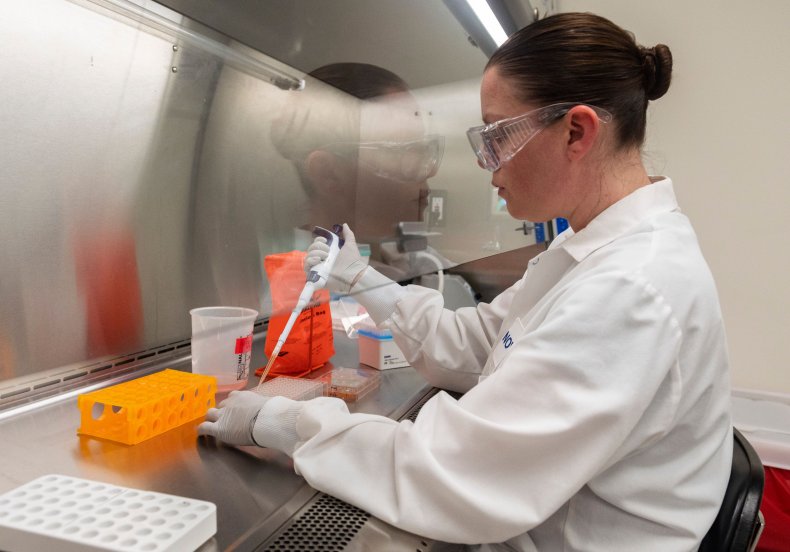 A paper in the journal Science stated: "No single vaccine or vaccine platform alone is likely to meet the global need, and so a strategic approach to the multi-pronged endeavor is absolutely critical."
In the global effort for a vaccine, World Health Organization (WHO) Director-General Tedros Ahanom Ghebreyesus said Monday that there are around seven or eight "top" candidates for vaccines discovered by scientists working on behalf of the group.
The U.S. is not officially involved in this WHO effort, which has been spurred on by $8 billion in funding.
While work is carried out to find an effective vaccine, President Donald Trump has stated he believes coronavirus will "go away" without one.
On May 8 he told reporters: "This is going to go away without a vaccine. It's going to go away and we're not going to see it again, hopefully, after a period of time. You may have some flare ups and I guess I would expect that, sometime in the fall you'll have flare ups maybe."
However, he added that "we'll be able to put them out."
The U.S. has seen more than 1.3 million cases of coronavirus since the outbreak began, while more than 80,000 people infected have died, according to Johns Hopkins University figures. More than 230,000 people have recovered from the virus.
New York is the worst-hit state in the country. The graphic below, from Statista, shows the 10 most severely affected states as of May 12.