Democratic Senator Ed Markey of Massachusetts called the $1,400 stimulus checks included in President Joe Biden's $1.9 trillion coronavirus economic relief package merely a "down payment"—in his latest push for monthly recurring direct payments throughout the duration of the pandemic.
The Senate passed Biden's America Rescue Plan earlier Saturday, bringing a third direct payment one step closer to Americans. Democrats in the upper chamber agreed to drop the $15 minimum wage hike, lower the income threshold for the checks, and reduce weekly unemployment benefits from $400 to $300. Now the bill and amendments will be sent back to the House for approval, before Biden can sign it into law.
"The American Rescue Plan is a life raft for millions of families, small business owners, and essential workers and will help prevent a disastrous wave of foreclosures, hunger, unemployment, and death," Markey said in a statement that same day. He also called the $1,400 checks a "down payment."
"We need recurring payments," he said. "And we will not stop until we pass at least a $15 federal minimum wage, and that includes abolishing the filibuster to ensure we give our workers a raise."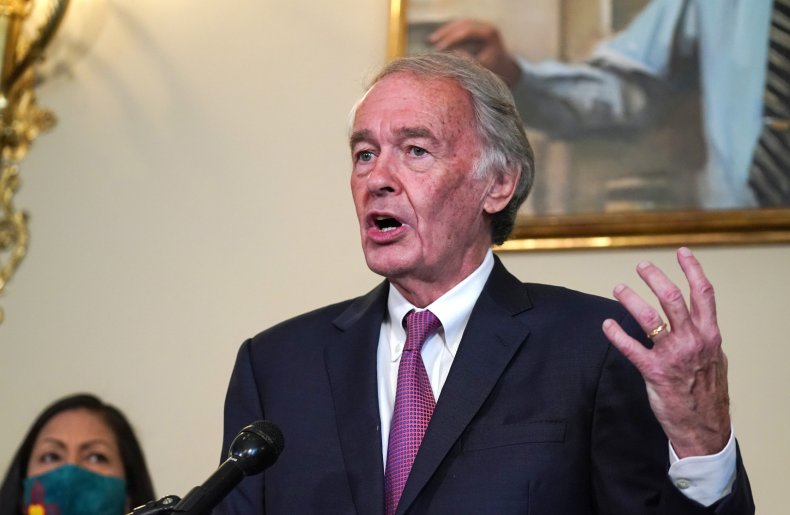 Democratic Senator Ron Wyden of Oregon on Tuesday spearheaded an open letter from 10 members of the chamber, calling on Biden to put forward recurring payments in his upcoming Build Back Better initiative.
The president was expected to unveil the recovery plan last month, but he has since said it will be released after Congress concludes its work on the current relief package.
"We urge you to include recurring direct payments and automatic unemployment insurance extensions tied to economic conditions in your Build Back Better long-term economic plan. This crisis is far from over, and families deserve certainty that they can put food on the table and keep a roof over their heads. Families should not be at the mercy of constantly-shifting legislative timelines and ad hoc solutions," the senators wrote.
Apart from Wyden, Senators Markey, Sherrod Brown of Ohio, Bernie Sanders of Vermont, Elizabeth Warren of Massachusetts, Alex Padilla of California, Cory Booker of New Jersey, Michael Bennet of Colorado, Kirsten Gillibrand of New York, and Tammy Baldwin of Wisconsin also signed the letter.
While the senators did not specify how much the payments should be, some progressive Democrats have been pushing for $2,000 checks per month since the start of the pandemic.
A Data for Progress poll, released January, found that 65 percent of Americans supported $2,000 recurring monthly payments, including 78 percent of Democrats, 60 percent of independents, and 54 percent of Republicans. The margin of error was plus or minus 2.9 percent.
Newsweek reached out to Markey's office for further comment.