$15 Minimum Wage Protesters Hold New Joe Manchin Office Rally After Meeting Failed
Activists rallied for a $15 minimum wage outside the Charleston, West Virginia, office of Senator Joe Manchin on Monday as they pressured him to reverse his opposition to the proposed wage hike.
The Poor People's Campaign gathered activists and minimum wage workers outside one of Sen. Manchin's (D-WV) state offices, less than a week after the group promised to demonstrate against the conservative Democrat's opposition to the minimum wage increase proposed in the latest COVID-19 relief bill.
The Associated Press reported that dozens of activists rallied outside the building, and a small group of in-person protesters could be seen gathered in a livestream of the West Virginia demonstration.
Speaking to activists, Rev. Dr. William J. Barber II, the Poor People's Campaign co-chair, said lawmakers were playing "Russian roulette" with the lives of minimum wage workers who could not afford health care coverage.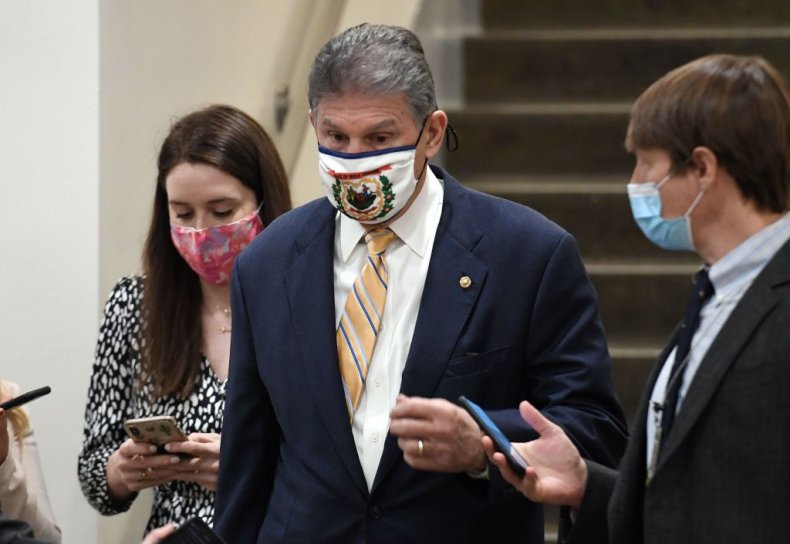 "Many of them can't even go to the hospital, it's time for that to be over," Barber said. "Senator Manchin has the power in this moment to make it so, and to be either the greatest advocate for justice and economic equity, or one of the great adversaries in this century."
The reverend also said activists had rallied for an increase in the minimum wage in Arizona, home state of Senator Kyrsten Sinema, another Democratic lawmaker opposed to the $15 minimum wage proposal.
Newsweek has contacted the Poor People's Campaign for further comment on the demonstration.
The Poor People's Campaign and minimum wage workers met with Manchin on Thursday last week, but left the meeting unsatisfied. Rev. Barber complained that Sinema and Manchin were "betraying" the promises made by the Democratic Party in the run-up to the November elections.
"What [Manchin] was suggesting would just further keep people in poverty and hurting," Barber told reporters. "Even when we hear people saying we want to pass this, but we want to implement it a little bit at a time, people are hurting now. People are going to work now. People are not able to afford healthcare now."
Sen. Manchin has previously said he is opposed to the $15 minimum wage proposal included in President Joe Biden's $1.9 trillion relief bill, but would be open to a lower increase.
However, he has also said he will be voting to defend the Byrd Rule when the relief bill reaches the Senate. The Byrd Rule requires proposals in a budget reconciliation bill to have a direct impact on the budget.
Sen. Sinema has also taken issue with the measure being included in the reconciliation bill. "The minimum wage provision is not appropriate for the reconciliation process," she told Politico. "It is not a budget item. And it shouldn't be in there."