After Fruitless Joe Manchin Meeting, $15 Minimum Wage Activists Target Kyrsten Sinema
Activists backing a hike in the federal minimum wage to $15 an hour have revealed that they plan to be "on the ground" in Arizona next week to protest against Senator Kyrsten Sinema's opposition to the measure in President Joe Biden's COVID relief package.
After a meeting with Senator Joe Manchin (D-WV) on Thursday, Rev. Dr. William J. Barber II, co-chair of the Poor People's Campaign, told reporters that activists would protest against the senator in West Virginia, and also demonstrate against Sen. Sinema (D-AZ) in her home state.
Speaking alongside low wage West Virginians who also met with Manchin, Barber said the pair were "betraying" the promises made by the Democratic Party ahead of the presidential election, and the subsequent Georgia runoff elections.
"We'll be on the ground in West Virginia next week, and in Arizona because we've got a Democratic senator out there that's betraying what the promises were," he said. The activist later confirmed that people would be "at the offices" of the senators for socially distanced protests.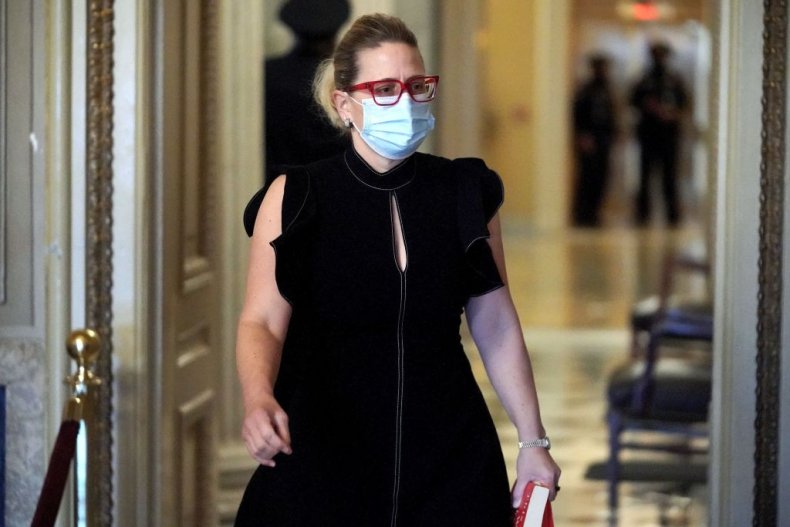 The Poor People's Campaign previously planned to demonstrate outside Sen. Manchin's office in Charleston, West Virginia on Monday, but their plans were canceled due to an ice storm.
Asked whether he felt there was any openness to compromise at the meeting with Manchin, Barber said his campaign was "not interested in compromise," and argued that the proposed hike to $15 an hour was already a compromise.
"What [Manchin] was suggesting would just further keep people in poverty and hurting," Barber said of the meeting. "Even when we hear people saying we want to pass this, but we want to implement it a little bit at a time, people are hurting now. People are going to work now. People are not able to afford healthcare now."
He later added: "The people we are talking about are saving this economy now, and they can't even be saved." Newsweek has contacted the Poor People's Campaign and Senator Sinema's office for further comment.
Speaking to Politico earlier this month, Sinema took issue with the $15 minimum wage proposal being included in the COVID relief bill being pushed through the budget reconciliation process. "The minimum wage provision is not appropriate for the reconciliation process," Sinema told the outlet. "It is not a budget item. And it shouldn't be in there."
Manchin has taken a similar position. He told CNN that he would be voting to defend the Byrd Rule—a precedent that requires proposals in any budget reconciliation bill to have a direct impact on the budget.
""My only vote is to protect the Byrd Rule: hell or high water," Sen. Manchin told CNN. "Everybody knows that. I'm fighting to defend the Byrd Rule. The president knows that."