Protesters Target Joe Manchin over $15 Minimum Wage Opposition
Activists have targeted Senator Joe Manchin as they plan to pressure the Democratic lawmaker over his opposition to a $15 federal minimum wage by 2025.
The Poor People's Campaign announced last week that it would hold a socially distanced rally outside the West Virginia Democrat's state office, alongside an online rally, demanding that the next COVID-19 relief package increase the federal minimum wage to $15 an hour.
According to an event page, protests were scheduled to take place outside Manchin's office in Charleston, West Virginia, from 3 p.m. on Monday. (Update 02/15/21 07:50 a.m. ET: However, organizers have now told Newsweek that they have had to cancel the in-person protest, and will instead be holding an online event.)
"The demand for $15/hour is as big a fight as the one for the Civil Rights Act and the Voting Rights Act in the 1960s," the protest's event page reads. "A relief bill must include relief that helps the people who need it the most—the 140 million poor and low-income people who live in this country, a number that has only increased in a pandemic."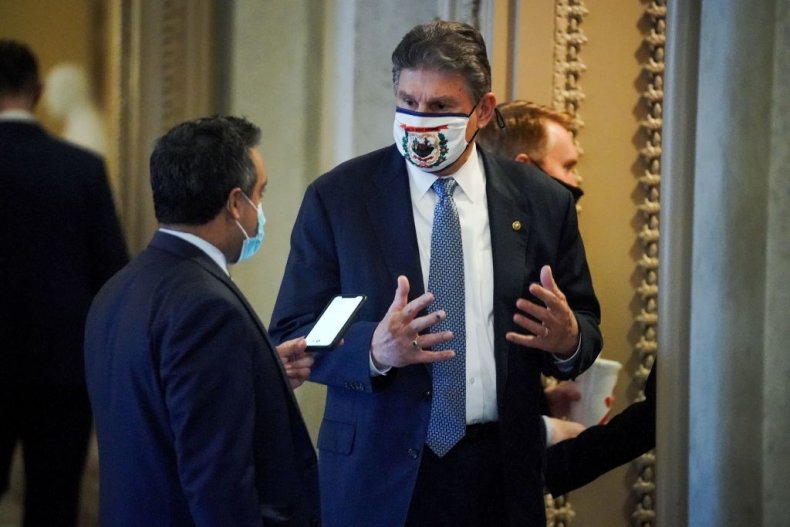 Speaking to the local news outlet 12 WBOY on Saturday, Poor People's Campaign state coordinator Pamela Garrison said Americans would get the economy moving if they were provided with a living wage—as opposed to the current federal minimum wage of $7.25 per hour.
Newsweek has contacted Senator Manchin's office for comment comment on the planned protest. This article will be updated with any response.
The West Virginia Democrat and his colleague, Sen. Kyrsten Sinema (D-AZ), have publicly opposed the proposal to increase the federal minimum wage included in President Joe Biden's $1.9 trillion COVID relief package.
If they vote against the minimum wage boost to $15 an hour by 2025, the measure will likely be blocked altogether, barring surprise support from GOP senators who are mostly opposed to the legislation.
Asked whether he supported the $15 an hour minimum wage earlier this month, Manchin told The Hill: "No I'm not. I'm supportive of basically having something that's responsible and reasonable."
"What's important is whether or not it's directly related to short-term COVID relief. And if it's not, then I am not going to support it in this legislation," Sinema told Politico last week. "The minimum wage provision is not appropriate for the reconciliation process. It is not a budget item. And it shouldn't be in there."
Although House Democrats moved the plan forward in a committee vote on Wednesday last week, President Biden has also conceded that an increase in the federal minimum wage is unlikely to make it through Congress and into the final draft of the next COVID relief package.
"My guess is [the minimum wage increase] will not be in it," Biden told CBS News earlier this month, adding that he was prepared to negotiate on tweaking the proposal as he argued that a rise in the federal minimum wage would help buoy the economy.
Update 02/15/21 07:50 a.m. ET: This article was updated after protest organizers told Newsweek that the event had been cancelled on Monday morning owing to weather conditions.