Kyrsten Sinema Joins Joe Manchin in Rebuking $15 Minimum Wage Being Put in Stimulus, Dashing Progressives' Hopes
Arizona Senator Kyrsten Sinema, a moderate Democrat, has rejected inclusion of a $15 minimum wage in President Joe Biden's coronavirus stimulus package, dashing hopes for progressive lawmakers who are pushing for the raise.
Sinema joined Democratic Senator Joe Manchin, a fellow moderate from West Virginia, in publicly rebuking the idea that raising the minimum wage is appropriate amid the ongoing stimulus bill negotiations.
The Arizona senator made her views clear during an interview with Politico this week, in which she said would "not support" any provisions not directly related to providing immediate COVID-19 relief.
"What's important is whether or not it's directly related to short-term COVID relief. And if it's not, then I am not going to support it in this legislation," Sinema told Politico.
"The minimum wage provision is not appropriate for the reconciliation process. It is not a budget item. And it shouldn't be in there," she added.
Manchin previously stated that he was opposed to hiking the minimum wage to $15 an hour but would be in favor of a more moderate increase, such as $11.
Sinema's and Manchin's opposition are a blow to progressive Democrats who hope to include the provision in President Joe Biden's $1.9 trillion coronavirus relief package and pass the bill with united Democratic support in order to avoid a GOP filibuster.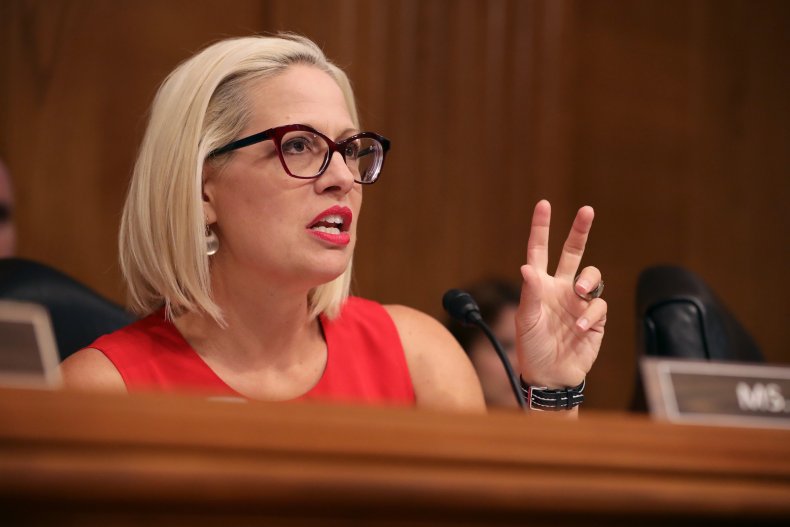 To do this, the Democrats are using the budget reconciliation process, which allows the party to advance a measure without Republican support. But in order for the bill to pass this way, every Democratic senator will need to vote in favor.
Senator Bernie Sanders, the Senate Budget Committee chairman and an independent from Vermont, has said that the only way to pass the minimum wage increase is through a united front during the reconciliation process.
"We will never get 10 votes from Senate Republicans to pass a $15 an hour minimum wage," Sanders tweeted this week. "The ONLY way we can do it now with 51 votes is through the reconciliation process."
But now that at least two Democratic senators have opposed the effort, the minimum wage provision will likely be scrapped. Last Thursday, an amendment opposing an immediate hike in the minimum wage, put forward by GOP Senator Joni Ernst, passed in a Senate vote.
Biden, House Speaker Nancy Pelosi and House Budget Committee Chairman John Yarmuth have all indicated they don't think the minimum wage hike will make it into the coronavirus relief package.
"I put it in, but I don't think it's going to survive," Biden told CBS's Norah O'Donnell. "My guess is it will not be in [the stimulus bill]."
Instead, Biden and lawmakers have suggested that the minimum wage increase may need to pass in the Senate as a stand-alone bill.
"It doesn't mean it won't happen just because it won't happen there," Pelosi said last week. "There's so much in the package that has to be done right now, and we'll do the best we can."
A Congressional Budget Office report last Sunday estimated that a $15 minimum wage would lift 1 million Americans out of poverty but cost 1.4 million jobs and add $54 billion to the national deficit over the next 10 years.
Newsweek contacted Sinema for additional comment but did not hear back in time for publication.